Tips
Google Can Now Predict If Your Flight Will Be Delayed
This will make your next flight much easier.
IMAGE BRIANA TOZOUR/ UNSPLASH
Any intrepid traveler would know how many tabs you have to open just to book a flight to your dream destination. You'd have to open SkyScanner to compare flight fares—but to be sure, you'd also have the websites of Cebu Pacific, AirAsia, Philippine Airlines, and a load of other international carriers on display. Then you'd also check out travel sites to find other transportation options (i.e. connecting flights and alternate airports), as well as blogs for pro tips that may come in handy. It's like researching for your "Review of Related Literature" for your thesis, only more fun. Then you have FlightStats, which updates you if your flight is delayed. Now, Google Philippines combines all these by releasing Google Flights to make life easier for traveling Filipinos. Though it was launched globally in 2011, it wasn't until the rollout on December 18 that it became specific to the Philippine market with a number of add-ons.
ADVERTISEMENT - CONTINUE READING BELOW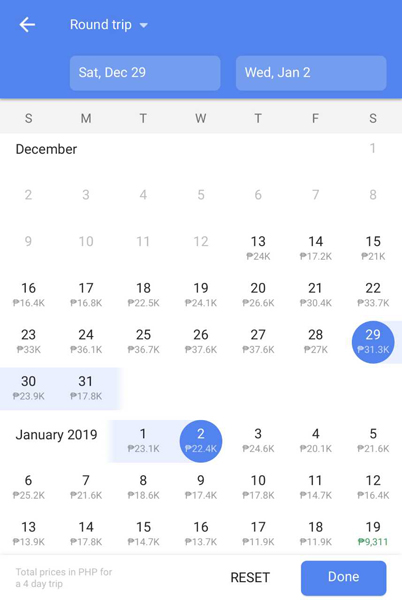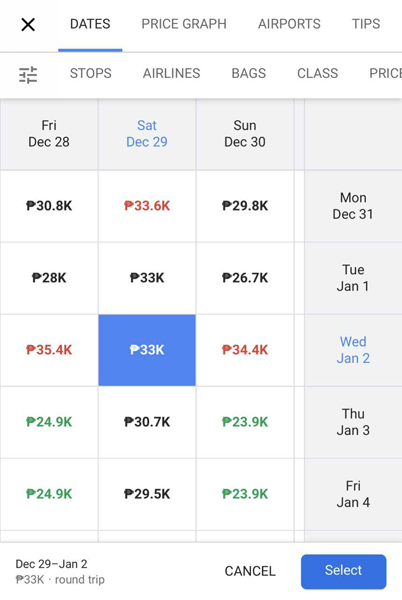 ADVERTISEMENT - CONTINUE READING BELOW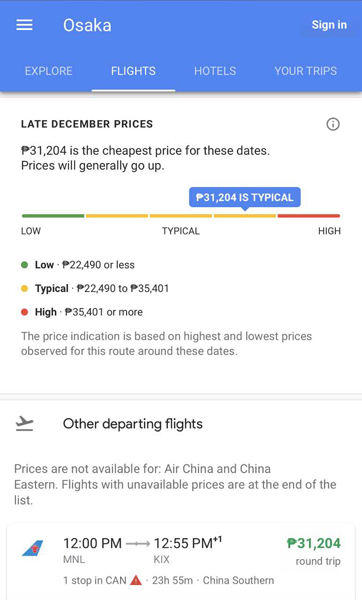 You can just key in "Flights to Osaka" or go directly to Google Flights and compare and book flights (in Philippine peso) from your mobile, tablet, or desktop. You can also filter your choices to consider what type of airline you like, your preferred layovers, and the available baggage allowance. The new feature can also predict flight delays—god knows that Filipinos are very familiar with those. Plus, you can link it to your Google Assistant for a voice alert.
ADVERTISEMENT - CONTINUE READING BELOW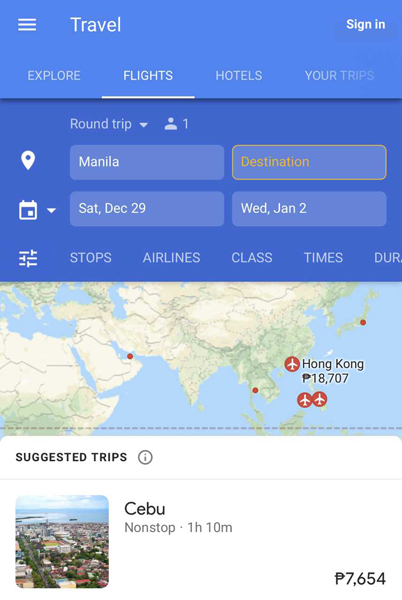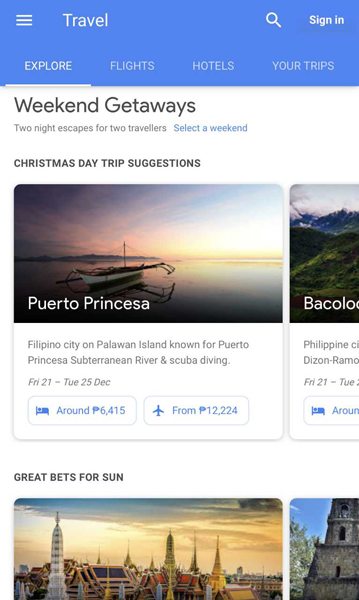 ADVERTISEMENT - CONTINUE READING BELOW
If you're the type who revels in creating itineraries, you can click on the Explore tab on Google Flights and see suggested activities if you only have a day or even two weeks for your getaway. There are also specific categories, like "Christmas Day Trip Suggestions," "Great Bets for Sun," and "Top Road Trips from your Area."
The next time you just want to up and leave, you know what to do.
Main photo by Andrew Thomas, Wikimedia
This story originally appeared on Spot.ph.
* Minor edits have been made by the Townandcountry.ph editors.
For starters, good quality and design are aspects they will appreciate.
The first-ever Filipino Netflix movie imparts nuggets of wisdom to the social media-crazed generation.
Simpson attended his funeral England, alongside the royal family.
Welcome to the Princess Anne fan club!
Because the holiday season isn't complete without a movie marathon.
A treat for all ahead of Thanksgiving.
Looking to grow your own vintage watch collection? Start with these classic picks.
Taking a Rolls-Royce Ghost out for a spin is going to cost you.
Her portrayal of a masked mercenary in this month's Rise of Skywalker is one of Hollywood's best-kept secrets. Keri Russell prepares for the big reveal at a brownstone in Brooklyn, a galaxy far, far away.
Take a ride on a train through Asia or take a trip to a champagne chalet, the options are endless.
Alcohol-free traveling is an emerging trend, but there's much more to this phenomenon than meets the eye.
It comes complete with jewels, corgis, banquets, and etiquette lessons.
Get The Latest Updates From Town&Country!