Tips
Here's How Much Aviation Fuel Charge Will Add to Fares to HK, Japan, Korea, and the U.S.
The extra costs will cover flights booked in September and October. New rates will apply for November and December.
IMAGE JORDAN SANCHEZ / UNSPLASH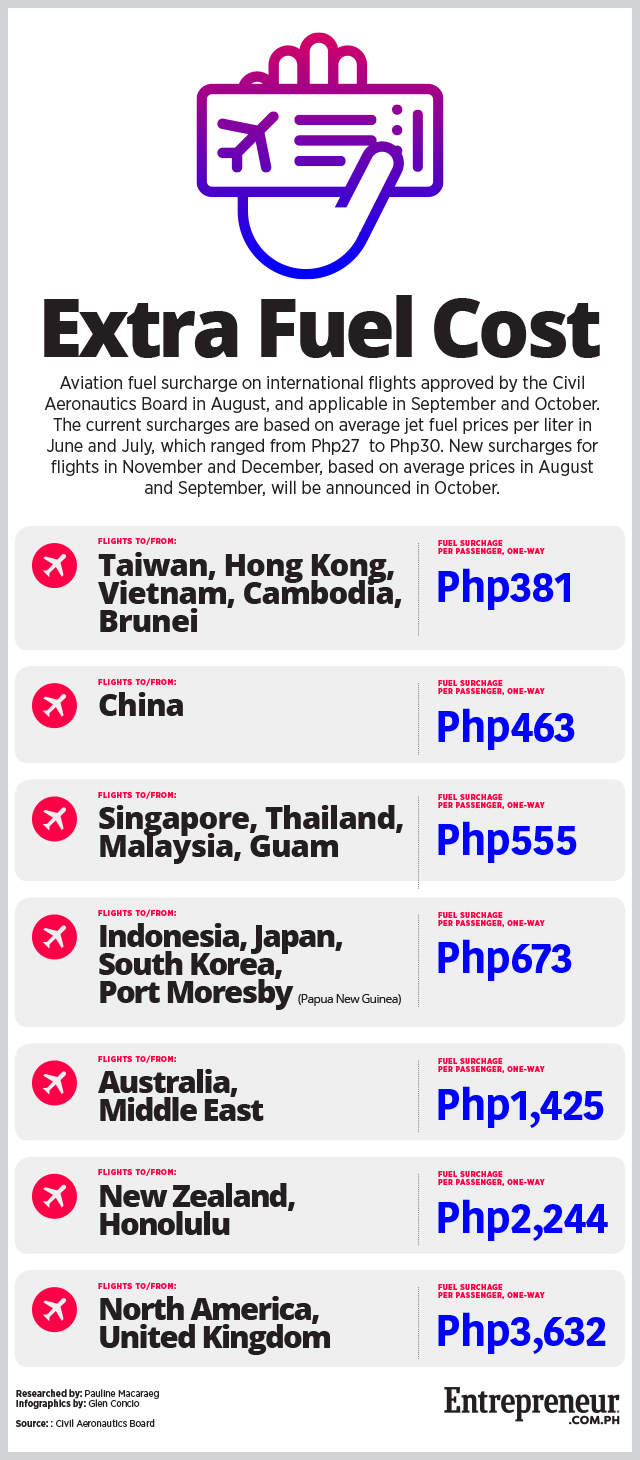 One-way plane tickets for international flights from or to the Philippines will go up by an additional P381 to P3,632 in September and October 2018, depending on the distance, according to information from the Civil Aeronautics Board (CAB).
The CAB, the government body that regulates the airline industry, has approved the airlines' petition to impose a fare surcharge to allow them to recover rising aviation fuel costs.
ADVERTISEMENT - CONTINUE READING BELOW
Resolution No. 44 (SBM 05S-08-17-2018) details CAB's newly approved matrix for the fare surcharge that airlines can impose per passenger for a one-way trip. It varies based on the distance of the destination, as well as the prevailing price of the fuel for that period.
The approved fare surcharges for September and October were based on average aviation fuel prices from June to July this year, which fell within the range of P27 to P30 per liter, according to a CAB official. Based on the matrix, the approved surcharge for one-way flights to near destinations such as Taiwan and Hong Kong would only be P381 per passenger. For farther destinations such as North America or the United Kingdom, the approved surcharge will be P3,632 per passenger for one-way flights. (See infographic) 
There will be another announcement to be made on October 15, which would be based on jet fuel prices in August and September. Airlines, however, would have to submit petitions to impose the surcharges to CAB before they increase fares.
ADVERTISEMENT - CONTINUE READING BELOW
Among the carriers in the country, Philippine Airlines and Cebu Pacific Air have started to impose surcharges in their fares starting September 19 after receiving authorization from the aviation board. 
The resolution was adopted on August 17 and was published in a general circulation newspaper on August 30. It was approved to cope with volatile fuel costs and to help airlines sustain profitability.
"Jet fuel cost is the largest expense by an airline operator. As a global practice, airlines, due to competition, prefer to charge fuel surcharge separately rather than increase fares when fuel prices surge, as charging fuel surcharge allows them to update across all fares at once," CAB wrote in the resolution.
***** 
Pauline Macaraeg is Entrepreneur PH's data journalist. Follow her on Twitter @paulinemacaraeg
This story originally appeared on Entrepreneur.com.ph.
* Minor edits have been made by the Townandcountry.ph editors.
What to do if you're in your car, an elevator, the train, or on the stairs during an earthquake.
A historic, well-coordinated media blackout allowed the prince to carry out his deployment.
The cathedral's tiny, buzzy residents made it through-and their beekeeper is over the moon about it.
The stone edifice of Paris's great Cathedral has been in flux for almost 900 years. Change-and resurrection-are central to its identity.
The Duke of Edinburgh will turn 98 this summer.
Many of the Queen's relatives were there today to celebrate not only Easter, but also her 93rd birthday.
The Duchess had a very good reason for skipping the annual royal event.
The British monarch turns 93 today.
The beloved aquamarine and ruby Paul Flato necklace once belonged to Cole Porter.
It ticks all the right boxes.
It unfolds into a 7.3-inch screen that can run three apps simultaneously, making it the CEO of all smartphones.
Get The Latest Updates From Town&Country!