Style
The Timepieces for Every Type of Dad
Dads can wear these Swiss watches anywhere.
It's been decades since watches graduated from being a mere accessory to keep track of time (smartphones show the time too). Yet their importance has never been questioned—and for good reason. A watch is an inspiring status symbol, proof of ingenuity and fine technology with its own mechanism—especially when it's a diving watch.
Diving watches, which were manufactured in the 1920s, marked the start and popularity of water-resistant wristwatches. They keep to a strict standard beyond water resistance—they must also be visible and legible in total darkness, and resistant to magnets, shock, and chemicals.
There's something to be said about the quality, heritage, and value of a diving watch that makes it a worthy gift for dads. No doubt he'll know just how much you appreciate him when you gift him with the perfect piece.
Oris Aquis Date Relief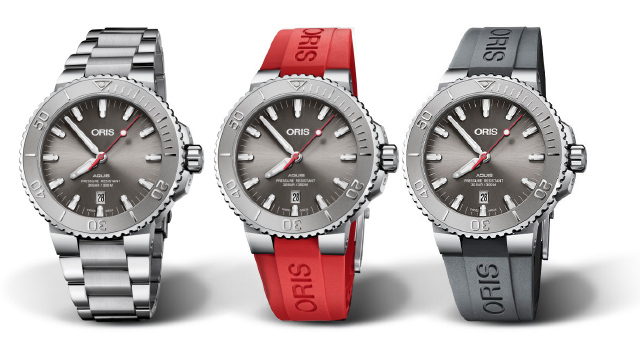 This piece was created to raise awareness on the different threats surrounding the Earth's oceans. If your dad loves the sea or has his own advocacies, consider the Oris Aquis Date Relief. Water-resistant for up to 300 meters, this watch has a gray reflective face that is an ode to men who brave the stormy seas.
Oris Divers Sixty-Five
This timepiece has been a diver's essential since the 1960s. The 2019 version boasts a modernized design. The bubble-curved glass is now made of scratch-resistant sapphire crystal with an anti-reflective coating to further reduce glare and improve legibility underwater. Suitable for dads who not just dive but love the outdoors.
Oris Divers Sixty-Five Chronograph
Dads who are fascinated with tech, regardless of the decade, are nothing short of endearing. Your dad might struggle with today's apps, computers, and phones, but wait 'til his eyes glint as he shows you how to work a chronograph. The Oris Divers chronograph sports a retro design with the high-contrast found in the black face, peach indices and hands, and light brown leather strap. It'll remind him of his youth.
If your dad prefers a more casual or everyday look that's not common in diving watches, these timepieces should do:
Oris Artix GT Chronograph
Being an automotive lover means preferring a watch that looks sporty. The Oris Artix GT Chronograph has a perforated leather strap that mimics the grooves on tires to balance elegance and sportiness. But if your dad prefers steel straps, the chronograph becomes just as sleek, if not sleeker: The rotating bezel is black to contrast the strap, and the red pointer and hand gives the watch the right amount of flair.
Oris Artelier Complication
A dad who keeps an open mind and loves to learn deserves a watch that gives as many details as possible while staying elegant. The Oris Artelier Complication, launched in 1991, shows the day, date, moon phase, and different time zones in a textured silver dial.
Learn more about these timepieces by visiting the Oris website.
This article was created by Summit Storylabs in partnership with ORIS.