Money & Power
Which Industries Generate the Fortunes of the Country's 50 Richest Tycoons?
Seven sectors stand out as top favorites of the country's wealthiest business owners
IMAGE PEXELS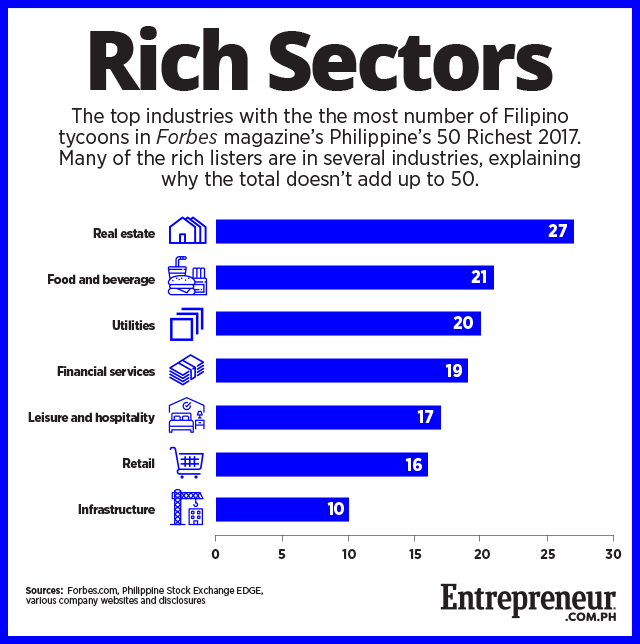 Forbes' list of the Philippines' 50 richest people features tycoons with a diverse set of businesses. While some tycoons have built diversified conglomerates with stakes in multiple industries, others have grown businesses that have specialized in one or two industries and raked in millions over time.
However, a closer look at each of their business profiles shows that these tycoons tend to favor certain industries over others. In fact, there were seven industries where at least 10 tycoons are active.
ADVERTISEMENT - CONTINUE READING BELOW
Topping the tally is real estate, which saw activity from more than half of the country's 50 richest people. In fact, more than half of the 27 tycoons with real estate investments are dollar billionaires, many of whom are owners of the largest property developers in the country.
Coming in second is the food and beverage industry, which includes both retailing and manufacturing of food and drinks as well as restaurant businesses—21 tycoons do business under those sectors. Not far behind is the utilities industry, which encompasses power generation, as well as electricity and water distribution—companies headed by 20 of the Philippines' richest belong to those sectors.
Check out the infographic below to see the rest of the industries receiving big business from at least a fifth of this year's rich list.
This story originally appeared on Entrepreneur.com.ph.
* Minor edits have been made by the Townandcountry.ph editors.
ADVERTISEMENT - CONTINUE READING BELOW
A preppy staple and a beloved designer teamed up to create the patterned accessories of your dreams.
Now you can order your bubbly at the press of a button.
The greatest drama in theater today might be a battle over how to behave. Is texting ever OK during a performance (even for Rihanna)?
A documentary on his recent tour of Africa with Meghan Markle is in the making.
Launched in 1901, the original Mercedes 35 HP marked the new age of automobiles.
They're pushing the boundaries of philanthropy by incorporating sustainable practices.
Impeccable taste seems to be a royal family trait.
From how quickly you should send a thank-you note to the perils of re-gifting.
Billionaire senators Villar and Pacquiao retain the top spots.
Former Hearst CEO, Frank Bennack, shares lessons learned from 28 years in the C-suite.
This, and other tourism news, here.
Without sacrificing style, of course.
Get The Latest Updates From Town&Country!