Money & Power
Which Industries Generate the Fortunes of the Country's 50 Richest Tycoons?
Seven sectors stand out as top favorites of the country's wealthiest business owners
IMAGE PEXELS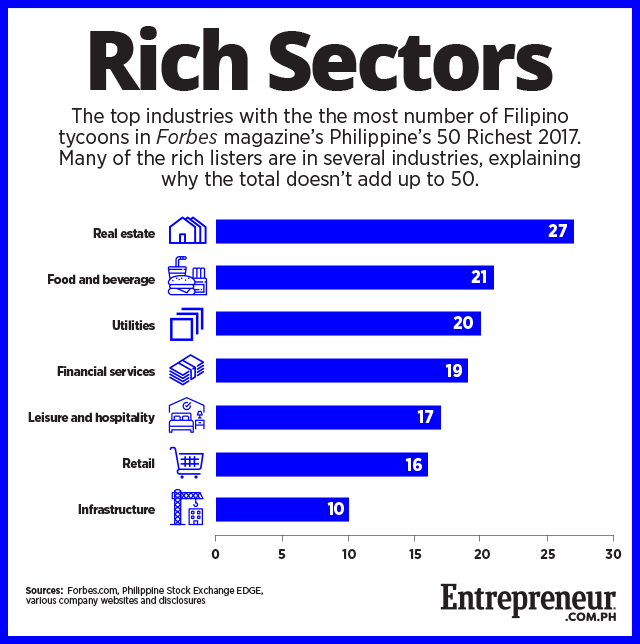 Forbes' list of the Philippines' 50 richest people features tycoons with a diverse set of businesses. While some tycoons have built diversified conglomerates with stakes in multiple industries, others have grown businesses that have specialized in one or two industries and raked in millions over time.
However, a closer look at each of their business profiles shows that these tycoons tend to favor certain industries over others. In fact, there were seven industries where at least 10 tycoons are active.
ADVERTISEMENT - CONTINUE READING BELOW
Topping the tally is real estate, which saw activity from more than half of the country's 50 richest people. In fact, more than half of the 27 tycoons with real estate investments are dollar billionaires, many of whom are owners of the largest property developers in the country.
Coming in second is the food and beverage industry, which includes both retailing and manufacturing of food and drinks as well as restaurant businesses—21 tycoons do business under those sectors. Not far behind is the utilities industry, which encompasses power generation, as well as electricity and water distribution—companies headed by 20 of the Philippines' richest belong to those sectors.
Check out the infographic below to see the rest of the industries receiving big business from at least a fifth of this year's rich list.
This story originally appeared on Entrepreneur.com.ph.
* Minor edits have been made by the Townandcountry.ph editors.
ADVERTISEMENT - CONTINUE READING BELOW
Don't know where to start when shopping at Real Food? Bea Lhuillier, Katrina Mañosa, Honey Almedral, and Nicole Fandiño make your decisions easier with their list of top picks.
Streetwear meets luxury yet again.
"Stuff happens," Harry said. "But look, we're brothers. We'll always be brothers."
It underwent a serious restoration project to bring it back to its Victorian splendor.
See the full trailer for the show's third season right here.
The bride and more than one entourage member wore Rosa Clará gowns.
Emma Stone, Kris Jenner, Adele, Amy Schumer, and more celebrities came out to celebrate the newlyweds.
It's never a dull moment with your family, but that doesn't mean you should succumb to becoming the entertainment.
She's part of a rare breed of dedicated restaurant pastry chefs in the metro, and her future's looking pretty sweet.
Queen Victoria was the first monarch to purchase Patek Philippe watches and started a trend among royals shortly after.
Two luxury hotels in Athens and Crete offer the perfect late summer vacation-and surprising life lessons.
The new HBO miniseries starring Helen Mirren recreates some of the Empress's famous jewels, which she used to cement her authority as an enlightened despot.
Get The Latest Updates From Town&Country!