Money & Power
Which Industries Generate the Fortunes of the Country's 50 Richest Tycoons?
Seven sectors stand out as top favorites of the country's wealthiest business owners
IMAGE PEXELS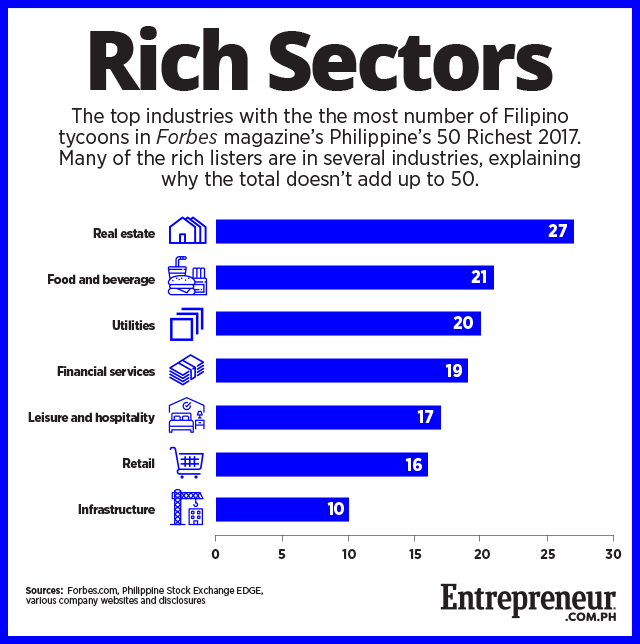 Forbes' list of the Philippines' 50 richest people features tycoons with a diverse set of businesses. While some tycoons have built diversified conglomerates with stakes in multiple industries, others have grown businesses that have specialized in one or two industries and raked in millions over time.
However, a closer look at each of their business profiles shows that these tycoons tend to favor certain industries over others. In fact, there were seven industries where at least 10 tycoons are active.
Topping the tally is real estate, which saw activity from more than half of the country's 50 richest people. In fact, more than half of the 27 tycoons with real estate investments are dollar billionaires, many of whom are owners of the largest property developers in the country.
Coming in second is the food and beverage industry, which includes both retailing and manufacturing of food and drinks as well as restaurant businesses—21 tycoons do business under those sectors. Not far behind is the utilities industry, which encompasses power generation, as well as electricity and water distribution—companies headed by 20 of the Philippines' richest belong to those sectors.
Check out the infographic below to see the rest of the industries receiving big business from at least a fifth of this year's rich list.
This story originally appeared on Entrepreneur.com.ph.
* Minor edits have been made by the Townandcountry.ph editors.
The musical reminds us to take some time off and indulge in something good for a change.
See the Prince grow up in the touching tribute.
From vaccinations to visas-and choosing where to stay-here's a primer for safari newbies.
The 19-carat gem that once belonged to the Oppenheimer family sold for over $50 million.
Get used to the sound of "Sir Ralph Lauren."
Meet your new Netflix obsessions.
"To you Charles. To the Prince of Wales."
The CEO of Evident Communications, an integrated marketing and public relations agency, talks about philanthropy and the bright future of digital technology and social media.
A new book details Hughes' tendency to manipulate and deceive the women in his life.
If it weren't for these revolutionary entrepreneurs, the world as we know it, would've been very different.
Plus, the former First Lady reveals the story behind that hug that broke royal protocol.
Say goodbye to your flakes and irritation.
Get The Latest Updates From Town&Country!