Money & Power
Which Industries Generate the Fortunes of the Country's 50 Richest Tycoons?
Seven sectors stand out as top favorites of the country's wealthiest business owners
IMAGE PEXELS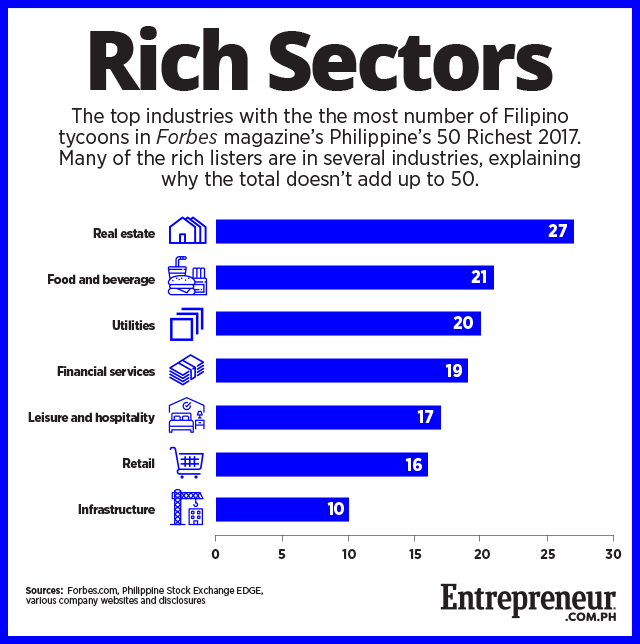 Forbes' list of the Philippines' 50 richest people features tycoons with a diverse set of businesses. While some tycoons have built diversified conglomerates with stakes in multiple industries, others have grown businesses that have specialized in one or two industries and raked in millions over time.
However, a closer look at each of their business profiles shows that these tycoons tend to favor certain industries over others. In fact, there were seven industries where at least 10 tycoons are active.
Topping the tally is real estate, which saw activity from more than half of the country's 50 richest people. In fact, more than half of the 27 tycoons with real estate investments are dollar billionaires, many of whom are owners of the largest property developers in the country.
Coming in second is the food and beverage industry, which includes both retailing and manufacturing of food and drinks as well as restaurant businesses—21 tycoons do business under those sectors. Not far behind is the utilities industry, which encompasses power generation, as well as electricity and water distribution—companies headed by 20 of the Philippines' richest belong to those sectors.
Check out the infographic below to see the rest of the industries receiving big business from at least a fifth of this year's rich list.
This story originally appeared on Entrepreneur.com.ph.
* Minor edits have been made by the Townandcountry.ph editors.
All this tiptoeing around words and what pleases you just sucks the joy out of life.
Fingers crossed we get to see the little princess in a tutu sometime soon.
Plus the mistakes guests like Victoria Beckham made in the past.
It took plenty of innovation and renovation.
The new owners say they are committed to preserving the property and "don't even want it to look like a new paint job was done."
The 12-room home includes an Eloise-inspired room hand-painted by Hilary Knight.
Talk about intense wedding prep.
Versace is joining brands like Gucci and Calvin Klein in their compassionate pursuit.
A new study by CatchOn shows millennials are interested in Instagram-ready plating and ingredients' provenance, among others.
His spring collection will solve all your wedding party dress dilemmas.
These illegitimate royals overcame the circumstances of their birth and went on to become some of the most influential people in history.
There are 3 types of pink stones you need to know about.
Get The Latest Updates From Town&Country!