Money & Power
Which Industries Generate the Fortunes of the Country's 50 Richest Tycoons?
Seven sectors stand out as top favorites of the country's wealthiest business owners
IMAGE PEXELS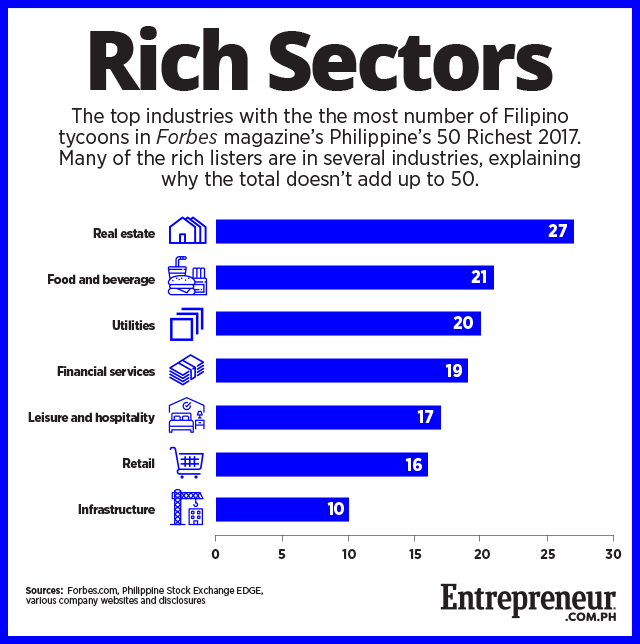 Forbes' list of the Philippines' 50 richest people features tycoons with a diverse set of businesses. While some tycoons have built diversified conglomerates with stakes in multiple industries, others have grown businesses that have specialized in one or two industries and raked in millions over time.
However, a closer look at each of their business profiles shows that these tycoons tend to favor certain industries over others. In fact, there were seven industries where at least 10 tycoons are active.
ADVERTISEMENT - CONTINUE READING BELOW
Topping the tally is real estate, which saw activity from more than half of the country's 50 richest people. In fact, more than half of the 27 tycoons with real estate investments are dollar billionaires, many of whom are owners of the largest property developers in the country.
Coming in second is the food and beverage industry, which includes both retailing and manufacturing of food and drinks as well as restaurant businesses—21 tycoons do business under those sectors. Not far behind is the utilities industry, which encompasses power generation, as well as electricity and water distribution—companies headed by 20 of the Philippines' richest belong to those sectors.
Check out the infographic below to see the rest of the industries receiving big business from at least a fifth of this year's rich list.
This story originally appeared on Entrepreneur.com.ph.
* Minor edits have been made by the Townandcountry.ph editors.
ADVERTISEMENT - CONTINUE READING BELOW
The journey of the Igorots who were put on display for the world to see.
They just arrived at the tennis tournament to watch Meghan's friend Serena Williams play in the women's final.
It is harder now to determine who is Truly Rich, what with hordes of people coming into money or, you know, dressing like they have money.
The Duke and Duchess of Sussex just arrived on the red carpet.
The ill-fated emperor was fond of body art.
The Nike ZoomX Vaporfly Next% may take you beyond your limits.
Here's what you should know about the decade-spanning, nine-book series.
The banker and philanthropist donated millions to create a cutting edge agricultural research center. He was rewarded with a bag of peas.
Before the Cultural Center of the Philippines (CCP) was built, many flocked to the Manila Grand Opera House to seek classical entertainment.
For those who carry their whole lives with them to the office.
It's in the movies inspired by the Beatles' music, however, that we find the most magic.
Get The Latest Updates From Town&Country!