Money & Power
What Days and Hours Are Philippine Online Shoppers Most Likely to Buy?
iPrice Group report offers insights on daily e-commerce activity in the Philippines and Southeast Asia.
IMAGE WILLIAM IVEN/ UNSPLASH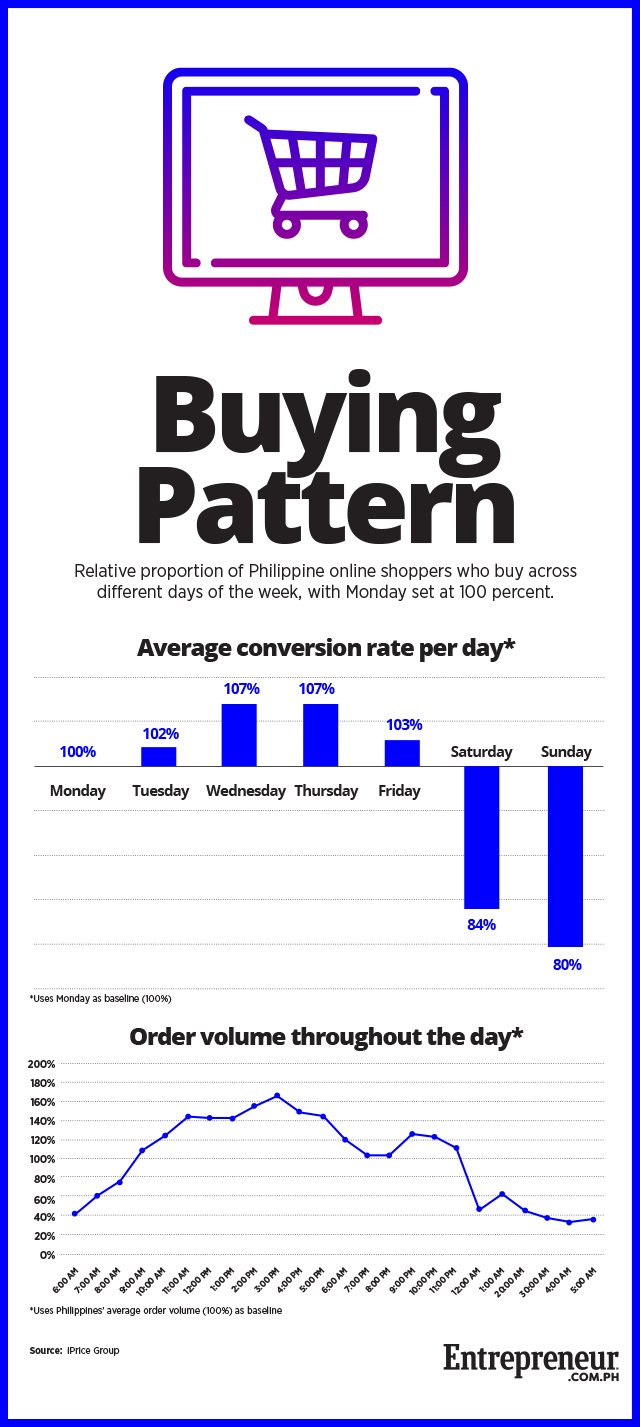 Filipinos tend to shop for products and services online on Wednesdays and Thursdays over any other day, according to Malaysia-based online shopping aggregator iPrice Group.
In a report titled "State of eCommerce in Southeast Asia 2017," iPrice revealed that the Philippines showed the highest conversion rates, or the rate in which a visit to an e-commerce platform leads to a purchase, on Wednesdays and Thursdays. Using Monday as a baseline, conversion rates were seven percentage points higher on these days.
ADVERTISEMENT - CONTINUE READING BELOW
On the other hand, Filipinos showed much less online shopping activity on weekends, with conversation rate dipping to 84 percent on Saturdays and a weekly low of 80 percent on Sundays.
This trend of high weekday and low weekend conversion rates is consistent across the five other Southeast Asian countries in the report, which iPrice attributed to "the large increase in the percentage of mobile usage [in the weekend]."
In the report, iPrice revealed that mobile traffic contribution to e-commerce platforms was higher during weekends compared to weekdays, rising to as high as 82 percent on Sundays for the Philippines compared to 70 percent on Wednesdays.
While this may be indicative of higher e-commerce activity, iPrice correlated the increase in mobile traffic to a decrease in conversion rate as online shoppers using mobile tended to make fewer purchases than online shoppers using a desktop. In the Philippines, conversion rate among desktop shoppers was almost triple that of mobile shoppers, and similar trends can be seen in its Southeast Asian neighbors.
ADVERTISEMENT - CONTINUE READING BELOW
"Despite the meteoric rise of mobile traffic in the region and the development of ad-hoc tools supporting mobile commerce, traffic on mobile still suffers a substantial gap with desktop when it comes to average conversion rate," wrote iPrice in the report.
Aside from daily conversion rates, iPrice also revealed the peak hours for e-commerce transactions in each of the six countries. For the Philippines, iPrice recorded the highest number of online shopping orders between 11:00 a.m. and 6:00 p.m., with activity peaking from 3:00 p.m. to 4:00 p.m. Conversely, e-commerce platforms in the Philippines received the least number of orders between 3:00 a.m. and 6:00 a.m.
This again followed the trend of other Southeast Asian countries, which iPrice believes is because Southeast Asians tended to shop online more when they are at work or in school. This is also consistent with a statement from Lazada Philippines CEO Inanc Balci, who commented in an event that the company received the most orders within working hours and dipped during lunch break and in the evening.
ADVERTISEMENT - CONTINUE READING BELOW
For "State of eCommerce in Southeast Asia 2017," iPrice gathered insights from over 1,000 e-commerce players across six Southeast Asian countries. The report underscored the huge growth opportunity for the industry in the region, with iPrice opening the report by stating that "2017 has been a vital year for e-commerce in Southeast Asia."
This story originally appeared on Entrepreneur.com.ph.
* Minor edits have been made by the Townandcountry.ph editors.
For starters, good quality and design are aspects they will appreciate.
The first-ever Filipino Netflix movie imparts nuggets of wisdom to the social media-crazed generation.
Simpson attended his funeral England, alongside the royal family.
Welcome to the Princess Anne fan club!
Because the holiday season isn't complete without a movie marathon.
A treat for all ahead of Thanksgiving.
Looking to grow your own vintage watch collection? Start with these classic picks.
Taking a Rolls-Royce Ghost out for a spin is going to cost you.
Her portrayal of a masked mercenary in this month's Rise of Skywalker is one of Hollywood's best-kept secrets. Keri Russell prepares for the big reveal at a brownstone in Brooklyn, a galaxy far, far away.
Take a ride on a train through Asia or take a trip to a champagne chalet, the options are endless.
Alcohol-free traveling is an emerging trend, but there's much more to this phenomenon than meets the eye.
It comes complete with jewels, corgis, banquets, and etiquette lessons.
Get The Latest Updates From Town&Country!