Money & Power
Teresita Sy-Coson Recounts How Being Contrarians Helped the SM Group Thrive Amid Crisis in 1980s. Will It Help Them Adapt to Rise of E-Commerce?
SM Investments Corp. vice chairman speaks on the role of shopping malls in age of online stores.
IMAGE GETTY/ WIKIMEDIA COMMONS/ UNSPLASH
Popularly known as Singles' Day, November 11, 2017 represented another milestone for Southeast Asian e-commerce platform Lazada, which sold 6.5 million items worth $123 million on that day to people without romantic partners to buy stuff for them. That was double its sales on the same day last year, according to a report by CNBC.
It's online growth numbers like these that are getting some analysts and investors worried for the operators of the country's sprawling shopping malls, some of which are the biggest in the world. Though still in the nascent stage in the Philippines, e-commerce is seen as eventually disrupting the country's retailing giants, such as the SM Group, which runs most of the country's shopping malls.
In remarks during a panel discussion at the ASEAN Business and Investment Summit last November 13, Teresita Sy-Coson, Henry Sy's eldest child and vice chairman of the family holding company SM Investments Corp., acknowledged these concerns about the future of the family's retailing business. "I know that some people were nervous for us because of the digital advancement," she said.
ADVERTISEMENT - CONTINUE READING BELOW
But she also reminded everybody that the Sy family and business group are made of sturdier stuff, not just surviving but thriving while facing existential threats and challenges to the business in the past.
"We siblings were trained by our dad to really be contrarians. I think he built the shopping center during the economic crisis times (in the early 1980s when SM built its first shopping mall, SM City North EDSA). When we first opened, there were only just about eight tenants. And we had to beg some of them to come in. Some of them were even friends. Then after we just went on and on. Right now, we have about 60 something malls," she recalled.
Besides, the rise of online commerce, while inevitable, won't totally displace the need for shopping malls and other physical retail spaces, she said.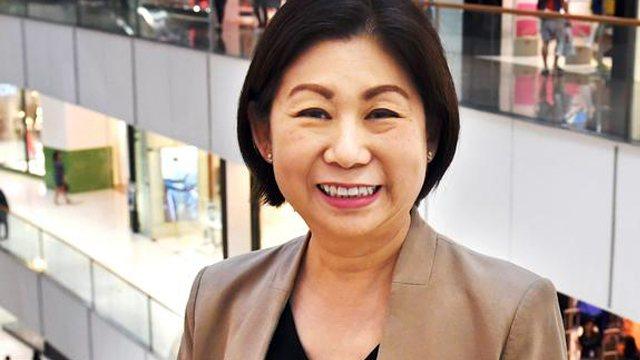 ADVERTISEMENT - CONTINUE READING BELOW
"You see, all of us are social beings and we will always have to meet somewhere and I hope you do meet in our malls. [So,] we will make our malls entertaining. We'll have restaurants and other stuff that will make the social interactions more interesting," she said.
The company's mall business continues to be its largest revenue driver. In September, SMIC opened its 64th mall in the country at Puerto Princesa in Palawan, expanding its retail space to 7.9 million square meters. Combined revenues from its mall operations and rentals reached Php71.4 billion by the end of the third quarter, a 10-percent increase from the same period last year.
In the past decade, the mall operator has built and transformed some of its spaces into destination malls or becoming modern-day city plazas with its vast entertainment offerings. A prime example is SM Mall of Asia in Pasay City which now has a 20,000-seater arena and small theme park within its vicinity. SM Seaside City in Cebu is also set to open the first marine theme park in the Visayas-Mindanao region in the next few years.
ADVERTISEMENT - CONTINUE READING BELOW
In preparation for the rise of online commerce, the SM Group tied up with Lazada to sell some of its items through the online marketplace as early as 2013. The company's expansion moves both in the physical and digital retail space reflect Coson's views on the future of shopping in the country.
"In terms of the digital area, I think there will be a fusion between brick and mortar and digital. I don't think it will be purely digital nor will it be purely brick and mortar. With that merger, I think that's where we'll be. So I think we'll have an exciting future," she added.
This story originally appeared on Entrepreneur.com.ph.
* Minor edits have been made by the Townandcountry.ph editors.
For starters, good quality and design are aspects they will appreciate.
The first-ever Filipino Netflix movie imparts nuggets of wisdom to the social media-crazed generation.
Simpson attended his funeral England, alongside the royal family.
Welcome to the Princess Anne fan club!
Because the holiday season isn't complete without a movie marathon.
A treat for all ahead of Thanksgiving.
Looking to grow your own vintage watch collection? Start with these classic picks.
Taking a Rolls-Royce Ghost out for a spin is going to cost you.
Her portrayal of a masked mercenary in this month's Rise of Skywalker is one of Hollywood's best-kept secrets. Keri Russell prepares for the big reveal at a brownstone in Brooklyn, a galaxy far, far away.
Take a ride on a train through Asia or take a trip to a champagne chalet, the options are endless.
Alcohol-free traveling is an emerging trend, but there's much more to this phenomenon than meets the eye.
It comes complete with jewels, corgis, banquets, and etiquette lessons.
Get The Latest Updates From Town&Country!