Money & Power
This Restaurateur's Nearly 200-Restaurant Empire Started Out As a Side Business
Rikkie Dee's Foodee Global Concepts balances homegrown restaurant concepts with award-winning global brands.
IMAGE HUB PACHECO
Before the end of the year, Foodee Global Concepts (FGC) will have close to 200 restaurants and food outlets nationwide. The company is home to well-known homegrown brands including Mesa, Kai, and Cerveseria, as well as food court favorites like Chin's Express, Inihaw Express, and Handaan Express.
But what's getting the company high-profile notices lately is its portfolio of well-known, well-loved and award-winning international restaurant brands Todd English Food Hall, Tim Ho Wan, Pound by Todd English, Hook by Todd English, FOO'D by Davide Oldani, Tsuta, Llaollao, Bench Cafe and, most recently, Kam's Roast Goose and Hawker Chan from Singapore.
It's an impressive list for anyone with even a passing interest in international culinary trends, but it's even more remarkable when you consider that the man who started it all almost went on a different trajectory early on in his entrepreneurial life.
I was in the construction business with my parents, says FGC's founder, president and CEO Eric Enrico Rikki Dee. I had just gotten married and I felt I had to have a side business. It was really the love of eating for me, so I started a small outlet in a hawker center in Chinatown. It was called Estero and I asked my wife (Beng Dee) to run it for me.
ADVERTISEMENT - CONTINUE READING BELOW
Rikki Dee started out with a food stall at a hawker center Chinatown before eventually moving to outlets at the food court of SM Malls. He eventually created full-service casual restaurants
The hawker center eventually moved to an air-conditioned space in Makati and the Dees moved their food concept with it. At the time, SM was about to open its first supermall in North EDSA and were looking for tenants. Henry Sy Sr. himself extended an invitation to the couple to open a food court concept there and that got the Dees started on their restaurant empire.
ADVERTISEMENT - CONTINUE READING BELOW
But it was a slow burn for the business, so to speak. As SM started to churn out one shopping mall after another, the Dees opened a food court outlet at almost every one of them. If the mall needed a new concept, Dee said they were more than willing to develop one for them.
Eventually, Dee felt the company was ready to open their own standalone restaurant concept. But not all of their ideas found a market in Manila's intensely fickle and competitive dining scene.
We put up Kitchen at the time, but it was too early for that concept, Dee says. Then we put up Krocodile Grille because me and my barkada would go out drinking, so we put up our own drinking place. But we soon outgrew it. Sabi ko hindi na kami bagay mag-bar (I didn t think the bar scene suited us anymore). Then we put up Dish in Rockwell. Those were the first few concepts that we did.
ADVERTISEMENT - CONTINUE READING BELOW
FGC finally struck gold when it opened Mesa, a restaurant with a modern take on Filipino cuisine, in 2009. Dee and his partners must have done something right as today, it's arguably their most successful brand. They expect Mesa to hit 60 branches before the end of the year. About 75 percent of the store count are franchises.
Michelin-starred brands
Dee says his kids influenced his decision to introduce international brands to the Philippines.
We travel a lot," he says. We got exposed to foreign brands. About four years ago, we started bringing in foreign restaurant brands because of globalization.
Their first international concept was Todd English Food Hall, a partnership with the American celebrity chef. Then came Tim Ho Wan the dimsum restaurant chain from Hong Kong famous for its pork buns. And then the rest followed soon after Tsuta (Japanese specialty ramen), Kam's Roast Goose, Hawker Chan, and Italian haute cuisine FOO'D by Davide Oldani. The last five have all received a coveted star from the prestigious Michelin guide.
ADVERTISEMENT - CONTINUE READING BELOW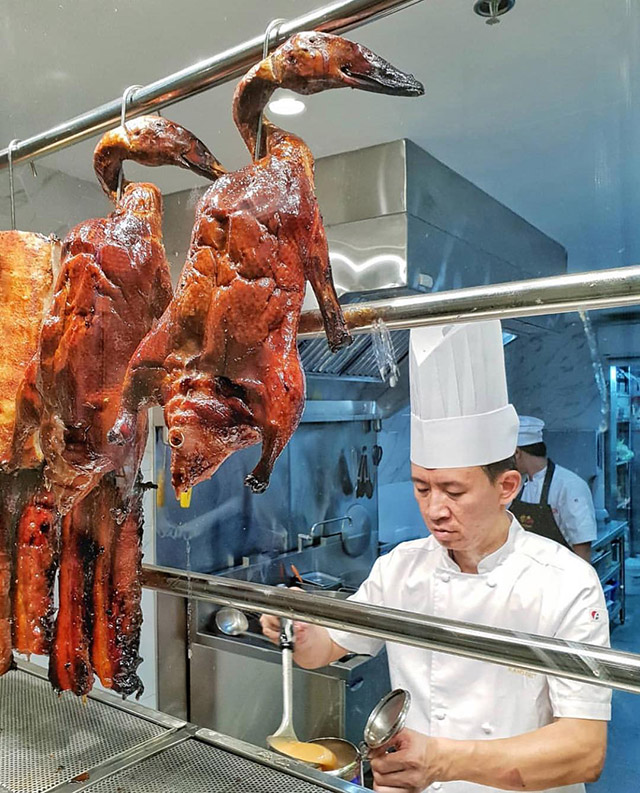 Kam's Roast Goose is a Michelin-star award-winning restaurant from Hong Kong
For global brands, the brand awareness should be number one, Dee says to explain how they choose the restaurants to bring to the country. Accolades. Acceptance in an Asian scenario and localizing it. Price points. And, of course, do we personally like it? We live with the idea that, once you enjoy it, once you enjoy eating it, it's not work. If you like the brand, you don t get tired of eating the brand.
ADVERTISEMENT - CONTINUE READING BELOW
Dee isn t stopping there. Earlier this year, he launched a joint venture with retail king Ben Chan to run Bench Cafe, an F&B outlet in the fashion brand's flagship store in Bonifacio Global City. Coming soon is a Bench food kiosk that will serve halo-halo, iced tea, drinks, and desserts.
Also in the pipeline: a Food District at the new Philippine Stock Exchange Tower in BGC, a curated restaurant featuring the best of the food outlets in Malate and the Poblacion district in Makati.
There will be nine operators, each one will have only five to 10 of their signature products, Dee explains. These are all chef-owned.
And Dee hasn t even mentioned his involvement with Sunnies, an optical shop that expanded from its initial offering of sunglasses and into prescription eyewear and now also a cafe.
While eldest son Eric handles all the food brands, second son JRD is in charge of the Sunnies subsidiaries, while daughter Erika handles the company's foodcourt developments. (The company has a separate arm that handles a canteen concession service that feeds up to 15,000 people daily). Dee says he is also dabbling into real estate, with a separate company that develops suburban malls outside Metro Manila.
ADVERTISEMENT - CONTINUE READING BELOW
We re building one in Bocaue, he says. My second son is helping me out there. We have four malls now called Central Mall. We re also building an office tower along EDSA-Boni and we re putting up our second one in Libis.
ADVERTISEMENT - CONTINUE READING BELOW
Dee describes Mesa, a casual restaurant chain featuring a modern take on classic Filipino cuisine, as his "baby"
Trends in the local dining scene
Being active in the food business for close to 30 years has allowed Dee to feel the pulse of a constantly shifting industry. He identifies and shares certain trends in the local food scene that might prove useful for aspiring food entrepreneurs. The first is what he terms the localization of global brands.
Like ramen, he says. There's a very secretive, traditional way of doing the soup stock: 48 to 72 hours plus the passion of the chef doing it. He just does ramen; he cannot do tempura or tonkatsu.
Dee predicts that this particular focus and specialization on a single item will soon be adopted by local chefs.
For example, when you do sinigang, you will focus on sinigang, Dee says. When you talk about Japanese food before, you got everything: ramen, gyoza, tempura, etc. Now, if you notice, there's a specialization. If it's a ramen restaurant, it's just ramen. You do tonkotsu, you just do tonkotsu. You don t do anything else. Filipinos will be like that.
ADVERTISEMENT - CONTINUE READING BELOW
Two, we ll adapt the style of foreign chefs, he adds. Their passion about their products. Local chefs will realize, ah, ganun pala yun (so that's how it's done). In the next decade, you will see a lot of improvements and enhancements in the local food industry based on global attitudes.
Finally, Dee sees the emergence of professionally trained young chefs in an industry increasingly becoming glamourized.
ADVERTISEMENT - CONTINUE READING BELOW
Some of the star cuisine featured at Bench Cafe, a joint venture between Dee and Ben Chan of the Bench Group
Ten to 15 years ago, there weren t very many chefs. We even called them kusinero. There weren t a lot of culinary schools also. Now, culinary schools are inside a college and university. Now it's a degree. Suddenly naging glamorous yung industry. Nobody wanted to become a chef before. But now everybody wants to be one. And a lot of the young chefs are putting up their own restaurants. You ve never heard of that before.
Tireless and ever-innovative, Dee says the key to a succesful business, not just in the food industry, is to always think ahead and try to anticpate and adapt to challenges.
Never be complacent, he says. "What works for you today might not be the same tomorrow. Especially with today's fast-paced world. It's a different ball game tomorrow. That's what I always tell my kids: stay focused on what you're doing and things will just come to you naturally."
ADVERTISEMENT - CONTINUE READING BELOW
This story originally appeared on Entrepreneur.com.ph.
* Minor edits have been made by the Townandcountry.ph editors.
Barangay Bel-Air will celebrate the 15th anniversary of the Salcedo Market on August 31.
Experience wine harvested from the best set of cool-climate vineyards in Argentina.
In A Royal Road to Wembley: Tackling Mental Health, he advocates for men's mental fitness through the lens of football.
Casiraghi owns one of the few carbon-neutral racing boats in the world.
The Amazon is currently burning at the highest recorded rate since 2013.
Expect to see Will and Kate traveling to church with the British monarch this weekend.
The TV personality and lifestyle guru was seen having a good time while touring the metro.
The 157-acre empty lot was at one point the most expensive real estate listing in the world.
In a world where everything is industrially produced, it's best to consider safe organic meat to ensure good health.
Thatcher Wine, celebrity bibliophile, shares his tips on collecting (and decorating) with books.
Even royals aren't above a little social media #inspo.
Get The Latest Updates From Town&Country!