Money & Power
92 Percent of E-Commerce Traffic in the Philippines Goes to Only Four Foreign Sites
iPrice released its latest ranking of 50 e-commerce platforms in the Philippines.
IMAGE RAWPIXEL/ UNSPLASH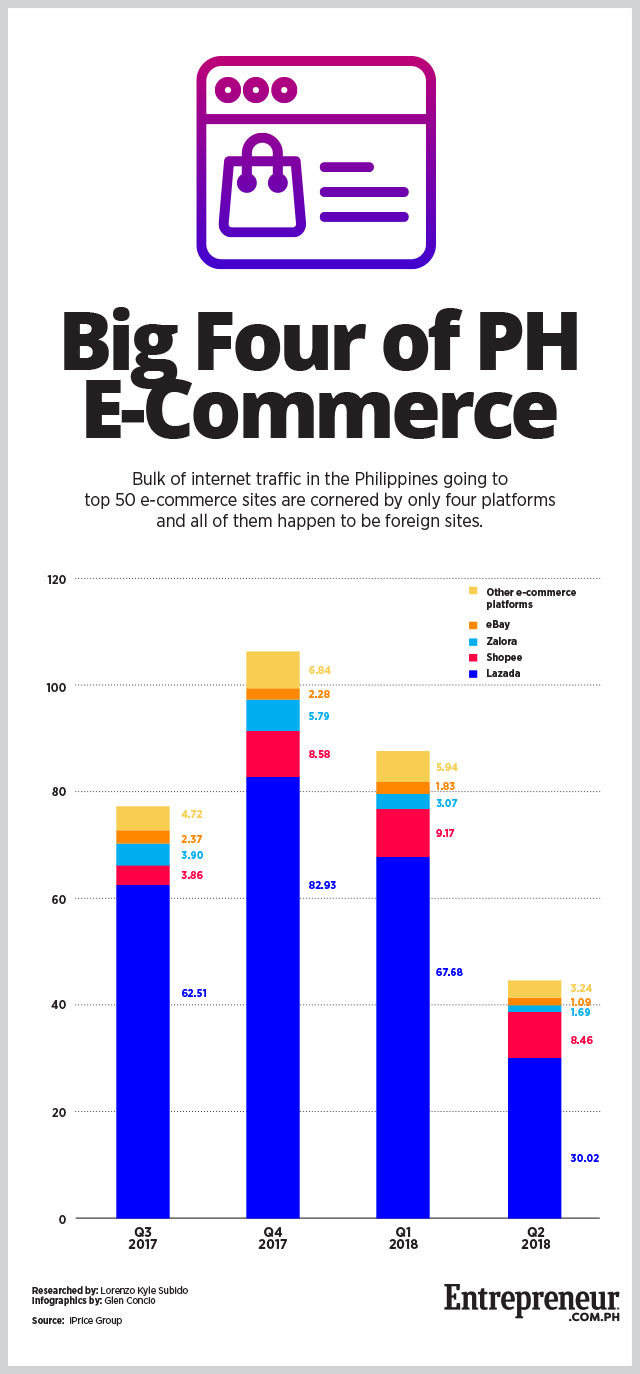 According to "Digital in 2018," an internet industry report published by social media agency We Are Social, consumer goods in the Philippines sold via e-commerce totaled $1.2 billion (P62.3 billion) in value in 2017, a 23-percent increase from the year prior. The same report said that over 33.8 million Filipinos purchased goods via e-commerce in 2017, representing 32 percent of the country's population.
But data from iPrice Group, a Malaysia-based online shopping aggregator, showed that many of these 33.8 million Filipinos are going to only four e-commerce platforms. 
In its latest report called "The Map of E-Commerce Philippines," iPrice listed 50 of the country's largest e-commerce players and ranked them based on monthly page visits, social media presence and mobile app store rankings. And while less than a fifth of the 50 merchants were foreign players, four of them grabbed over 92 percent of average monthly visits for the second quarter of 2018.
Leading the pack is Lazada, which saw an average of 30 million visits each month in the second quarter of 2018. iPrice highlighted Lazada's dominance in the Philippines as unique to the market, as it commanded over two-thirds of total monthly traffic. In comparison, it received less than half of monthly e-commerce traffic in Thailand, Malaysia and Vietnam, and it received less visits compared to local platforms in Indonesia and Singapore.
Coming in second is Shopee, which saw 8.5 million monthly visits between April and June. Zalora and eBay complete the top four with 1.7 million and 1.1 million visits per month respectively. The top three platforms are all headquartered in Singapore, while eBay is based in the US.
While the figures for average monthly visits are much lower compared to previous quarters, the dominance of these four players compared to the rest of the top 50 remains unchanged. In the second quarter of 2018, these four international platforms accounted for 92.7 percent of monthly traffic. In previous quarters, the figure hovered between 93 and 94 percent.
ADVERTISEMENT - CONTINUE READING BELOW
"The rationale behind the dominance of the international players in [the Philippine] e-marketplace is because Filipinos' online shopping preference is mainly based on brand familiarity," wrote iPrice in a press release. "In fact, according to [a] Kantar Worldpanel survey, 84 percent of Filipinos prefer to purchase from established companies despite the alternatives available in the market." 
iPrice also highlighted the partnerships these international players have secured with local brick-and-mortar retailers as another reason for their dominance. The SM group has established a partnership with Lazada, while the Ayala group has a large stake in Zalora. As well, the JG Summit group is an investor of Sea Ltd., the parent companies of Robinsons Retail and Shopee respectively.
"Majority of big local brick-and-mortar companies like SM and Ayala malls are amplifying their online presence with existing e-marketplaces partnerships instead of creating their own," wrote iPrice.
The biggest local competition in terms of page views comes from BeautyMNL, ranking fifth with over 766,000 visits per month. Other local players in the top 10 include Argomall, Galleon, O Shopping and Kimstore, which all hover between 200,000 and 300,000 monthly visits.
iPrice listed 50 e-commerce platforms in its report, all of which have at least 100,000 monthly visits and/or at least 100,000 followers on a social media platform. It publishes similar reports for the e-commerce markets in Indonesia, Malaysia, Singapore, Thailand and Vietnam.
***** 
Lorenzo Kyle Subido is a staff writer of Entrepreneur PH
This story originally appeared on Entrepreneur.com.ph.
* Minor edits have been made by the Townandcountry.ph editors.
Watch fireworks in Rio, participate in medieval Icelandic traditions, or ring in 2019 on one of Manila's best rooftop bars.
She's up against Donald Trump, Robert Mueller, and Christine Blasey Ford, to name just a few.
The two Scandinavian monarchies are hosting ceremonies in Stockholm and Oslo.
It's been a big week for jewelry.
Here's everything we know so far.
She was there to present an award to Clare Waight Keller of Givenchy, who designed her wedding dress.
And how one cosmetic brand makes its mark by reducing plastic waste.
Simpson was laid to rest alongside her husband, the Duke of Windsor.
All of the most spectacular places to see and be seen in the new year.
The foodie friends were there to celebrate the end of Garten's cookbook tour.
The pair's productions made the holidays during wartime a bit more bearable.
Tourist attractions across the city are shutting down.
Get The Latest Updates From Town&Country!