Money & Power
How Much Can New Lawyers Expect to Earn in the Private or Public Sectors?
Pay for fresh law graduates is rising thanks to higher demand from government agencies.
IMAGE pixel2013/ PIXABAY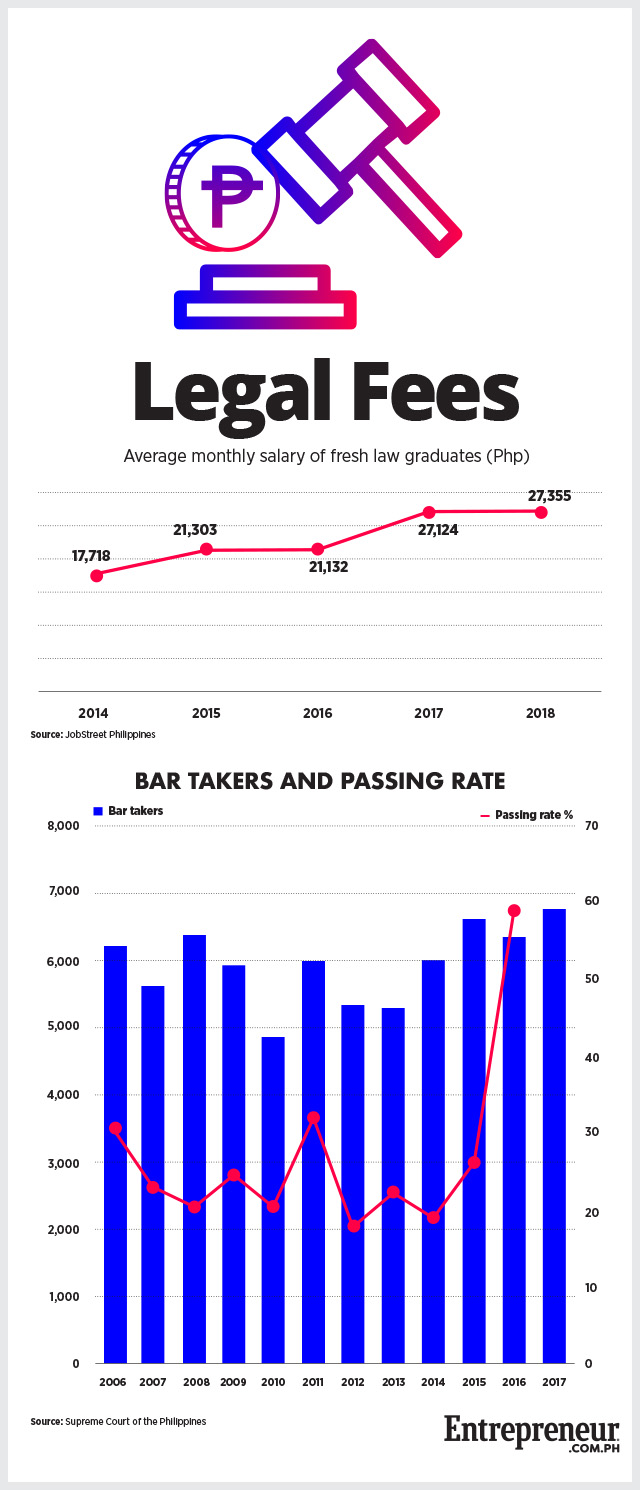 Despite the huge costs in time and money—an additional four or five years of law school, not to mention a few more months devoted to reviewing for the bar examinations—the number of aspiring lawyers continues to grow. 
Last year, a record-breaking 6,750 law graduates took the bar examinations, up 6.6 percent from 6,334 bar takers the year before. That's 27 percent more than the 5,292 who took the exams in 2013.
A key factor driving the growth in aspiring attorneys could be the better financial rewards of lawyering, especially if they score high in the bar exams and get hired by top-notch law firms and the country's biggest corporations.
While there is no data publicly available on how much practicing lawyers make, a possible proxy indicator is the average monthly salary for fresh law graduates offered by companies and government agencies on the online job portal run by JobStreet Philippines. 
For the past three years, the highest paying specialization for fresh college graduates is legal services, according to JobStreet.
ADVERTISEMENT - CONTINUE READING BELOW
When the online jobs portal began compiling reports on salaries for new college graduates in 2014, the expected salary for fresh law graduates was only P17,718. It was only the eighth highest paying profession on the list. The next year, it jumped to sixth place with monthly pay reaching P21,301.
By 2018, that monthly pay for new law graduates jumped to P27,355, making it the highest paying specialization for fresh graduates for the third year in a row. 
According to JobStreet Philippines Marketing Specialist Monica Palomares, the increasing demand for law graduates in private firms and the government made the job market competitive for new law graduates. 
"We saw a shift in demand for legal graduates in industries such as law firms and consultancy firms compared to the previous years' demand for them in the BPO sector," Palomares said in an e-mail interview. "And the government offered a higher pay for legal or law graduates compared to the previous years."
Palomares said the biggest factor for the change in fresh law graduates' salary average was the generous pay offer of some government offices to these new talents. Some offer as much as P39,000 for a law graduate without experience.
A quick browse on the jobs portal shows that the Philippine Competition Commission, the Bureau of Internal Revenue and the Commission on Elections are some of the government offices open to hiring fresh law graduates.
These graduates can also expect to become legal researchers, corporate secretaries or work as lawyers in legal departments of private companies or legal divisions of government departments.
ADVERTISEMENT - CONTINUE READING BELOW
A few years in the job and these attorneys can go on to become some of the highest-paid professionals in the country. 
Lawyers who function as supervisors, managers and executives have consistently ranked as some of the highest paid professionals on JobStreet.com's salary reports in the past four years. Law degree holders among supervisors have recorded an average salary of P40,811 during the period while managers get an average of P69,177. 
***** 
Elyssa Christine Lopez is a staff writer of Entrepreneur Philippines. Follow her on Twitter @elyssalopz
This story originally appeared on Entrepreneur.com.ph.
* Minor edits have been made by the Townandcountry.ph editors.
He was a child prodigy, who translated Shakespeare to Tagalog at eight and studied at Columbia University at 12.
Catch it for one more weekend this February.
These coveted pieces will set you back by a small fortune.
The artist hopes to open a discussion about mental health.
Art experts and collectors spent the afternoon checking out hundreds of artworks on display at The Link.
The Duchess joined by her close friends for the exclusive celebration in New York.
"I was the luckiest girl in the world to get a dress designed by Karl Lagerfeld."
Our curated selection of must-sees.
Arts education, development, and appreciation have been three of the central points of Dindin's career, a course that came naturally to her.
She joined her close friends Serena Williams, Jessica Mulroney, Abigail Spencer, and Markus Anderson for dinner at Polo Bar.
From Elizabeth Taylor's 68-carat diamond necklace in 1970 to Angelina Jolie's overside emeralds from 2009.
Get The Latest Updates From Town&Country!