Money & Power
Who Was Most Newsworthy Filipino Billionaire in 2017?
The richest of the lot doesn't always get the most coverage.
IMAGE SM INVESTMENTS CORPORATION/ WIKIMEDIA COMMONS/ COURTESY MEGAWORLD CORP.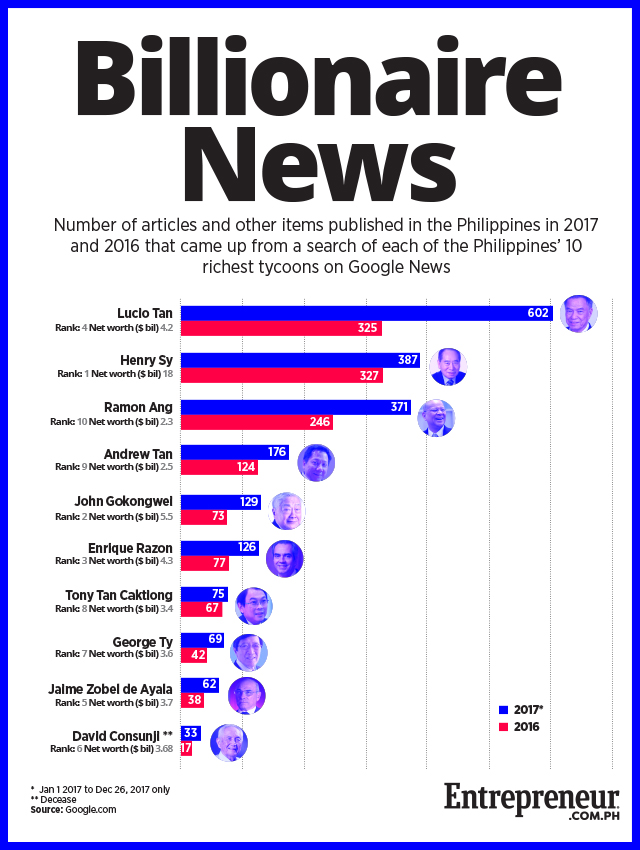 Though SM Investments Corp. Chairman Emeritus Henry Sy leads the list of wealthiest businessmen in the country with a net worth of $18 billion as of September 2017, according to US business magazine Forbes, he only comes second in terms of media popularity.
LT Group founder and Chairman Lucio Tan beats Sy by having almost double more news articles mentioning him from January 1 to December 26, 2017. A total of 602 news articles mentioned "Lucio Tan" over the period, while only 387 included Sy's name.
Ramon Ang, president and CEO of Top Frontier Investment Holdings and also the largest stakeholder of listed firm San Miguel Corp., ranks third after Sy with a total of 371 news articles. This is a 51 percent increase from 2016, when his name was mentioned in the news only 246 times.
The year 2017 was an eventful one for Ang. In May, he launched the IPO of Eagle Cement, a company he founded in 1995. This boosted his net worth to $2.3 million, making him the 10th richest person in the Philippines according to Forbes. It was the first time he entered the exclusive top 10 club.
Alliance Global Inc. Chairman Andrew Tan follows Ang in the list with 176 news articles, while the country's second richest man and founder of diversified conglomerate JG Summit, John Gokongwei Jr., only comes in fifth with 129 search results. The Philippines' third richest man and ports and casinos magnate Enrique Razon Jr. follows with 126.
*****
Pauline Macaraeg is Entrepreneur PH's data journalist. Follow her on Twitter @paulinemacaraeg
This story originally appeared on Entrepreneur.com.ph.
* Minor edits have been made by the Townandcountry.ph editors.
Colvin's fellow war correspondent Janine di Giovanni talks to Pike about A Private War.
Why all-organic and all-natural is the way to go.
Proof that holiday sweaters can be stylish.
Of course a Spanish village would make a great gift, Gwyneth Paltrow.
So is it blue or cerulean?
The rigors of kitchenwork require something easy.
Scandinavian-made furniture and home accessories at affordable prices coming very soon.
The Undoing is set in the tony New York City world of private-school parents.
The legendary nose's latest creation for Bulgari recalls a childhood spent among trees.
A retrospective at the Musée des Arts Décoratifs in Paris honors the midcentury design maestro.
This year has been rife with numerous incarnations of the 'Streetwear X High Fashion' variety.
"I am lucky to have such a Godfather, but we all are lucky to have such a Prince amongst us," she wrote.
Get The Latest Updates From Town&Country!