Money & Power
Crazy Rich Filipinos: The 50 Wealthiest People in the Nation
The growth in his wealth driven by soaring share price of his Golden Bria Holdings.
IMAGE COURTESY SY FAMILY, LIZZY RAZON; Louie D. Photography/ WIKIMEDIA COMMONS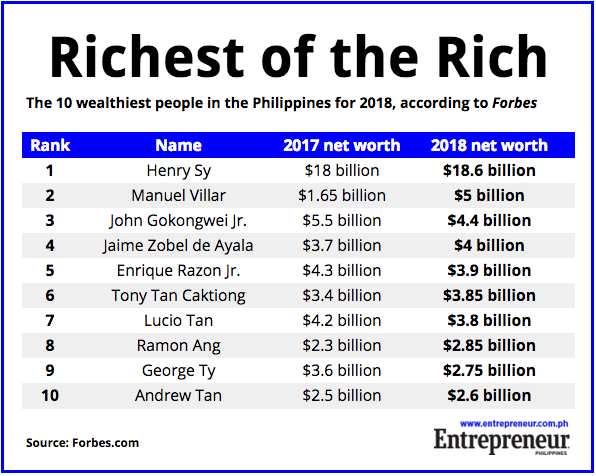 Real estate tycoon and former senator Manuel Villar is now worth $5 billion (P267.3 billion), according to the newest Philippine rich list published by business magazine Forbes.
That's more than triple his $1.6 billion net worth last year and makes him the second richest person in the country, his highest rank since he was first included in the exclusive list in 2006. He replaces tycoon John Gokongwei Jr, who is now No. 3 on the list as his net worth fell to $4.4 billion from $5.5 billion last year.
ADVERTISEMENT - CONTINUE READING BELOW
Forbes attributes the increase in Villar's net worth to his memorial parks operator turned real estate developer Golden Bria Holdings, whose share price saw a 1,300-percent increase early this year. He also benefits from his holdings in two other listed companies, mall operator Starmalls Inc. and low-cost property developer Vista Land and Lifescapes.
Villar, who also heads the Nacionalista political party and was a defeated candidate in the 2010 presidential elections, is a close ally of President Rodrigo Duterte. His son Mark is the public works secretary while his wife Cynthia is a senator. A daughter-in-law is now justice department undersecretary.
More: Did Market Speculation in Golden Haven Help Double Manny Villar's Net Worth to $3B?
Despite tripling in net worth, he still does not surpass SM Group founder Henry Sy, who remains the country's richest person for the 11th year in a row. He is worth $18.3 billion this year, an increase of 1.6 percent from $18 billion in last year's list.
ADVERTISEMENT - CONTINUE READING BELOW
Rounding up the top five are Ayala Group head Jaime Zobel de Ayala ($4 billion) and ports and gaming magnate Enrique Razon Jr. ($3.9 billion).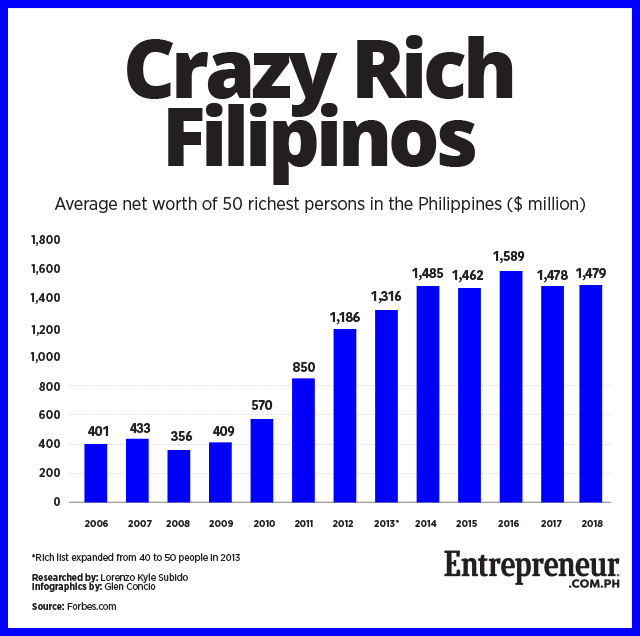 Among those who saw the biggest increase in their fortunes are Ramon Ang ($2.85 billion), Iñigo and Mercedes Zobel ($2.5 billion) and Eduardo Cojuangco ($1.4 billion), thanks to their holdings in San Miguel Corp., the conglomerate that diversified from food and drinks to energy and infrastructure.
ADVERTISEMENT - CONTINUE READING BELOW
Seven new entrants are part of the rich list this year. These include Josie Natori, the well-known international fashion designer ($150 million); Necisto Sytengco, a major owner in chemical trading group SBS Philippines ($180 million); William Belo, founder of housing construction retailer Wilcon Depot ($600 million); Jerry Liu of semiconductor manufacturer Cirtek Holdings ($145 million); and Rafael Simpao Jr. ($155 million) and Alberto Villarosa ($170 million) of Security Bank.
Twenty-seven rich listers, however, saw their fortunes decline, including television station owners Gilberto Duavit ($135 million), Menardo Jimenez ($130 million) and Felipe Gozon ($125 million) as share prices in GMA Network slumped 11 percent. Betty Ang of noodle maker Monde Nissin lost the most as her net worth fell 70 percent to $270 million.
Mining industry leaders Philip Ang and Luis Virata are no longer part of the 50 richest list as the industry continued to suffer from tough policies of the administration of President Rodrigo Duterte.
All in all, the country's 50 richest individuals are worth an average of $1.479 billion, a slight increase from last year.
ADVERTISEMENT - CONTINUE READING BELOW
See the full list of the country's 50 richest people below:
1. Henry Sy
2. Manuel Villar
3. John Gokongwei, Jr.
4. Jaime Zobel de Ayala
5. Enrique Razon, Jr.
6. Tony Tan Caktiong
7. Lucio Tan
8. Ramon Ang
9. George Ty
10. Andrew Tan
11. Inigo & Mercedes Zobel
12. Isidro Consunji family
13. Lucio and Susan Co
14. Eduardo Cojuangco
15. Robert Coyiuto, Jr.
16. Roberto Ongpin
17. Mercedes Gotianun
18. Ricardo Po, Sr.
19. Dean Lao
20. Beatrice Campos
21. Carlos Chan
22. William Belo
23. Oscar Lopez
24. Edgar Sia
25. Jose & Robbie Antonio
26. Frederick Dy
27. Alfredo Yao
28. Jorge Araneta
29. Jacinto Ng
30. Mariano Tan, Jr.
31. Vivian Que Azcona
32. Betty Ang
33. Jon & Mikel Aboitiz
34. Eric Recto
35. Edgar Saavedra
36. Michael Cosiquien
37. Manuel Zamora
38. Wilfred Steven Uytengsu, Jr.
39. Jose Ma Concepcion
40. Walter Brown
41. Necisto Sytengco
42. Alberto Villarosa
43. P.J. Lhuillier
44. Rafael Simpao, Jr.
45. Josie Natori
46. Jerry Liu
47. Juliette Romualdez
48. Gilberto Duavit
49. Menardo Jimenez
50. Felipe Gozon
For Forbes' story on the 2018 Philippine rich list, click here. 
This story originally appeared on Entrepreneur.com.ph.
* Minor edits have been made by the Townandcountry.ph editors.
ADVERTISEMENT - CONTINUE READING BELOW
These inspiring high school graduates have aced their high school and are ready to take the next step towards a world-class education.
No official word yet, but construction of a bridge nearby is raising eyebrows.
Here's your chance to step inside the British monarch's London home.
Jewelers have always looked to the heavens, but the Apollo 11 mission inspired a new era of designs.
After years of rumblings, the beloved show is finally getting a reboot.
Apparently, snacks feature prominently in the conversation.
The collection is up for auction, and a private buyer could take it home for good.
This week, the birds on the Thames were checked and counted.
Rixo acknowledged the designs used on several pieces of its apparel were Feanne's designs. 
After an extensive search, Luhrmann cast Austin Butler to play the King.
The label's Autumn Winter '19 collection by Paul Andrew and Guillaume Meilland is an undefined, androgynous delight.
On July 20 and 21, memorabilia from the Quezon Residence will go under the gavel in an online auction.
Get The Latest Updates From Town&Country!