Money & Power
More Exclusive Than Billionaire Ranking: Only 6 Philippine Conglomerates In This Year's Forbes Global 2000 List
Two Filipino holding companies failed to return to the list of world's leading firms.
IMAGE Patrick Roque/ WIKIMEDIA COMMONS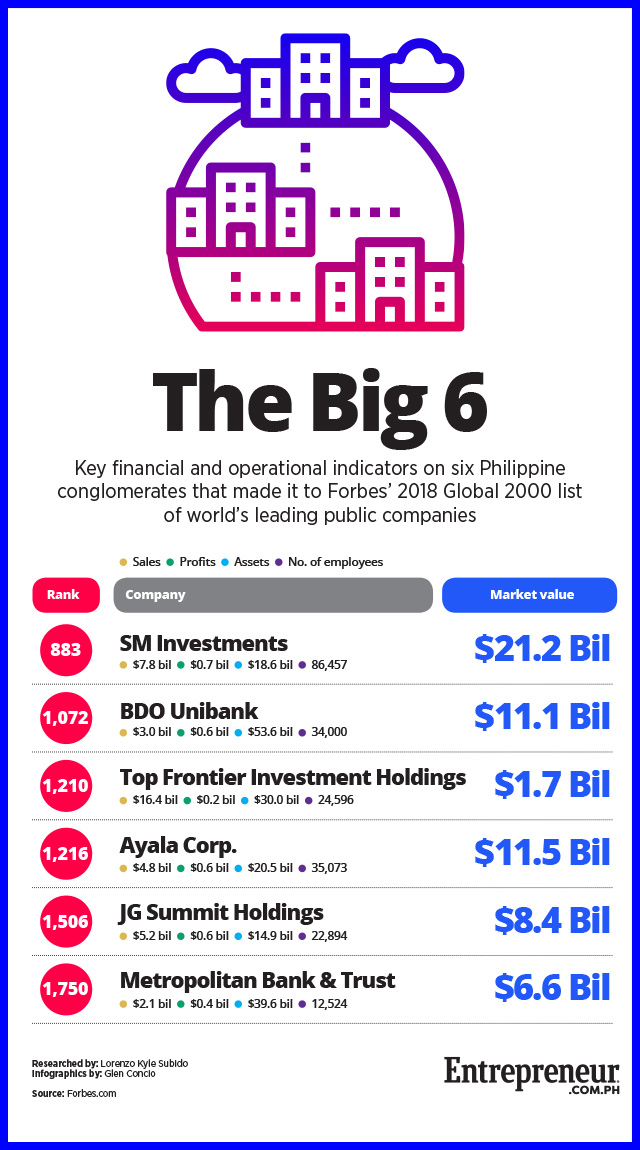 Six Philippine companies were included in the latest Global 2000, a list of the world's largest public companies compiled by business magazine Forbes.
That's two less than the eight companies that made it last year, and just half of the 12 Filipinos who made it to Forbes' billionaire rankings last March.
ADVERTISEMENT - CONTINUE READING BELOW
Leading this year's list among Philippine entries is diversified conglomerate SM Investments, which ranks 883rd overall. Helmed by Henry Sy, the country's richest individual, SM's major businesses include retail, real estate, and financial services, with its banking unit BDO Unibank also making this year's Global 2000 at No. 1,072.
Three other local diversified conglomerates made this year's list: Top Frontier Investment Holdings (No. 1,210), the parent company of food, beverages and infrastructure firm San Miguel; Ayala Corp. (No. 1,216), which runs businesses in the real estate, banking and utilities sectors; and JG Summit Holdings (No. 1,506), which has a large presence in the retail, food and airline spaces.
Completing the list of six Philippine entries is another banking firm: the Metropolitan Bank & Trust Co., which ranks at No. 1,750 this year.
Collectively, these six companies are worth $60.5 billion (P3.2 trillion), with total revenues amounting to $39.3 billion. According to Forbes, these six companies also employ over 215,000 people across their numerous business units.
ADVERTISEMENT - CONTINUE READING BELOW
All six of these companies return from last year's list, with all but Top Frontier Investment Holdings dropping in rank this year. The two companies who didn't return from last year's list are diversified conglomerate Aboitiz Equity Ventures and electricity provider Manila Electric Co.
Leading this year's Global 2000 for the sixth year in a row is the Industrial and Commercial Bank of China, which has a market value of $311 billion. Fellow Chinese banking firms China Construction Bank and Agricultural Bank of China rank second and fifth respectively, while American financial services companies JPMorgan Chase and Berkshire Hathaway complete the top five. All in all, the 2,000 companies that make up the list are worth $56.6 trillion.
Forbes ranks companies in the Global 2000 based on four financial metrics: market value, sales, profits, and assets. It has published the list annually since 2003.
This story originally appeared on Entrepreneur.com.ph.
* Minor edits have been made by the Townandcountry.ph editors.
ADVERTISEMENT - CONTINUE READING BELOW
It's never a dull moment with your family, but that doesn't mean you should succumb to becoming the entertainment.
She's part of a rare breed of dedicated restaurant pastry chefs in the metro, and her future's looking pretty sweet.
Queen Victoria was the first monarch to purchase Patek Philippe watches and started a trend among royals shortly after.
Two luxury hotels in Athens and Crete offer the perfect late summer vacation-and surprising life lessons.
The new HBO miniseries starring Helen Mirren recreates some of the Empress's famous jewels, which she used to cement her authority as an enlightened despot.
The expected guest list for Japan's centuries-old ceremony reads like a who's who of the modern monarchy.
They've already had their engagement party-now on to the main event.
Tina Legarda started at a time when it wasn't common for women to lead in the kitchen.
Think of guilt-free snacking as your stepping stone to a healthier lifestyle.
With the LG customization tour, the brand highlights Rene Lacoste's roots in tennis and creativity.
Richly colored pieces are the surefire way to make your space pop.
You don't have to dress as a 2020 candidate to have some political fun this Halloween.
Get The Latest Updates From Town&Country!