Money & Power
The Burning Question: Is Cremation (Still) Really Cheaper Than Traditional Burial?
Our online survey of comparative costs of caring for the dead shows a mixed picture.
IMAGE yyyoe/ PIXABAY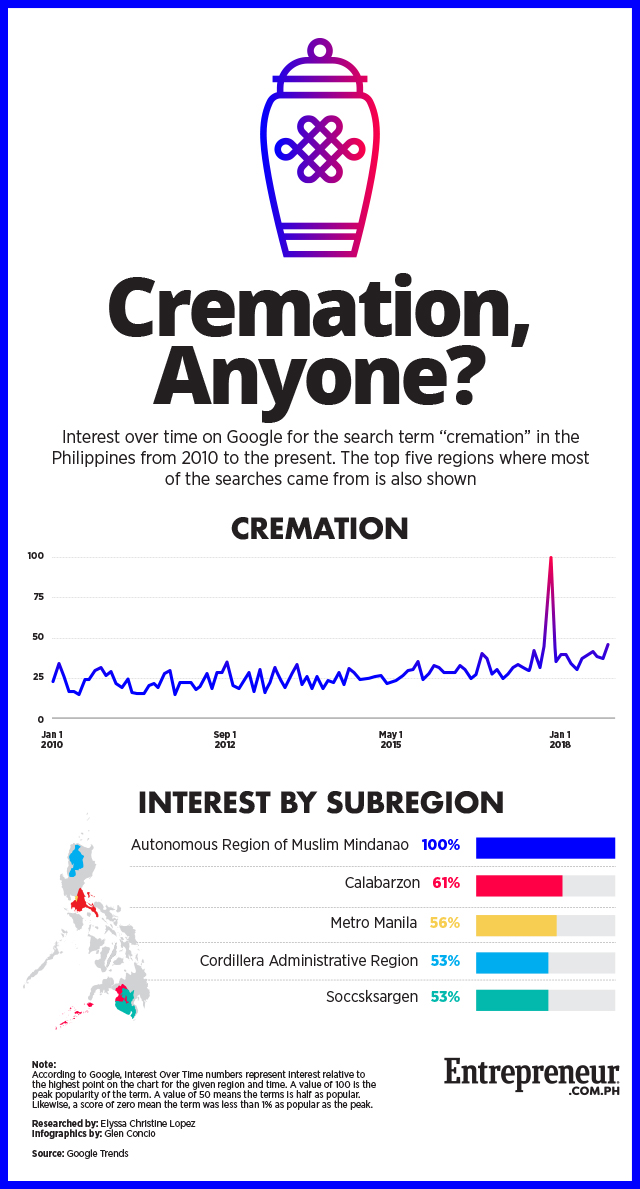 In the past decade or so, news articles began noting the growing popularity of cremation over traditional burial in the Philippines as a way of interring the remains of the deceased. An indication of this trend can be found in the steady rise of "cremation" as a search term in the Philippines over the years, according to Google.
ADVERTISEMENT - CONTINUE READING BELOW
Though the Catholic Church traditionally preferred burial, many Filipino Catholics are choosing cremation instead because it costs a lot less.
For example, a Philippine Star story in 2012 noted that a memorial lot cost around P80,000, plus internment costs of P25,000. In contrast, cremation cost only P25,000 while vaults that can house two to four urns sold for P25,000 to P45,000.
Similarly, a Manila Times article in 2015 found that a memorial lot sold for P70,000 while internment costs reached P25,000. In contrast, cremation cost only P25,000 while niches fetched between P35,000 and P50,000.
The growing popularity of cremation in recent years was followed by a boom in construction of columbariums to house the urns containing the ashes of the dead.
Many of the memorial park developers built sections for columbariums to take advantage of the trend. Not to be outdone, a handful of local governments, such as Mandaluyong City, built a columbarium section inside public cemeteries, too.
ADVERTISEMENT - CONTINUE READING BELOW
While the boom in construction of columbariums undoubtedly expanded consumer choice, did it also result in more affordable niches for the cremation urns?
To check the latest developments, Entrepreneur Philippines compiled the published prices and rates on memorial services' websites and compared them. The results are summarized on the infographic on this page. (See infographic)

ADVERTISEMENT - CONTINUE READING BELOW
The emerging picture seems to be a mixed one. While cremation and related services generally cost much less than traditional funeral services, the low-priced columbarium units sell for much higher compared to low-priced memorial lots. At the higher-priced segments of the market, however, the cost of memorial lots far exceeds those of columbary niches.
Of course, in making these comparisons, one should take into account the fact that memorial lots can accommodate two caskets while a columbary unit can hold up to four urns.
Despite the surge in columbarium construction, there are still more memorial parks than columbariums, making them an easier option in terms of availability. Based on our research, there are at least 10 private memorial parks in Metro Manila alone compared to only three privately-owned columbariums.
This story originally appeared on Entrepreneur.com.ph.
* Minor edits have been made by the Townandcountry.ph editors.
For starters, good quality and design are aspects they will appreciate.
The first-ever Filipino Netflix movie imparts nuggets of wisdom to the social media-crazed generation.
Simpson attended his funeral England, alongside the royal family.
Welcome to the Princess Anne fan club!
Because the holiday season isn't complete without a movie marathon.
A treat for all ahead of Thanksgiving.
Looking to grow your own vintage watch collection? Start with these classic picks.
Taking a Rolls-Royce Ghost out for a spin is going to cost you.
Her portrayal of a masked mercenary in this month's Rise of Skywalker is one of Hollywood's best-kept secrets. Keri Russell prepares for the big reveal at a brownstone in Brooklyn, a galaxy far, far away.
Take a ride on a train through Asia or take a trip to a champagne chalet, the options are endless.
Alcohol-free traveling is an emerging trend, but there's much more to this phenomenon than meets the eye.
It comes complete with jewels, corgis, banquets, and etiquette lessons.
Get The Latest Updates From Town&Country!