Money & Power
You Can Soon Move Funds Across All Banks Electronically Thanks to the BSP
This is great news for online banking users.
IMAGE rawpixel.com/ PEXELS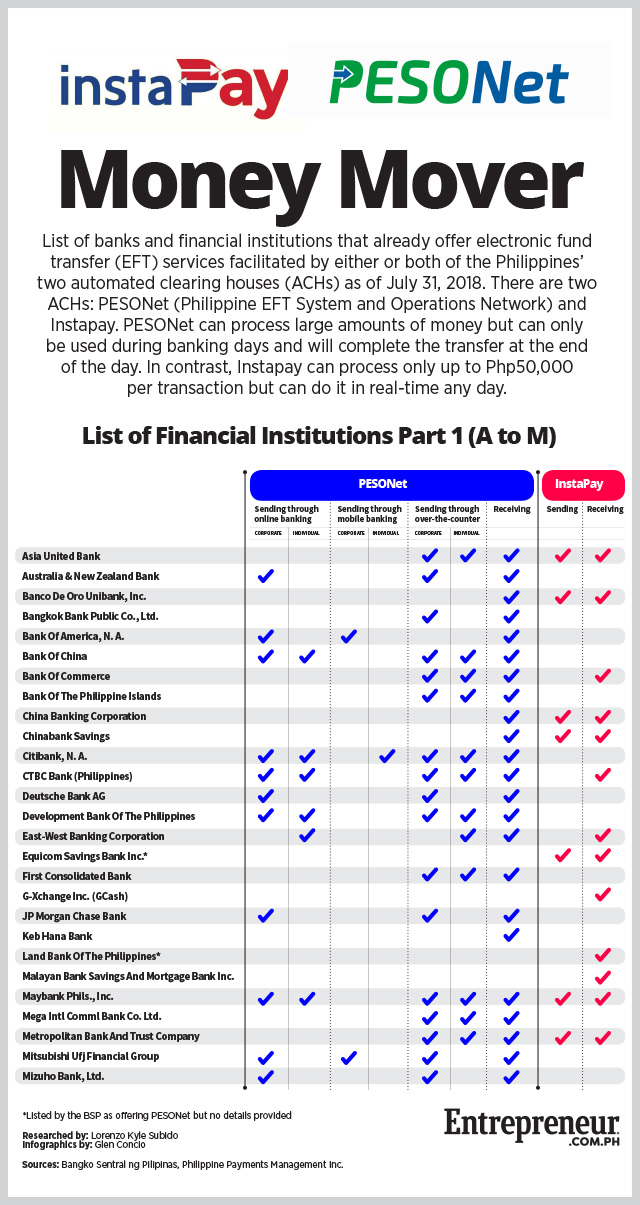 The Bangko Sentral ng Pilipinas (BSP) has required all banks and non-banking financial institutions (NBFIs) that offer online banking services to make interbank electronic fund transfers (EFTs) available to regular depositors by end-November.
The move greatly expands the power and usefulness of most depositors' online banking accounts. At the moment, most online banking clients use the service to check balances, order checks, pay bills or transfer funds within the same bank. Sending money to—or receiving funds from—other banks' online clients is an option that's not widely available. But that will change very soon.
In Memorandum M-2018-026 issued on September 4, the BSP said that these financial institutions must make available interbank EFT services to regular depositors by signing up with either or both newly created automated clearing houses. Those that fail to do so by November 30 will be subject to sanctions from the BSP.
There are two BSP-accredited automated clearing houses (ACHs) that enable and process EFTs: PESONet and InstaPay.
ADVERTISEMENT - CONTINUE READING BELOW
Launched in November 2017, PESONet, which stands for Philippine EFT System and Operations Network, processes EFTs in bulk, enabling both individuals and businesses to send and receive large amounts of money across banks digitally. Because it groups transactions and processes them in batches, PESONet can only be used during banking days and will complete the transfer by the end of the day.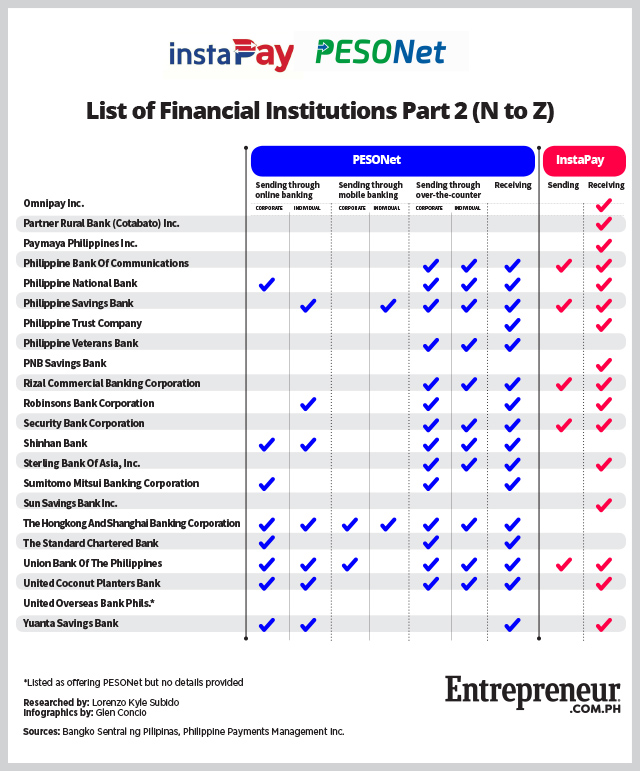 In contrast, InstaPay, which was launched in April 2018, enables interbank EFTs in real time. Clients of Instapay participating institutions can avail of the service at any time and any day, including weekends. However, InstaPay can only process a maximum of P50,000 per transaction, but there is no limit as to how many transactions a user can make each day.
While fees for using the services vary per bank, only the sender is charged for transferring funds using PESONet or InstaPay. Unlike fund transfers done through money transfer agents, the recipient will always get the full amount being sent.
ADVERTISEMENT - CONTINUE READING BELOW
As of end-July, 43 banks and NBFIs already offer PESONet-enabled services in some form, according to Philippine Payments Management Inc., a company formed by financial institutions to oversee the two ACHs. Thirty institutions are already offering InstaPay services as well. But most of these institutions can only receive funds through either ACH, with only some offering both sending and receiving.
Nevertheless, these participating institutions have already processed over 3.4 million transactions worth P520.6 billion via PESONet and over 127,000 transactions worth P1.5 billion via InstaPay as of July 31.
The rollout of both PESONet and InstaPay is part of the BSP's National Retail Payments System (NRPS) project, which aims to make 20 percent of all transactions in the country electronic by 2020—a big jump from only one percent in 2015.
*****
Lorenzo Kyle Subido is a staff writer of Entrepreneur PH
This story originally appeared on Entrepreneur.com.ph.
* Minor edits have been made by the Townandcountry.ph editors.
Exceedingly rare and high-quality Ifugao sculptures come home to the Philippines from various parts of Europe and America.
From the most luxurious fashion brands to more under-the-radar options, here are some of the best bags of the season.
The classic children's book is returning to the big screen, courtesy of director Robert Zemeckis.
A trip to some of the country's favored destinations offers a glimpse of the past.
Although Harry was away from his wife on Valentine's Day, soldiers did their best to help him celebrate.
The British monarch visited GCHQ headquarters in Cheltenham, and met with Bletchley Park codebreakers.
The prince helped celebrate the operation's 50th anniversary.
According to Michael Sanchez, the Amazon billionaire was willing to go to great lengths to get the truth.
C.C. Coo asks her Truly Rich Friends.
The standout looks from the week's top collections.
The story of how our national hero bungled his first attempt at having a girlfriend, and how he shrewdly managed to be engaged to two women at the same time.
In the 1920s, Bauhaus changed the modern art landscape. Then it changed fashion.
Get The Latest Updates From Town&Country!