Money & Power
Which Schools Have the Best MBA Programs in Asia and the Pacific?
The Economist magazine includes eight universities from Asia-Pacific in its 2018 listing.
IMAGE Damaskam / WIKIMEDIA COMMONS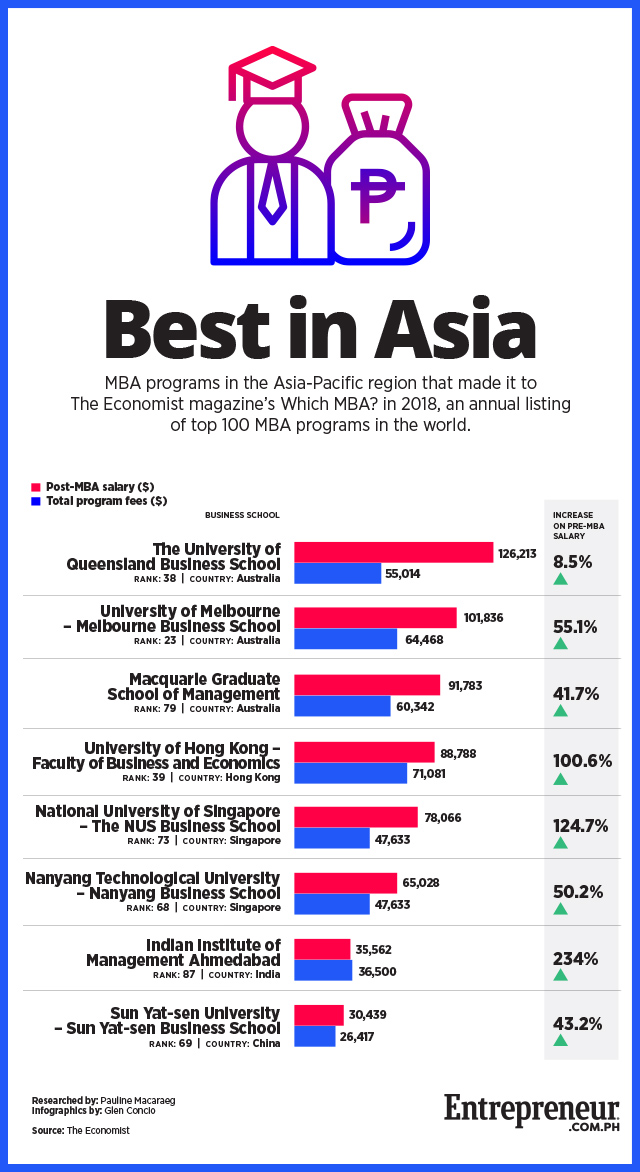 Only eight schools located in the Asia and Australasia region offering Masters in Business Administration (MBA) programs made it to The Economist magazine's "Which MBA?," a list of the world's top 100 business graduate programs. 
Out of the eight, only Singapore's Nanyang Business School of the Nanyang Technological University and The NUS Business School of the National University of Singapore came from Southeast Asia. They ranked 68th and 73rd in the list, respectively.
Three schools are located in Australia, with University of Melbourne's Melbourne Business School leading the Asia-Pacific list, coming in at No. 23. The University of Queensland Business School follows at rank 38, while the Macquarie Graduate School of Management ranks 79th.
Graduates of the top two Australian business schools also enjoy the highest average post-MBA salaries. (See infographic)
However, alumni of the Indian Institute of Management Ahmedabad enjoy the highest average increase on pre-MBA salary at 234 percent. They are followed by National University of Singapore – The NUS Business School alumni at 124.7 percent and University of Hong Kong – Faculty of Business and Economics at 100.6 percent. The latter has the highest program fee cost among all Asian and Australasian universities in the list.
"Which MBA?" was prepared by the London-based magazine through a survey of thousands of MBA students all over the world. It used four main metrics in their evaluation: new career opportunities (35 percent), personal development or educational experience (35 percent), increase in salary (20 percent) and potential to network (10 percent).
The Economist has been releasing the rankings since 2011. This year's top three schools are University of Chicago Booth School of Business, Northwestern University's Kellogg School of Management and the Harvard Business School. 
ADVERTISEMENT - CONTINUE READING BELOW
This story originally appeared on Entrepreneur.com.ph.
* Minor edits have been made by the Townandcountry.ph editors.
Ask yourself, "Is that worth your anger?"
A leading Italian mixologist makes the argument for liqueurs in fine dining.
Suddenly everyone you know is heading to New Zealand. Here's why people are planning their move today.
These romantic retreats have everything you need-except children.
These getaways will warm your soul.
Remembering a pioneering entrepreneur and philanthropist in his own words.
Family sources close to the chairman emeritus of SM Investment confirmed his passing the morning of January 19.
These fresh travel options will open up doors to new sights and sounds without the hassle of a layover.
What good is the freedom that money offers if you don't know how to relax?
Is this billion dollar listing a stunt or the future site of a spectacular mansion?
Corporal Cruachan IV is The Royal Regiment of Scotland's beloved mascot.
See the sweet birthday message here.
Get The Latest Updates From Town&Country!