Heritage
National Bookstore Opens a College for Accounting, Tourism, and Entrepreneurship
The institution is now accepting enrollees for S.Y. 2018-2019.
IMAGE YOUTUBE/ nbsalert
National Book Store, the country's largest retail store for books and school and office supplies, is opening its own institution for higher learning.
Targeted to open in time for the 2018-2019 school year, NBS College will offer courses on Accountancy, Accounting Information System, Entrepreneurship, Computer Science, Library and Information Science and Tourism Management.
The school is located at the National Book Store building on the corner of Quezon Avenue and Scout Borromeo in Quezon City. With about 5,000 square meters of space, NBS College will initially have at least seven classrooms, two computer laboratories, a business simulation room, a full service library, a multi-purpose hall, a cafeteria as well as support offices and facilities.
Additional space for expansion is available when the time comes.
The college was incorporated in 2017. It's the next step in National Book Store's core mission of improving education in the Philippines. To learn more about the institution, visit its official website here.
Founded in 1942 by Jose and Socorro Ramos, National Book Store started out as a simple sari-sari type of store that sold pocket books, textbooks and sundry supplies. Today, the company has 227 branches and counting, in addition to newly opened concept and specialty stores as well as two outlets abroad.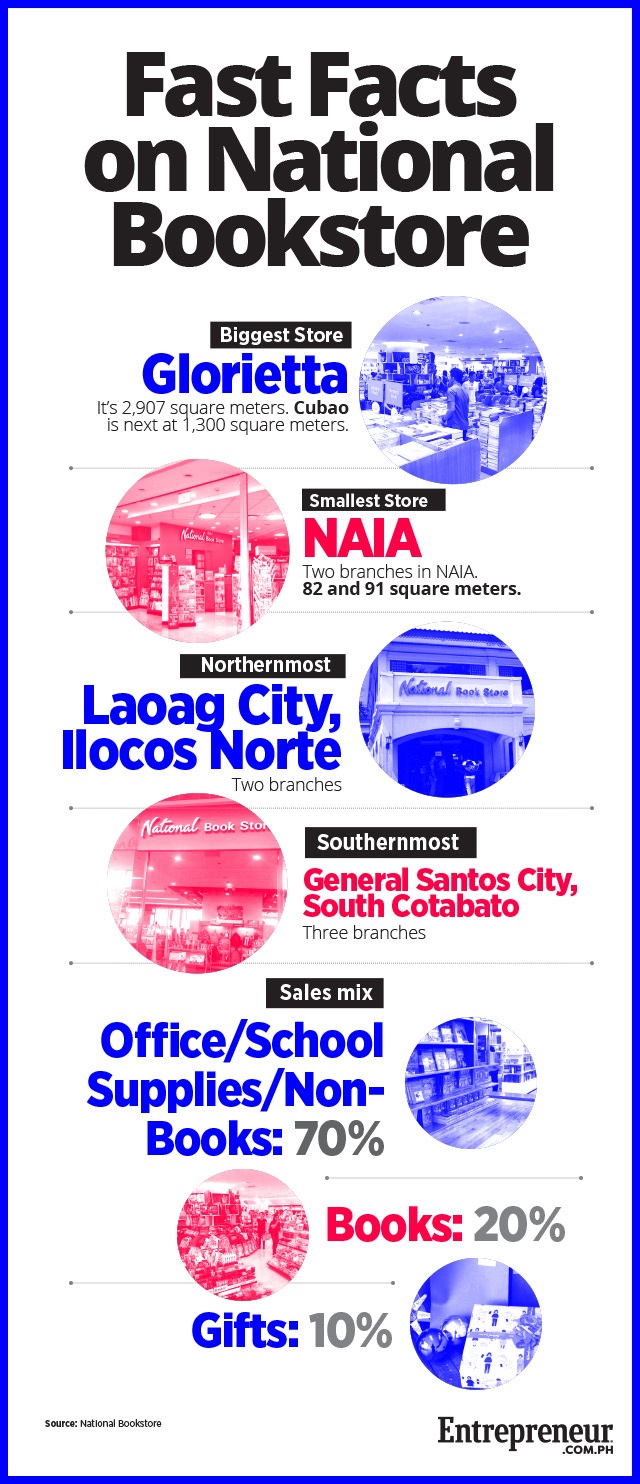 "I was talking to my lola last night and she was a bit surprised that we're already at 227 from that one store that she opened so long ago," said Ramos-Padilla. Her lola is founder Socorro Ramos, or Nanay Coring to most everyone else. "There are many factors to this success. It's not just one. Why did National thrive, when other (similar) bookstores at the time are now already in different businesses.
"I think one thing is the store strategy. (My lola) used to do everything in that store. She would order, receive the merchandise, display them, even clean up after hours and then fix the show window. What we're trying to do now is to build this culture based on her values of sipag at tiyaga."
Ramos-Padilla also credits National Book Store's ability to respond to customers' changing needs and tastes through the years. "We were able to evolve," she said.
Part of this evolution comes in the different store formats. In addition to the regular National Book Store that typically measures about 400 square meters, the company also has National Bookstore Express, a smaller, "convenience store" version that measures 200 square meters or less; Powerbooks, a more traditional book store for specialty and hard-to-find books; and, most recently, specialty stores Art Bar (for art books and supplies), Noteworthy (notebooks, stationery, pens and other writing supplies) and Work Station (office supplies, accessories, desks, office furniture and gadgets).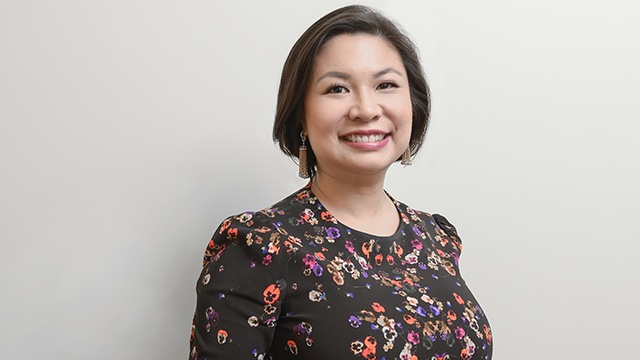 Xandra Ramos-Padilla says they are targeting to open NBS college in time for the 2018-2019 school year
Other accomplishments last year include a new Powerbooks and Noteworthy branch in Podium and another Art Bar in Quezon Avenue.
National Book Store is also a staple presence in nearly every major shopping center in the country. The company's good relationship with the big mall developers ensures that they get an invitation to open a store in almost every new shopping mall.
"Hindi naman lahat," Ramos-Padilla said. "There are so many malls now. But yes, I think it would be more prudent to be present in more places. We have a real estate committee meeting where we evaluate new store proposals. We project the potential sales based on similar stores, based on customer traffic and based on the area. We rate the environment and then we see how long is the payback or what's the return for that store.
"I think another reason why National Bookstore has been so successful is we offer a unique combination of all our product lines that kind of work together," she added. "Very few stores around the world are both. There's WHSmith in the UK, Domain in Australia and B2S in Thailand."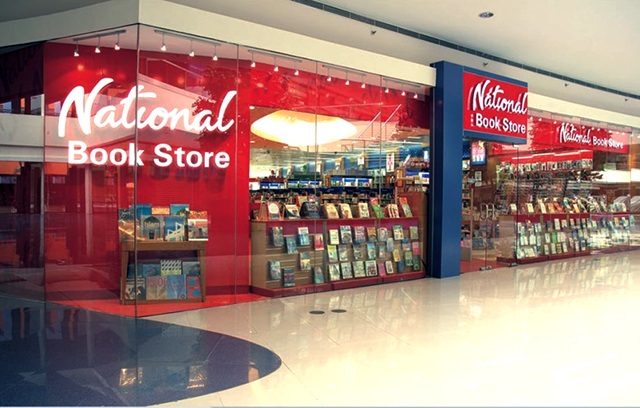 National Book Store has over 220 branches this year, with more new stores and concepts coming
Ramos-Padilla added that the company already has an online presence to complement its existing brick-and-mortar store network. It's part of their strategy of providing a synergy between online and offline channels for the convenience of their customers.
"We have stores where you can browse, touch, feel and experience the store, and we also have online where you can service certain needs. Filipinos love to go malling. It's so easy to drop by a mall. But our online store is also very convenient. When you already know what to give someone, you can browse our site and you can send it to them."
The question now is how else to expand a concept and brand that is so ingrained into the consciousness of almost every book and stationery-loving Filipino. Ramos-Padilla said there's still tremendous room for growth in the country that they're not really focused on establishing a presence abroad outside of their two stores—Metro Books and Metro Kids—in Hong Kong.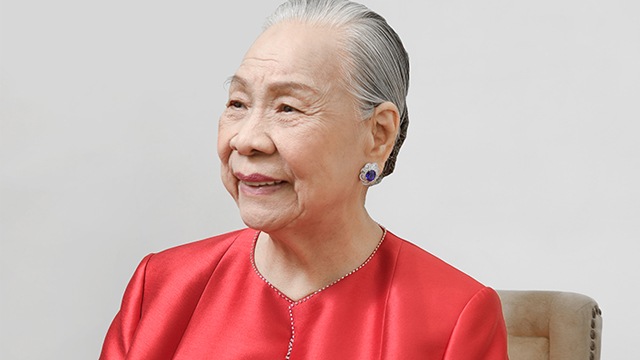 94-year-old Socorro Ramos founded National Book Store in 1942 when she was just 19 years old
"Lola herself was reluctant to grow because she was afraid of losing control," said Ramos-Padilla. "But by empowering people outside, today we're growing at 20 stores a year. There was even a year when it was 38 stores, I think. When I first started working we had only 40 stores. So it's a very different feel today. We're quite busy."
*****
Paul John Caña is the managing editor of Entrepreneur PH.
This story originally appeared on Entrepreneur.com.ph.
* Minor edits have been made by the Townandcountry.ph editors.
For all its loaded dialogues and stunning imagery, The Two Popes deserves the undivided attention of its audience.
This annual spectacle has been a Christmas tradition for many Filipino families since its inauguration in 2009.
After a decade in fashion, he looks back with his first book on everything from dressing Michelle Obama to impressing Gloria Steinem.
"One would do things like open all the windows, only for the other to go around shutting them," Lady Glenconner, Margaret's former lady-in-waiting, wrote.
Josh Boutwood has returned with his signature restaurant, Test Kitchen.
All the products you need to snag ASAP!
"A natural number one whose tragedy it is to have been born a number two."
The infamous Upper East Side murder has yet to fade from public memory.
Six standout new releases of the month-and one old favorite to revisit.
Who stands where during such events is determined by what is known as the order of precedence.
We get a closer glimpse at what the industrialist was like as a father.
Get The Latest Updates From Town&Country!