Heritage
Guests Are Selling Princess Eugenie and Jack Brooksbank's Wedding Gift Bags Online
A small number have appeared on resale sites already.
IMAGE GETTY IMAGES
A small number of gift bags given out at the wedding of Princess Eugenie and Jack Brooksbank are now being sold online. According to the BBC, around a dozen bags have appeared on the website eBay, with asking prices of up to £1,000.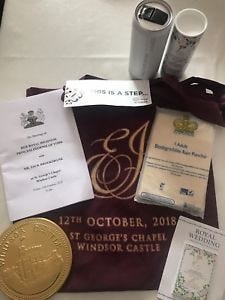 The ideal way to escape this country's scorching heat.
These stylish sweaters will definitely give you something to be thankful for.
A cheat sheet to the 56 galleries from 13 different countries showing at the premier design fair this weekend.
Hong Kong's biggest givers gather to help the Philippines' marginalized communities.
'His and hers' watches that will stand the test of time.
Ahead of a very Lynchian art exhibit, the Twin Peaks filmmaker tells T&C he wants to spend more time designing lamps and sculpture.
The British monarch isn't letting a small thing like age keep her from living her life.
"The city is on its knees," the mayor says.
There are certain style rules you need to remember.
These beauty advent calendars are the ideal gift for makeup, skin, and hair product lovers.
The sweet post includes a special message for Archie's "grandpa."
For all its loaded dialogues and stunning imagery, The Two Popes deserves the undivided attention of its audience.
Get The Latest Updates From Town&Country!