Heritage
Guests Are Selling Princess Eugenie and Jack Brooksbank's Wedding Gift Bags Online
A small number have appeared on resale sites already.
IMAGE GETTY IMAGES
A small number of gift bags given out at the wedding of Princess Eugenie and Jack Brooksbank are now being sold online. According to the BBC, around a dozen bags have appeared on the website eBay, with asking prices of up to £1,000.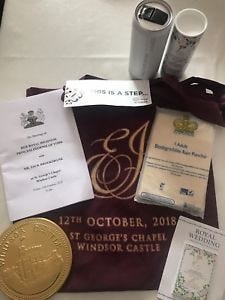 ADVERTISEMENT - CONTINUE READING BELOW
This amazing news was revealed by Agence France-Presse.
There's more to come but each of these films is a pleasure (and possibly a masterpiece).
Meanwhile, the funding for the restoration is proving to be less secure than originally thought.
To celebrate the return of our favorite women of California's Central Coast, we've tracked down all the picturesque Monterey spots where the HBO show is filmed-and where the cast hangs out.
Sotheby's takes T&C inside the mind of groundbreaking designer Suzanne Belperron with an exclusive video.
From Arinnera to Zenvo, these are the best supercar brands in the world.
Annie Aboitiz's jewel of a home is a very personal place of gladness.
Because sometimes "Happy Father's Day" just isn't enough.
Ahead of Christie's upcoming "sale of the century," photographer Claiborne Swanson Frank captures fashion's most powerful wearing important jewels from Maharajas & Mughal Magnificence.
Imagine: The museum is a charming little shop filled with fragile plates. The plates are dangerously thin and also cost more than your life.
Get The Latest Updates From Town&Country!