Heritage
Guests Are Selling Princess Eugenie and Jack Brooksbank's Wedding Gift Bags Online
A small number have appeared on resale sites already.
IMAGE GETTY IMAGES
A small number of gift bags given out at the wedding of Princess Eugenie and Jack Brooksbank are now being sold online. According to the BBC, around a dozen bags have appeared on the website eBay, with asking prices of up to £1,000.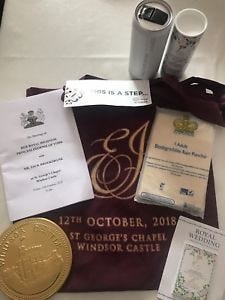 ADVERTISEMENT - CONTINUE READING BELOW
From sophisticated tropical soirees to elegant European fêtes, we talk to the wedding planners who can make your destination wedding happen.
It's time to catch up with the world, says C.C. Coo.
Netflix just dropped two companion trailers for the upcoming film.
These styles will have you counting down the days until autumn.
They bestowed a rare honor on a former member of the royal household.
Fundador Supremo 18 was named Best Brandy in the World 2019 by the prestigious International Wine and Spirits Competition.
Barangay Bel-Air will celebrate the 15th anniversary of the Salcedo Market on August 31.
Experience wine harvested from the best set of cool-climate vineyards in Argentina.
In A Royal Road to Wembley: Tackling Mental Health, he advocates for men's mental fitness through the lens of football.
Casiraghi owns one of the few carbon-neutral racing boats in the world.
The Amazon is currently burning at the highest recorded rate since 2013.
Expect to see Will and Kate traveling to church with the British monarch this weekend.
Get The Latest Updates From Town&Country!