Heritage
Guests Are Selling Princess Eugenie and Jack Brooksbank's Wedding Gift Bags Online
A small number have appeared on resale sites already.
IMAGE GETTY IMAGES
A small number of gift bags given out at the wedding of Princess Eugenie and Jack Brooksbank are now being sold online. According to the BBC, around a dozen bags have appeared on the website eBay, with asking prices of up to £1,000.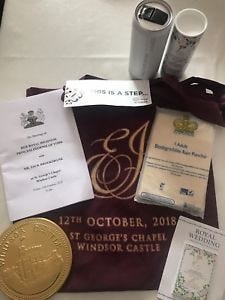 ADVERTISEMENT - CONTINUE READING BELOW
Also: what exactly is a nootropic?
Baking at Republique by Margarita Manzke with Betty Hallock offers master techniques and recipes for both home bakers and serious pastry chefs alike.
Lacoste created 10 polo shirts to highlight 10 threatened species.
Know when to tip-and how much-in places like Japan, South Africa, Spain, and beyond.
The priceless diadem can double as a diamond neckpiece.
When planning for your dream wedding, consider these names your miracle workers.
The conglomerate's president and COO Ramon Ang confirmed the news himself.
The British monarch hosted a group of distinguished guests for tea on the Buckingham Palace grounds.
Here's everything you need to know about Catherine of Aragon's sister-in-law.
On the anniversary of her wedding, we take a look back at at the accomplishments-and controversies-that have defined Markle's remarkable first year in the royal family.
"It's 1927, we're modern folk!"
Get The Latest Updates From Town&Country!