Heritage
Guests Are Selling Princess Eugenie and Jack Brooksbank's Wedding Gift Bags Online
A small number have appeared on resale sites already.
IMAGE GETTY IMAGES
A small number of gift bags given out at the wedding of Princess Eugenie and Jack Brooksbank are now being sold online. According to the BBC, around a dozen bags have appeared on the website eBay, with asking prices of up to £1,000.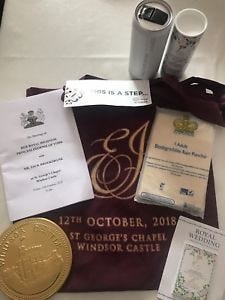 ADVERTISEMENT - CONTINUE READING BELOW
These inspiring high school graduates have aced their high school and are ready to take the next step towards a world-class education.
No official word yet, but construction of a bridge nearby is raising eyebrows.
Here's your chance to step inside the British monarch's London home.
Jewelers have always looked to the heavens, but the Apollo 11 mission inspired a new era of designs.
After years of rumblings, the beloved show is finally getting a reboot.
Apparently, snacks feature prominently in the conversation.
The collection is up for auction, and a private buyer could take it home for good.
This week, the birds on the Thames were checked and counted.
Rixo acknowledged the designs used on several pieces of its apparel were Feanne's designs. 
After an extensive search, Luhrmann cast Austin Butler to play the King.
The label's Autumn Winter '19 collection by Paul Andrew and Guillaume Meilland is an undefined, androgynous delight.
On July 20 and 21, memorabilia from the Quezon Residence will go under the gavel in an online auction.
Get The Latest Updates From Town&Country!