Heritage
Guests Are Selling Princess Eugenie and Jack Brooksbank's Wedding Gift Bags Online
A small number have appeared on resale sites already.
IMAGE GETTY IMAGES
A small number of gift bags given out at the wedding of Princess Eugenie and Jack Brooksbank are now being sold online. According to the BBC, around a dozen bags have appeared on the website eBay, with asking prices of up to £1,000.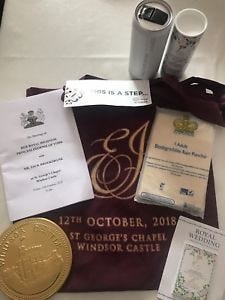 The future king argued passionately for reducing the stigma around mental health issues.
Before this December, the ceremonial guards last protested 55 years ago.
The iconic interior decorator, who passed away in 2018, had a memorial that was anything but chintzy.
It's about time we say goodbye to the see-through shoe.
Olivia Colman, Emma Stone, and Rachel Weisz all earned individual acting nominations.
The pair discussed Attenborough's environmental advocacy, and the ecological challenges facing the next generation.
Kei Komuro just confirmed, however, "that all of the financial issues were already resolved."
Should you consider a small dinner party or an all-out bash?
After all, every prince has got to have his swan.
These films will have you flying through the years, decades and dimensions - and ready to do it over and over again.
At the Villa Chanel, punky pastel confections for a fantasy collection.
There's a lot to look forward to in 2019.
Get The Latest Updates From Town&Country!