Heritage
Guests Are Selling Princess Eugenie and Jack Brooksbank's Wedding Gift Bags Online
A small number have appeared on resale sites already.
IMAGE GETTY IMAGES
A small number of gift bags given out at the wedding of Princess Eugenie and Jack Brooksbank are now being sold online. According to the BBC, around a dozen bags have appeared on the website eBay, with asking prices of up to £1,000.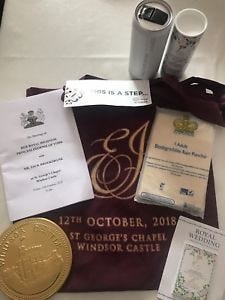 Give your wardrobe that one cool accessory update.
This year, give a gift that's (almost) as glamorous as her.
From the spectacular dishes at our 61 partner restaurants to our fabulous guests who partied way past midnight at Sage.
In a quest to become as eco-friendly as possible, the Prince has discovered a new level of luxury transit.
Take a peek inside the most sought-after suite at this fabulous Croatian retreat.
The golden-haired founder of Steps Dance celebrates a milestone.
Prince Charles laid a wreath at the Cenotaph in honor of those who have died in war.
The Palace just released this sweet photo of Louis and his grandpa Prince Charles.
The Queen's Gallery is hosting a new survey of artworks gifted between the two monarchies.
Here's how she ended up wearing the socially responsible pieces-and what it means for the movement.
Sometimes truth really is stranger than fiction.
Because home is where the art is.
Get The Latest Updates From Town&Country!