Heritage
Do These Old Letters Prove That Bonifacio Was Really the First Philippine President?
They were handwritten by the Supremo himself.
IMAGE CHRISTA I. DE LA CRUZ
It is widely taught in history class that Emilio Aguinaldo was the first president of the Philippines—of the First Republic, at least. But some historians claim that this position belongs rightfully to Andres Bonifacio, who did not only lead the Katipunan as an organization but as the country's first national revolutionary government. Further supporting this claim are rare letters handwritten and signed by the Supremo himself that are on display at León Gallery in Makati until March 2. They are up for auction, at P500,000 each, on March 3, 2 p.m. as part of the Asian Cultural Council Art Auction 2018.
The documents are among the few surviving letters sent by the revolutionary leader to Emilio Jacinto, who is regarded as the "Brains of the Katipunan." They feature Bonifacio's official stationery with a letterhead that bears his battle name "Maypagasa" and his designation "P. ng K. Kapulungan" ("Pangulo ng Kataastaasang Kapulungan" or President of the Supreme Council). One of the letters, dated March 8, 1897, was written days before the Tejeros Convention—a revolutionary assembly held on March 22 that established a central revolutionary government and elected Aguinaldo (from the Magdalo faction) as president. According to gallery consultant Lisa Guerrero Nakpil, the brief note seemed to be a foreshadowing of the next violent events that unfolded in history. In it, "Bonifacio asks Jacinto to use the 'code of the second degree' if he has to write anything in confidence because, he says, Jacinto's letters are reaching him already opened," as deciphered by scholar Jim Richardson.
ADVERTISEMENT - CONTINUE READING BELOW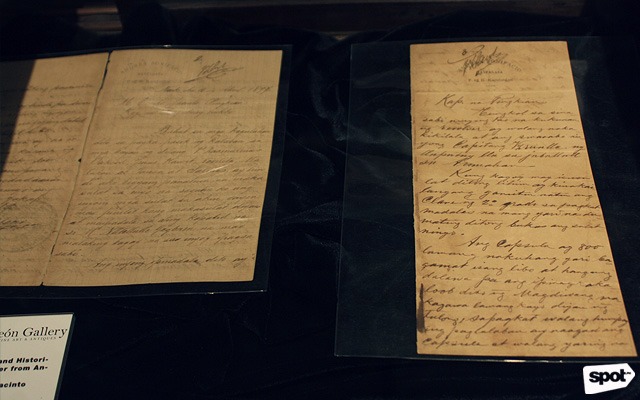 In another letter, dated April 16, 1897, Bonifacio told Jacinto that the Tejeros Convention ended in chaos ("gulo") and had no significance ("nawalang kabuluhan"). The third one, dated April 24, 1897, reiterates what the Supremo already told his trusted official: "[...] much of the liberated territory in Cavite had now been retaken by the Spaniards; that a number of Magdalo leaders had surrendered; and that the decisions of the Tejeros Convention has been nullified." It also reveals the true story of what happened just before Bonifacio was killed under orders from Aguinaldo—which the latter himself verified 50 years later with a statement saying he authorized the death sentence. The last two letters were stamped with Bonifacio's Seal—a "K" in Baybayin with rays surrounding it and the words "Haring Bayang Katagalugan - Kataastaasang Kapulungan" (The Sovereign Nation of Tagala - Supreme Council).
ADVERTISEMENT - CONTINUE READING BELOW
The fourth document is a notice of appointment of Emilio Jacinto as commander of the army in the Northern District of Manila—"Pangulong Hukbo sa Dakong Hilagaan ng Maynila" on April 15, 1897. It was signed by Bonifacio and bears the heading "M. Andres Bonifacio Maypagasa." It further describes his position: "Pangulo nang Haring Bayang Katagalugan nang K.K. Katipunan nang Manga Anak nang Bayan at Unang Nag Galaw Nang Panghihimagsik" ("President of the Sovereign Nation of Tagatala Maytayo, Founder of the KKK of the Sons of the Country, and First Mover of the Revolution." Researchers say that Bonifacio defined "Tagalog" as the term for all Filipinos, and not only those living in the region or those who spoke the language.
These rare documents were originally bought by Epifanio de los Santos—a Tagalog ilustrado, an esteemed scholar, and former director of the National Library of the Philippines—from a relative of Emilio Jacinto. After 60 years in the their family, the letters came into the possession of antique dealer Severina "Viring" de Asis, who sold the documents to Mariano Cacho and Emmanuel Encarnacion. Though part of their private collection, the two collectors made the documents available for free to researchers and for publication.
ADVERTISEMENT - CONTINUE READING BELOW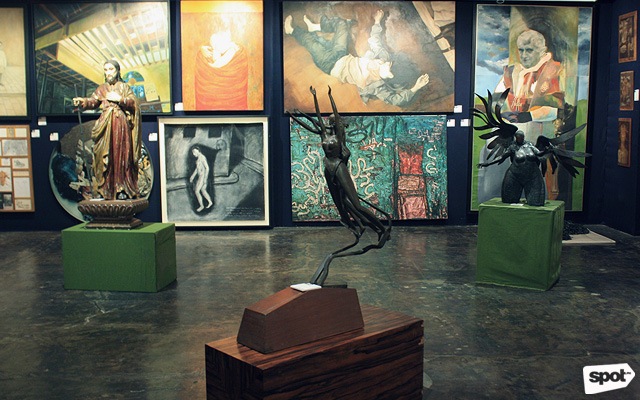 Sculptures from L to R: An unidentified apostle made of ivory and wood from the 18th century, Eduardo Castrillo's "The Bondage" (1992), and Daniel dela Cruz's "Aegis" (2009)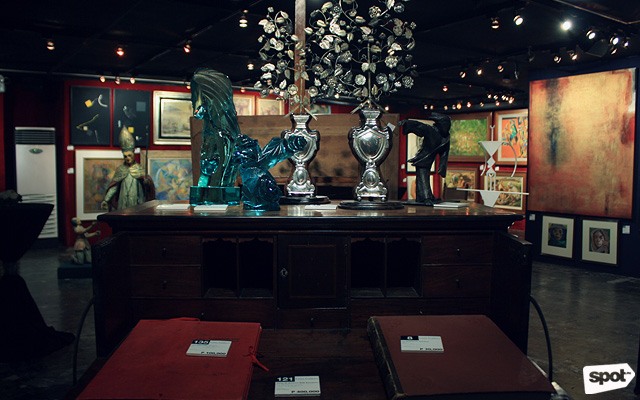 ADVERTISEMENT - CONTINUE READING BELOW
Ramon Orlina's glass sculptures, a pair of ramilletes from the second quarter of the 19th century, Benedicto Cabrera's brass sculpture, and a couple of rare books atop a mid-19th-century chest of drawers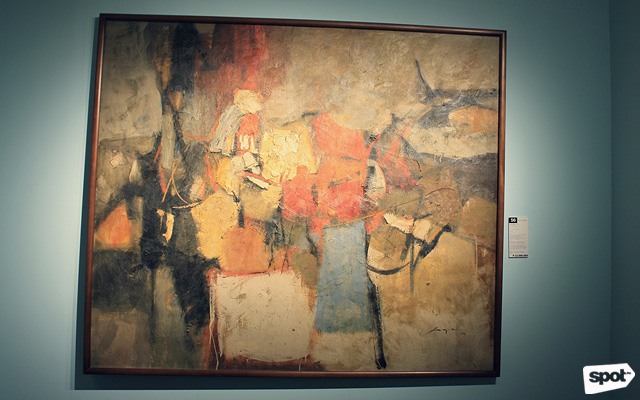 José T. Joya's "Space Transfiguration" (1959)
Aside from the rare Bonifacio letters, also up for bidding are artworks by the country's important artists. The most expensive, at P22 million, is José T. Joya's 1959 work titled "Space Transfiguration."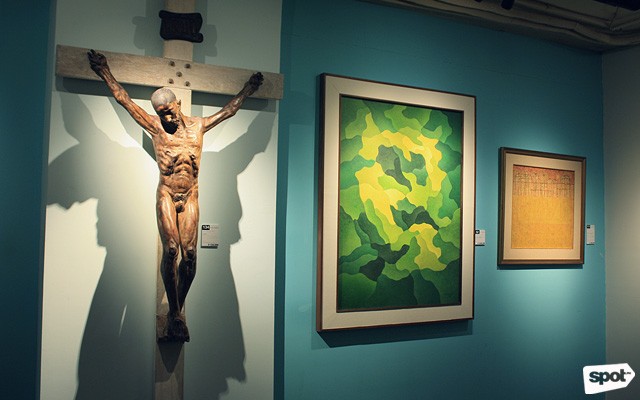 ADVERTISEMENT - CONTINUE READING BELOW
From L to R: An ivory crucifix from the 17th century, Hernando Ocampo's "Fertile Vallery" (1972), and Arturo Luz's "Venezio" (1957)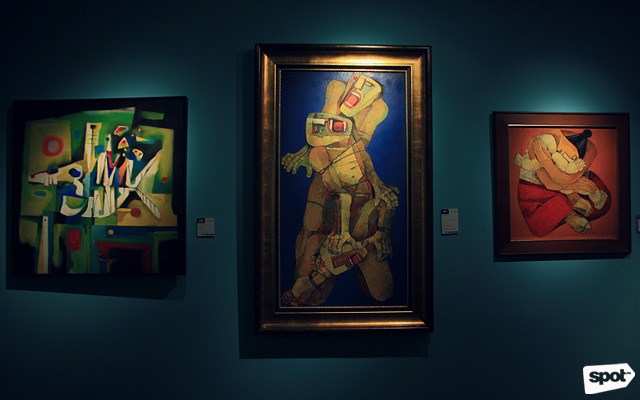 From L to R: Ang Kiukok's "Fish" (1972), "Scream" (1984), and "Mother and Child" (1984)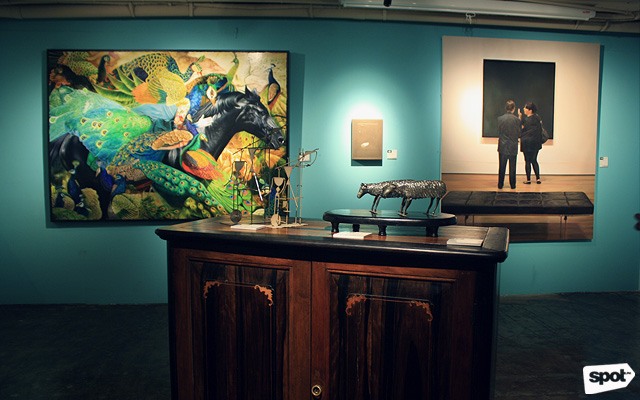 ADVERTISEMENT - CONTINUE READING BELOW
Foreground from L to R: Arturo Luz's "Performers" (1990) and a pair of miniature sheep from the 17th or 18th century
Other million-peso pieces include: Fernando Amorsolo's "Noonday Meal" from 1959 (P3.4 million); Mauro Malang Santos' "Flower Vendor" from 1973 (P3 million); Ang Kiukok's "Scream" from 1984 (P10 million); and Anita Magsaysay-Ho's "Tahip" from 1960 (P18 million).
The Asian Cultural Council Art Auction 2018 is on March 3, 2 p.m. at León Gallery, G/F Eurovilla 1, Rufino corner Legazpi Street, Legazpi Village, Makati. For more information, visit León Gallery's website.
This story originally appeared on Spot.ph.
* Minor edits have been made by the Townandcountry.ph editors.
Atlantis' 20th anniversary season-ender is unexpectedly relevant.
Production has started on new episodes of the Netflix series about Queen Elizabeth's reign.
A new parliamentary session began today, after the previous one-the longest continuous parliamentary session ever-came to a close.
When it comes to putting together an ensemble, the DOT secretary proudly shows off her roots.
The health advocates are launching a movement that thrives on pure, positive energy and their common respect and love for Mother Earth.
Two years after the Truly Rich Lady divulges the secrets to climbing the social pyramid, she revisits what those rules truly mean.
Welcome to the whimsical and wonderful world of Helen Mirren's wardrobe.
Dress up your new Apple Watch with a range of stylish straps from brands like Hermès, Coach, and Shinola.
He taught them the basics of football
The sole example of the Tudor monarch's fashions was hiding in plain sight.
Rage, regret, vengeance, joy, mourning, and nostalgia mark the many events in this month's calendar, ensuring that the last quarter of 2019 starts with a bang.
At 11 years old, Duchess famously wrote a letter to Procter & Gamble, complaining about a sexist ad.
Get The Latest Updates From Town&Country!