Arts & Culture
Theater in Manila: Exciting Shows to See Onstage This July
From exciting adaptations to an enthralling ballet performance.
IMAGE SPOT.PH
 Theatergoers in Manila were pretty busy in the last days of June as the Virgin Labfest once again amazed us with sold-out shows during its three-week run. While we're still finding our bearings, a long list of all-original Filipino musicals is ready to book all our weekend nights. There's also a theatrical adaptation of a Lorca novel, a Manila rerun of a two-woman play, and a fundraising ballet show to occupy ourselves with the rest of the month.
Here's your guide to musicals and plays that are worth seeing this July:
El Mar de Sangre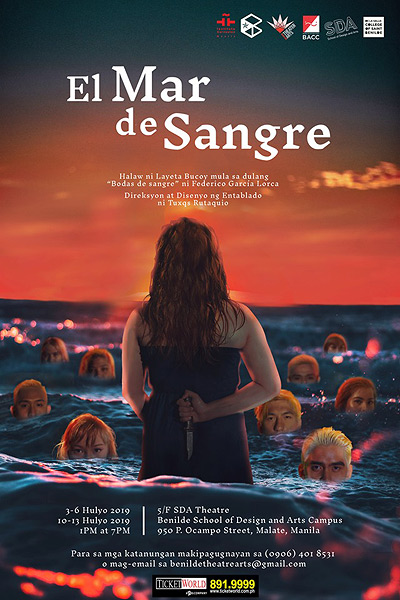 ADVERTISEMENT - CONTINUE READING BELOW
Playwright Layeta Bucoy adapts Federico Garcia Lorca's famous novel Bodas De Sangre (1932) into a play. This tragedy by the Spanish dramatist tells the story of a young woman and two men fighting for her attention. It goes into how societal norms keep her from being with the man she truly loves. El Mar De Sangre is choreographed by Christine Crame and directed by Tuxqs Rutaquio.
El Mar de Sangre runs until July 13 at SDA Theater, 5/F School of Design and Arts, De La Salle - College of Saint Benilde, 950 Pablo Ocampo Street, Malate, Manila. Tickets, priced at P500, are available through Ticketworld.
Ang Huling El Bimbo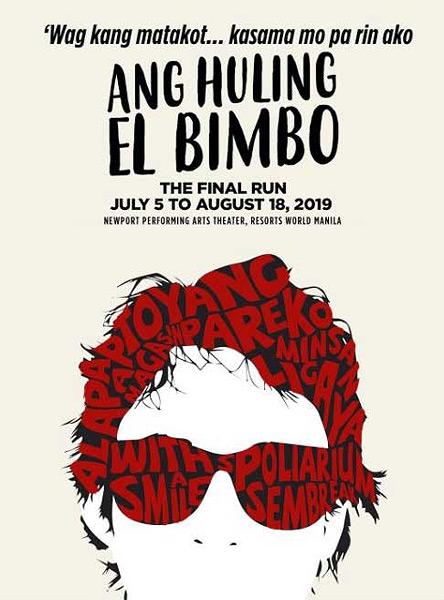 ADVERTISEMENT - CONTINUE READING BELOW
Ang Huling El Bimbo, an all-original Filipino musical told through songs by Eraserheads, returns to the stage for the third and final time this July. The musical, written by Dingdong Novenario and directed by Dexter Santos, follows the story of three friends: Emman (OJ Mariano), Hector (Gian Magdangal), and Anthony (Jon Santos), who find themselves in an unlikely mini-reunion 20 years after their college graduation. A feel-good trip down memory lane turns sour after they're reminded of what happened on the last day of school.
Ang Huling El Bimbo runs from July 5 to August 18 at the Newport Performing Arts Theater, Resorts World Manila, Newport Boulevard, Pasay City. Tickets, priced from P1,000 to P3,500, are available through Ticketworld.
Rak of Aegis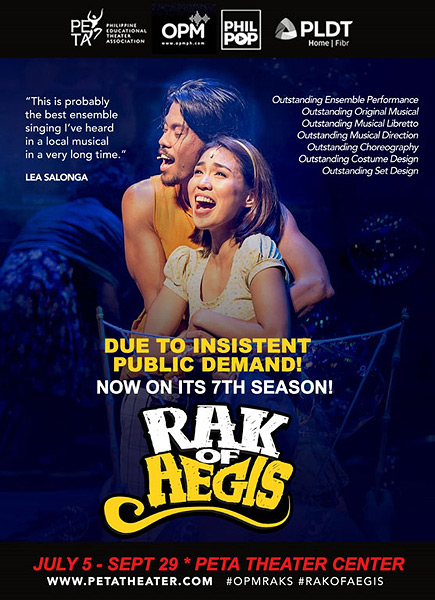 ADVERTISEMENT - CONTINUE READING BELOW
In case—for some unknown reason—you never found the time to watch Rak of Aegis in its past six runs, this is your chance! This Filipino musical puts together songs from the '90s band Aegis to tell the story of fictional Barangay Venizia, which has been submerged in floodwater for two months. In an attempt to escape this nightmare, one of the residents, Aileen, tries to become a YouTube sensation, and a politician makes her dreams come true—sort of. Rak of Aegis was inspired by events that followed Typhoon Ondoy in 2009. Ten years later, public officials still make the same empty promises and citizens just hope for the best. Randy Santiago, Noel Cabangon, Bayang Barrios, and Jenine Desiderio join the 2019 production.
Rak of Aegis runs from July 5 to September 29 at the PETA-Phinma Theater, Philippine Educational Theater Association, No. 5 Eymard Drive, New Manila, Quezon City. Tickets, priced from P1,000 to P2,500, are available through Ticketworld.
ADVERTISEMENT - CONTINUE READING BELOW
Binondo: A Tsinoy Musical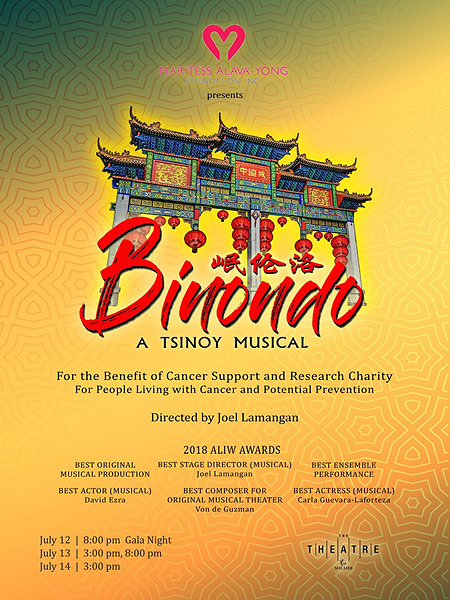 Interaction between the Chinese and Filipinos started in the ninth century when bartering spices, housewares, and other produce was the basic means of trade. By the 16th century, a significant population of Chinese migrants settled on Philippine soil, giving birth to the Chinese Filipinos that we know today. Binondo: A Tsinoy Musical, directed by Joel Lamangan and written by Ricky Lee, sheds light on the plight of Chinese Filipinos amid racial prejudice and political turmoil. It follows the love triangle between Lily (Shiela Valderrama-Martinez), her great love Ah Tiong (Arman Ferrer), and a childhood friend named Carlos (Noel Rayos).
ADVERTISEMENT - CONTINUE READING BELOW
Binondo: A Tsinoy Musical runs from July 12 to 14 at The Theater at Solaire, Solaire Resort and Casino, 1 Aseana Avenue, Parañaque City. Tickets, priced from P800 to P5,000, are available through Ticketworld.
Stop Kiss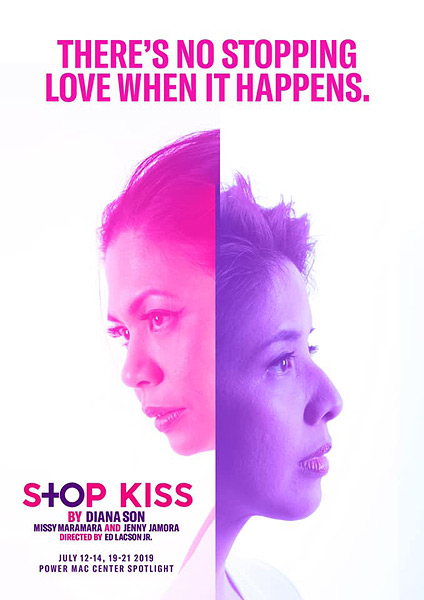 Stop Kiss, a 1992 play by American playwright Diana Son, was first produced in Manila in 1996 under the direction of Monique Wilson. Sixteen years later, actresses Missy Maramara and Jenny Jamora are starring in the play once again—except this time, they're switching roles. Stop Kiss follows the story of New Yorkers Callie and Sara who, after sharing a kiss for the first time, are attacked by an angry bystander, causing one of them to fall into a coma. If it sounds familiar, that's because violence against women and LGBTQ+s still persists to this day—proving just how much we need plays like this.
ADVERTISEMENT - CONTINUE READING BELOW
Stop Kiss runs from July 12 to 21 at Power Mac Center Spotlight, Circuit Lane, Circuit Makati, Makati City. Tickets, priced from P1,000 to P2,000, are available through Ticket2Me.
Tuloy Ang Saya-wan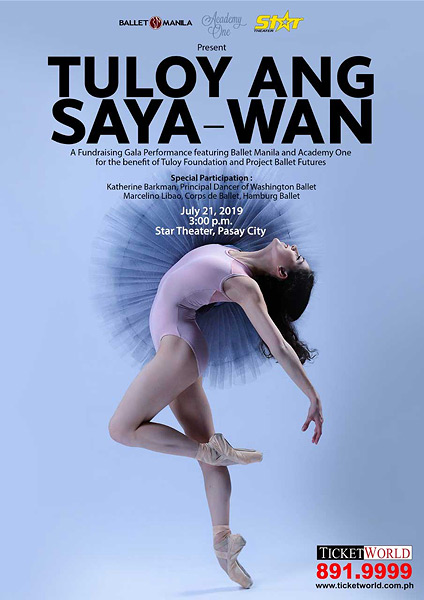 Ballet Manila and Academy One come together for a fundraising performance for the benefit of Tuloy Foundation and Project Ballet Futures. Tuloy Foundation provides food, shelter, and training for kids nine to 18 years of age at a 10-dormitory complex in Muntinlupa City, while Project Ballet Futures is a dance scholarship program started by Ballet Manila in 2008. Headlining Tuloy ang Saya-wan are Katherine Barkman from The Washington Ballet and Marcelino Libao from Hamburg Ballet.
ADVERTISEMENT - CONTINUE READING BELOW
Tuloy Ang Saya-wan runs on July 21, 3 p.m. at Star Theater, Cultural Center of the Philippines Complex, Roxas Boulevard, Pasay City. Tickets, priced at P2,000, are available through Ticketworld.
This story originally appeared on Spot.ph.
* Minor edits have been made by the Townandcountry.ph editors.
Don't know where to start when shopping at Real Food? Bea Lhuillier, Katrina Mañosa, Honey Almedral, and Nicole Fandiño make your decisions easier with their list of top picks.
Streetwear meets luxury yet again.
"Stuff happens," Harry said. "But look, we're brothers. We'll always be brothers."
It underwent a serious restoration project to bring it back to its Victorian splendor.
See the full trailer for the show's third season right here.
The bride and more than one entourage member wore Rosa Clará gowns.
Emma Stone, Kris Jenner, Adele, Amy Schumer, and more celebrities came out to celebrate the newlyweds.
It's never a dull moment with your family, but that doesn't mean you should succumb to becoming the entertainment.
She's part of a rare breed of dedicated restaurant pastry chefs in the metro, and her future's looking pretty sweet.
Queen Victoria was the first monarch to purchase Patek Philippe watches and started a trend among royals shortly after.
Two luxury hotels in Athens and Crete offer the perfect late summer vacation-and surprising life lessons.
The new HBO miniseries starring Helen Mirren recreates some of the Empress's famous jewels, which she used to cement her authority as an enlightened despot.
Get The Latest Updates From Town&Country!