Arts & Culture
Ateneo, UP Festival Proves That Shakespeare Is Still As Relevant as Ever
Don't even get us started on Richard III.
IMAGE BIOGRAPHY.COM
Asian fans of the great bard are out to prove that the works of one of the world's literary greats are always worthwhile to see. The 3rd Biennial Conference of The Asian Shakespeare Association is slated to happen from May 28 to 30 at Ateneo de Manila University's newest arts and innovation hub, the Areté; and the College of Arts and Letters at the University of the Philippines - Diliman. Aside from plenaries and exhibits, there will be three theater plays to complete your appreciation of Shakespeare.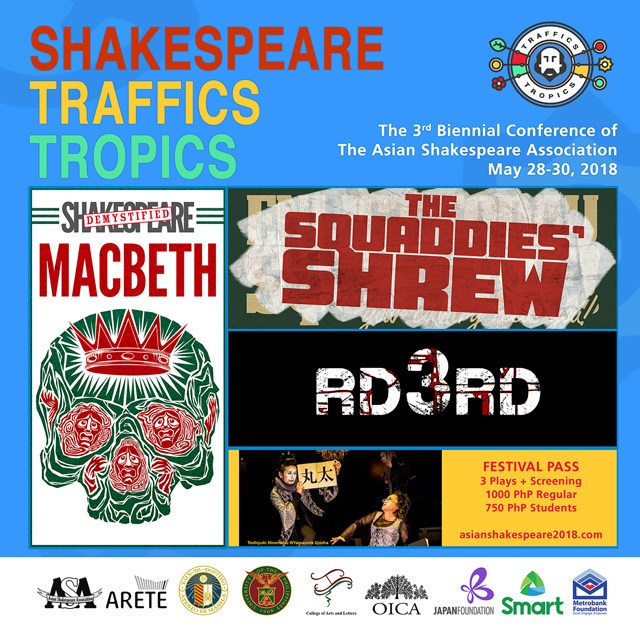 The Squaddies' Shrew
May 27, 6:30 p.m.
The Doreen Black Box, 3/F Areté, Ateneo de Manila University
Ian Maclennan's adaptation of The Taming of the Shrew was first shown in Tasmania, Australia in 2006. It brings the Shakespearean comedy to the modern times when young soldier recruits pull a prank on Christopher Sly, a drunkard military man. They get him to believe that he's a general and that Bartholomew, a member of the squad, is his wife. An entertaining skit ensues as Sly acts as Petruchio who is trying to court the shrewd Katherina (played by Bartholomew). It's a play within a play that's out to make everyone laugh. Tanghalang Ateneo is behind this production.
Shakespeare Demystified: Macbeth
May 29, 4 p.m.
Wilfrido Ma. Guerrero Theater, 2/F Palma Hall, University of the Philippines - Diliman
KL Shakespeare Players, a theater group from Malaysia, stages an interactive storytelling of The Tragedy Macbeth. Audience members get the chance to participate, especially in exciting scenes such as the opening battle and the seduction of three witches.
RD3RD
May 23 to 25, 8 p.m.
Black Box Theater, Fine Arts Annex, Ateneo de Manila University
Anton Juan and Ricardo Abad join forces to direct Tanghalang Ateneo's bold interpretation of Shakespeare's Richard III. In the Atenean adaptation, the historical play based on the reign of King Richard III of England's sociopathic ruler is set in contemporary Philippines where modern reality isn't too far from fiction.
ADVERTISEMENT - CONTINUE READING BELOW
The 3rd Biennial Conference of The Asian Shakespeare Association is from May 28 to 30 at Ateneo de Manila University and University of the Philippines - Diliman. Festival passes, priced at P1,000, are available through 0977-827-9005. For more information, visit The Asian Shakespeare Association's website.
This story originally appeared on Spot.ph.
* Minor edits have been made by the Townandcountry.ph editors.
Thomas Markle Sr. continues to give interviews about his daughter.
Before Diaz's feat, the Philippines had eight medals in weightlifting.
It all has to do with their future income.
This family loves a blue-and-white color scheme.
Prince Michel of Bourbon-Parma lived a fascinating life and recently died at 92.
Blink, and you might miss an exciting cameo.
There's plenty to look forward to at this year's edition.
From simple sandals for tourists to styling Beyoncé, the Italian company has come a long way in 60 years.
The Duchess is saving the sentimental watch for her daughter.
Frolicking in the woods in Finland!
Here's your first look at "Dior: From Paris to the World."
Secret bars you've never heard of, a Swedish visual artist making her Asian debut, a month-long film festival, and more.
Get The Latest Updates From Town&Country!