Arts & Culture
The Biggest Spanish Film Festival in Southeast Asia Is Happening This Month
Here are the films to watch for.
IMAGE Derks24 / PIXABAY
We're well into the -ber months by now, but that doesn't mean there aren't any more film festivals for movie buffs to look forward to. So it's best to mark your calendars (and figure out which screenings you'll be attending!) because the 2018 Película-Pelíkula: Spanish Film Festival is happening from October 4 to 20 at Greenbelt 3, UP Diliman, and Instituto Cervantes Intramuros. You can catch the best of contemporary Spanish cinema during the festival, which will be screening over 20 films. The event is organized by Instituto Cervantes, the Embassy of Spain, Turespaña, and the Film Development Council of the Philippines.
The festival's opening film will be none other than Javier Fesser's Campeones, the Spanish entry to the Foreign Language Film category at the 91st Academy Awards. Fesser himself will be attending the opening screening on October 3 at 8 p.m. at Greenbelt 3 cinemas. The film revolves around the coach of a top basketball league who gets into an accident. He is then tasked to train intellectually disabled players who have never played basketball in their lives.
ADVERTISEMENT - CONTINUE READING BELOW
In addition to the critically acclaimed opening film, we list down the ones you might want to add to your must-watch list.
Dancing Beethoven (2016)
Directed by: Arantxa Aguirre
For over nine months, this documentary filmed the preparation of the ballet dancers of Béjart Ballet Lausanne and Tokyo Ballet as they dance to Beethoven's Ninth Symphony with the help of the Israel Philharmonic Orchestra.
Oro (2017)
Directed by: Agustín Díaz Yanes
A group of Spanish soldiers are tasked by their king to look for a city made of gold and conquer it for their country. In their quest, they go head to head against indigenous tribes but also against themselves.
Los amores cobardes (2018)
Directed by: Carmen Blanco
In this romance-drama, Eva (Blanca Parés) returns to her hometown Málaga in Spain so she can spend time with her mother and her best friend. During her trip, she reconnects with her old boyfriend Rubén (Ignacio Montes), who abruptly ended things with her without any explanation.
ADVERTISEMENT - CONTINUE READING BELOW
Mi querida cofradía (2018)
Directed by: Marta Díaz de Lope Díaz
This comedy follows Carmen (Gloria Muñoz), a devout Catholic woman who wants to become—and believes she can—be the president of a brotherhood.
Memorias de un hombre en pijama (2018)
Directed by: Carlos FerFer
The dream of 40-year-old bachelor Carlos is to work at home in his pajamas. That's exactly what he sets out to do in this funny animated film.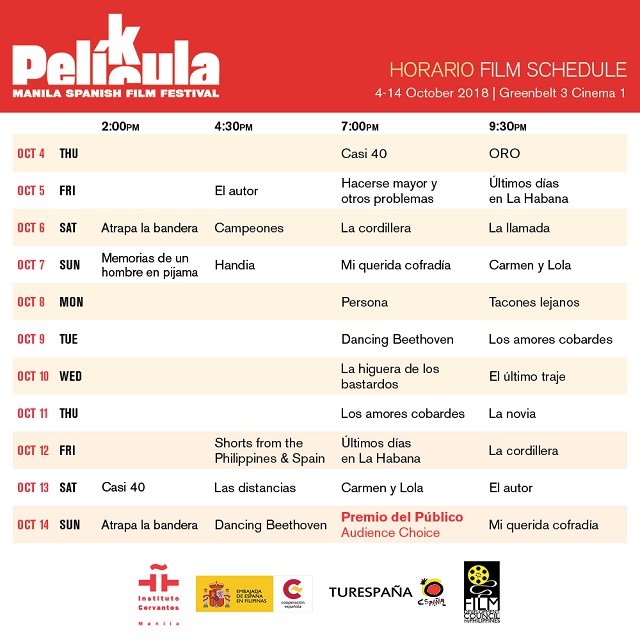 ADVERTISEMENT - CONTINUE READING BELOW
The lineup also includes the animated children's movie Atrapa la bandera, comedy Hacerse mayor y otros problemas, and the drama La novia to name a few. There'll also be a screening of Latin American works like Cuba's Últimos días en La Habana and Argentina's The Summit and The Last Suit.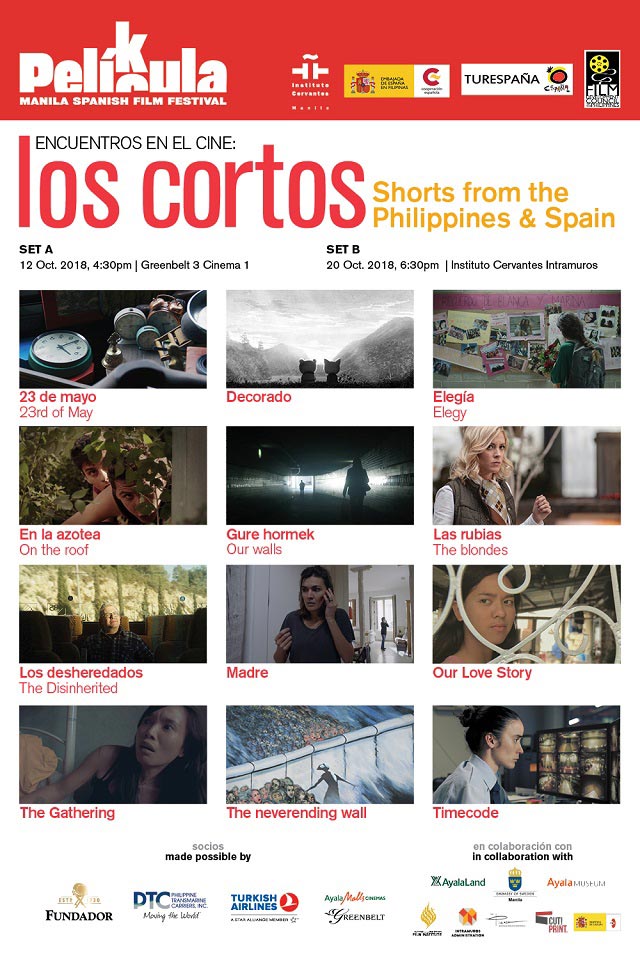 ADVERTISEMENT - CONTINUE READING BELOW
Aside from the screenings of feature-length films, short films will also be screening at the Encuentros en el cine: Shorts from the Philippines and Spain on October 12. Not only will they be showing 10 Spanish shorts, but it'll also be the premiere of two short films: Arvin Belarmino's The Gathering, and actor Xian Lim's Our Love Story, which is his directorial debut.
For more information, visit the Facebook event page of Película-Pelíkula: Spanish Film Festival.
This story originally appeared on Spot.ph.
* Minor edits have been made by the Townandcountry.ph editors.
In the U.S., ticket pre-sales equaled those of Captain Marvel, Avengers: Infinity War, Aquaman, and The Last Jedi combined.
Because entertaining is an art form.
It's another massive art installation by Biboy Royong.
Your spouse may not know you're cheating, but the florist, hotel concierge, and the Maître D' definitely do. What's giving you away?
The Al Thani family has amassed over 400 pieces, from Mughal emeralds to Golconda diamonds.
DVF has spent more than four decades on the front lines of fashion. Now she's bringing her granddaughter, Talita, into the family business.
Meghan's due date is reportedly days away.
Welcome to Osteria Daniele, a sophisticated new restaurant specializing in high-end Italian fare.
It's everything you can expect and more from the World's Best Airport.
Get ready for beach season with these breezy button downs.
The event took place in St George's Chapel-the venue for Eugenie's royal wedding this past fall.
The 97-year-old royal was involved in a serious car accident earlier this year.
Get The Latest Updates From Town&Country!