Arts & Culture
10 Must-Visit Museums and Historical Sites in Intramuros
Sites you need to see at least once in your life, as well as not-so-well-known places you might be missing out on!
If you've ever had foreign friends over in Manila and they ask to be treated to a bit of history in the city, there's no doubt that only one place comes to mind: Intramuros. On a good day, the sun would not be too harsh or the traffic too unbearable for you to willingly volunteer as the day's tour guide, unless you decide to go on an organized tour of the walled city. The cobbled streets can give your feet a beating, so you have the option to take pedicabs or the district's e-trikes. The e-trikes take passengers to certain stops around Intramuros for free! But are all of them worth checking out? We went museum hopping to see for ourselves.
Keep yourself updated on the latest events in Intramuros by checking out the official Instagram and Facebook pages of the Intramuros Administration.
Fort Santiago
Fort Santiago is the oldest Hispanic stone fortress in the Philippines. One of the shops you'll spot by the entrance is The Manila Collectible Co., which has cute notebooks and notepads with Filipino designs. Bringing this historical site to the digital age, the labels around Fort Santiago now have QR codes, which when scanned on your phone leads to fun facts about the site. There are kalesas, old dungeons, an old theater, gardens, and more to keep your eyes and ears busy as you take in all the history.
Fort Santiago is at Sta. Clara corner General Luna Street. Entrance fee is P75.
Rizal Shrine
If you're already inside Fort Santiago, you should definitely head over to the Rizal Shrine, which commemorates the death of national hero Jose Rizal. To get to the shrine, all you have to do is look down. On the ground, you will see imprinted footsteps, which represent the way that Rizal took on the way to his execution. The steps lead you to the shrine which bears a sculpture of Jose Rizal inside his cell. Nearby is Dambana ni Rizal, a museum that has paintings, sculptures, photos, and other artifacts depicting Rizal's life. Donations are accepted at the entrance of the museum.
ADVERTISEMENT - CONTINUE READING BELOW
Rizaliana Furniture Exhibit
Another attraction inside Fort Santiago is the Rizaliana Furniture Exhibit, which only requires P10 for entrance. The exhibit focuses on the furniture that was used by the Rizal family. Some of the pieces were donated by Trinidad Rizal and Saturnina Rizal-Hidalgo, sisters of Jose Rizal, all of which now belong to the National Historical Institute. Aside from furniture, encased under glass are some of Rizal's clothes and old copies of his literary masterpieces Noli Me Tangere and El Filibusterismo.
Bahay Tsinoy
The Chinese in the Philippines have had a rich history, as shown in life-sized dioramas of Chinese traders, goldsmiths, and more in Bahay Tsinoy. The most interesting piece in the museum is a sari-sari store, which played an important role in the lives of early Chinese settlers in the Philippines.
Bahay Tsinoy is at 32 Anda Street corner Cabildo Street (527-6083; 0922-890-1357). Open from 1 p.m. to 5 p.m. (Tuesday to Sunday). Entrance fee is P100 for adults, P60 for students.
Casa Manila
Casa Manila's main attraction is a fully-furnished home-turned-museum that shows how Filipinos lived during the colonial era. Visitors are not allowed to take photos, although the rooms are definitely IG-worthy. You should also remember to walk only on the carpeted areas so that you do not damage the wooden floors. Of all the luxurious furniture in Casa Manila, the most memorable are the toilets. Apparently, in the olden days, toilets were built in twos or more. This allowed people to sit beside each other and chat while they did their business.
Apart from the museum, there is a souvenir shop and the Bambike Ecotours office (if you want to bamboo bikes) on the ground floor. There is also a stunning fountain where you can have a blast taking photos without being told off.
ADVERTISEMENT - CONTINUE READING BELOW
Casa Manila is at Plaza San Luis at General Luna corner Real Street. Entrance fee is P75.
San Agustin Museum
Opposite Casa Manila is the San Agustin Church which houses the San Agustin Museum. The museum has two floors, several galleries, and even the hallways are teeming with religious art. The pieces range from paintings, sculpture, and furniture. There's also a gallery filled with the recreated pharmacy pots of a 16th Century drug store that provided medicines for the friars. In this same gallery are lithograph prints of Philippine flowers. If you're a bookworm, you will marvel at the Library of San Agustin Convent, which has thousands of books from 1522 onwards. However, the whole library is closed off with glass, but you are free to stare at this stunning library.
The San Agustin Museum is at General Luna corner Real Street. Entrance fee is P200.
Baluarte de San Diego
Baluarte de San Diego contains remnants of a fort that was built by Jesuit Antonio Sedeño. You can climb its staircase and see the circular structure of the fort. Destroyed after the Battle of Manila, it was rediscovered by the Intramuros Administration and the National Museum. Through their efforts, it was refurbished in 1992. Surrounding it is a fountain, pavilions, and a garden with several bonsai plants. We can imagine just chilling right here with a book, just because.
Baluarte de San Diego is at Sta. Lucia Street. Entrance fee is P75.
Bagumbayan Light and Sound Museum
Only groups of at least 10 people are allowed into the Bagumbayan Light and Sound Museum. It's a one-hour show which combines different visual effects, soundtracks, and other technologies. The show narrates the story of Jose Rizal from his life to his execution.
ADVERTISEMENT - CONTINUE READING BELOW
Bagumbayan Light and Sound Museum is at Sta. Lucia Street. Entrance fee is P150 per person.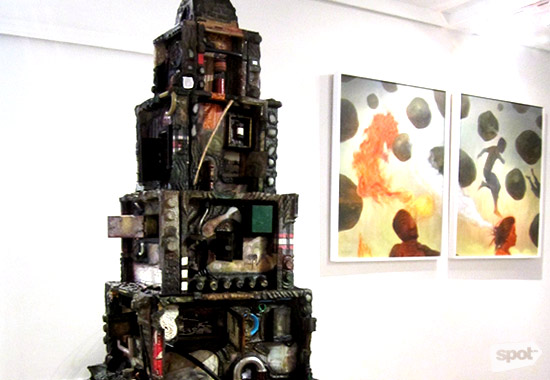 National Commission for Culture and the Arts Gallery
Operated by the National Commission for Culture and the Arts (NCCA), the NCCA Gallery has temporary exhibits which opens every month or so. Currently on exhibit until June 30 is a group show called Promdi, which features creations made by Dumaguete artists. A few interesting works are clay pieces formed into tuyo and dilis, a canvas covered with pieces of clothing and clothing labels, a tower painted with different forms, a wall of necklaces, and sculptures made out of ballpens.
NCCA Gallery is at General Luna Street. Entrance is free.
Fr. George J. Willmann, SJ Museum
If you're interested in what happens on the road to sainthood, then this is the place for you. It's a small room full of texts and photos of Fr. George J. Willmann, an American priest who lived in the Philippines and eventually became a Filipino citizen. The whole exhibit was created so that the public will know more about him, and other information surrounding the bid for his sainthood.
Fr. George J. Willmann, SJ Museum is at General Luna corner Sta. Potenciana Street. Entrance is free.
This story originally appeared on Spot.ph.
* Minor edits have been made by the Townandcountry.ph editors.
Get to know the families who built Manila as we know it today.
It's a sign that property buyers are willing to pay for order, community and systems, says property expert.
Sometimes a silk square is much more than a piece of fabric.
It was just announced that Michael Kors would acquire Versace's family company for $2.12 billion.
Here's how much the disgraced star was worth.
Over the course of his time in Africa, the Duke of Cambridge will also travel to Kenya and Tanzania.
The Duchess looked stunning in an ensemble by her wedding dress designer.
Some fans of the Italian luxury brand are devastated with the news.
A rooftop Champagne bar, an art hub located in an old plane, and a spa that offers a gold leaf facial are among the newer hangout spots.
Tour the gorgeous homes of Gloria Vanderbilt, Richard Avedon, Tony Duquette, and many others.
She appears to be judging all those royal walkabouts.
This isn't the model's first time working with the iconic brand.
Get The Latest Updates From Town&Country!