Hobbies
How Fast Are the Philippines' Most Popular Online Stores in Delivering Orders?
We bought from Lazada, Zalora, Shopee, BeautyMNL, and Takatack, and timed how long it took the items to arrive.
IMAGE BRUCE MARS/ PEXELS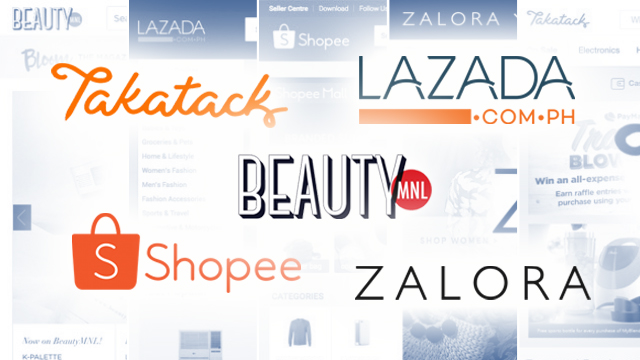 Once Filipinos embraced the convenience of online shopping, the next question was not what to buy online but from whom.
There are least 38 e-commerce sites in the Philippines that get a minimum of 10,000 page views a month, according to a report by online shopping aggregator iPrice Group in 2017.
More: Who are the Leading Local and Foreign Players in PH E-Commerce
ADVERTISEMENT - CONTINUE READING BELOW
The top 10 sites on the list are all marketplaces or platforms that allow both established and emerging small entrepreneurs to sell goods in a single place online. 
Amid the growing competition, e-commerce sites have whipped up different features to stand out and catch the attention of online shoppers. Some provide a discount on a user's first purchase on their sites while others make sure to offer the most exclusive array of brands.
Next to low prices, a key factor that drives shoppers to return to an e-commerce site is the speed of delivery, according to an online consumer study conducted by KPMG on 2017. For many in the Philippines, where most towns don't have a large shopping mall while big cities suffer from heavy traffic, fast delivery may prove more important than initially thought.
Along these lines, we conducted a test, albeit a highly informal one, to check the speed at which the most popular online stores deliver goods to customers. We ordered five different items from each of the five most popular online stores, based on the iPrice ranking. Including only those that run fulfillment centers in the Philippines and have a working ordering system, the online stores covered by the test were: Lazada, Zalora, Shopee, BeautyMNL and Takatack.
ADVERTISEMENT - CONTINUE READING BELOW
To make comparisons fair, we only chose items that the online stores kept in their own fulfillment centers (and not from third-party merchants) and booked the order on the same hour of the same day.
As the shipping address we provided was in Mandaluyong City, we expected all deliveries to be fulfilled within three days. This is the standard waiting time for most online shipments delivered in Metro Manila. But our orders arrived from only 17 hours to as long as six days after ordering.
All of the sites also provided free shipping, except for Takatack which charged P100 for an order to be delivered just within Metro Manila.
Here is a summary of what we found: 
BeautyMNL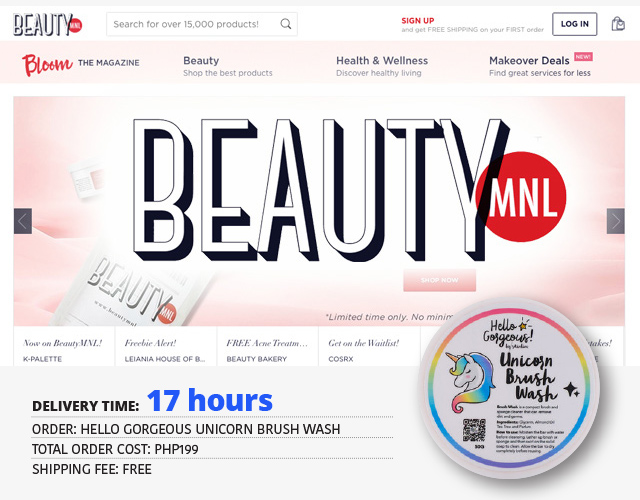 ADVERTISEMENT - CONTINUE READING BELOW
Our package from BeautyMNL came in first among all the items we purchased online, arriving only 17 hours after we made the order. This is quite impressive since the site actually said to wait around 24 hours to as much as three days for the arrival of our package. All the shoppers we talked to who have purchased on the site also shared that all of their packages arrived earlier than expected.
This commitment to providing timely delivery could do wonders for the site especially when competition is stiff in the local beauty e-commerce space. While the site offers a range of beauty products, from cosmetics to service packages, several Instagram and Facebook-based shops also sell most of the products in BeautyMNL's catalogue. So price points and customer service are the name of the game.
In terms of audience reach though, it's already ahead than most. BeautyMNL is the fifth largest marketplace in the country garnering around 1.2 million page views a month. For a marketplace catering only to a niche segment, its reach and customer service are impressive.
ADVERTISEMENT - CONTINUE READING BELOW
This may also be one of the reasons why on December 2017, listed firm Robinsons Retail Holdings Inc. bought a 20-percent stake in BeautyMNL for an undisclosed amount—the company's first investment in e-commerce. Robinsons Retail cited it as a market leader in the local beauty e-commerce space.
Lazada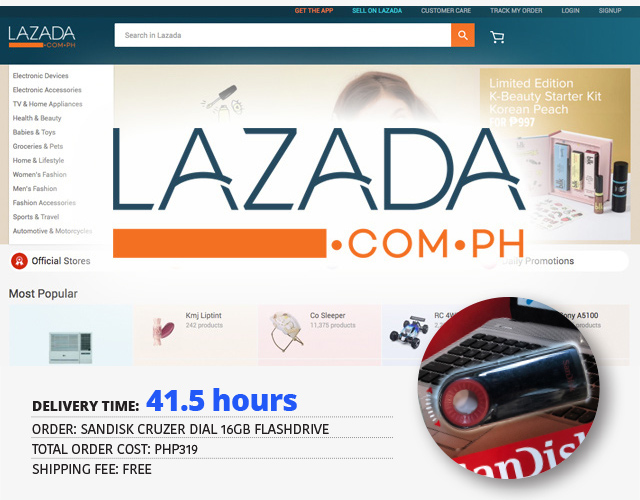 The second package that arrived was an item from Lazada, the country's largest e-commerce site, which came in after 41.5 hours since we made the order. While the item arrived within its promised delivery time-frame of one to three days after the purchase was made, it was later than what we expected especially from the industry leader.
ADVERTISEMENT - CONTINUE READING BELOW
Still, the marketplace's edge may not necessarily be its delivery service but the luxury of choices that it offers to customers. Lazada has over 10 million items listed on its site with hundreds of "official shops" or virtual brick-and-mortar stores of big, established brands like Sandisk, for instance. While we ordered from the official shop itself, there are in fact several merchants that also sell the same product we purchased for a much lower price.
And Lazada's number of merchants may still grow in years to come. Just this March, Chinese e-commerce pioneer Alibaba said it would boost its investment in Lazada with another $2 billion worth of fresh funding.
More: This CEO Plans to Make the PH a Top Country for E-Commerce
Shopee
ADVERTISEMENT - CONTINUE READING BELOW
Surprisingly at third place is Shopee, one of the newest e-commerce sites in the country, which only set up shop in Manila in 2015. Our package arrived 2.75 days or 63.5 hours after we made the order online, still within its promised time-frame. To its credit, the site gave us three options for a courier to fulfil our order and we chose the one that comes with free shipping. A courier that would bring us our item the quickest time possible will set us back P100, a bit pricey especially when other e-commerce sites offer free shipping for the first order.
Like Lazada, Shopee's main leverage may be its extensive product catalogue with over three million active listings on its platform as of November 2017.
More: How Shopee is Battling Its Way to Becoming the Top E-COmmerce Platform in the Philippines
Zalora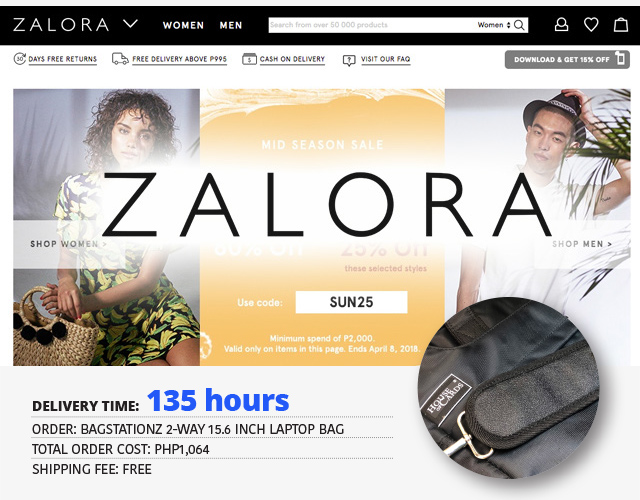 ADVERTISEMENT - CONTINUE READING BELOW
Our order from Zalora came in later than expected, 5.6 days after we purchased it online. This was one of the surprises of our study since the site promised one to three days of delivery time for cities in Greater Metro Manila for all purchases. However, after we placed our actual order and specified the shipping address, the site indicated that the delivery time may take four to seven days.
Technically, our purchase came in within the time frame promised but just before it was about to hit the deadline. Still, for the fashion-focused e-commerce pioneer, its delivery service's performance was a bit disappointing.
To its credit, this may be one of the rare times Zalora took longer than usual to deliver. Most of the loyal customers we talked to said the site usually delivers within its promised time frame and even accommodates "hassle-free" returns, a rare feature in e-commerce platforms.
ADVERTISEMENT - CONTINUE READING BELOW
The Rocket Internet-backed platform is actually in the process of expansion with pop-up stores planned to be set up in various Ayala Malls, one of the company's stockholders.
More: 5 Retail Strategies Used by Zalora to Overcome E-Commerce Challenges
Takatack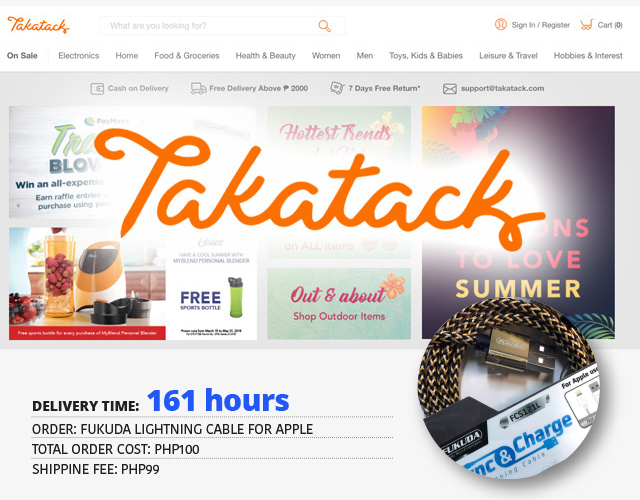 And the last package to come in was our order from PLDT Group-backed e-commerce platform, Takatack, arriving almost a week after we made the purchase. One of the country's largest homegrown marketplaces, Takatack is the lone site that charged a shipping fee of P100. That's pricier than usual, especially for an order to be delivered within Metro Manila. 
ADVERTISEMENT - CONTINUE READING BELOW
This story originally appeared on Entrepreneur.com.ph.
* Minor edits have been made by the Townandcountry.ph editors.
Not only does it inform the cast's performances, but its stripping down of the play's setting to its barest elements underscores the universality and timelessness of its message.
These are the six pieces you need to cop this season.
It turns out that most of these emblematic charmers are jewelry timepieces.
The modern property, which is a combination of two units, was designed by famed architect Claudio Silvestrin.
The palace staff treated Harriet the monkey to a scone, and sent it home with a new corgi friend.
You can't miss out on one of the country's longest-running trade fairs.
A screening of The Sorcerer's Stone was accompanied by live music courtesy of the ABS-CBN Philharmonic Orchestra and conducted by Gerard Salonga.
Airbnb is giving two superfans a chance to live like the Crawleys-royal treatment and all.
From presents for your own parents to the perfect gifts for new moms and dads.
Here's your first look at the new HBO mini-series.
Here's a look at her debut collection, plus what else to expect from the designer's eponymous brand.
Get The Latest Updates From Town&Country!