Food & Drink
Here's How Much Jollibee's Chickenjoy Costs in 15 International Locations
If there's Big Mac index of currencies worldwide, is a Chickenjoy metric not far behind?
IMAGE JOLLIBEE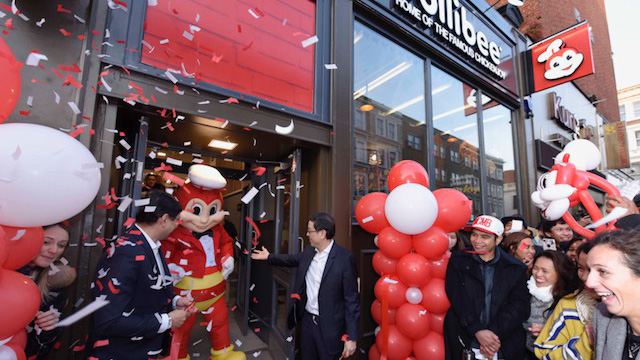 Thousands of Filipinos lined up for the opening of Jollibee's first store in the United Kingdom on October 20. Dennis Flores, president and head of Jollibee International Business for EMEAA (left) and Mr. Ernesto Tanmantiong, chief executive officer of Jollibee Foods Corporation, led the celebrations. 
When homegrown fast food group Jollibee Foods Corp. (JFC) opened its first store in the United Kingdom in central London on October 20, thousands of mostly Filipino fans were said to have lined up for as long as 18 hours to be among the first customers, according to media reports.
ADVERTISEMENT - CONTINUE READING BELOW
This is the second store of JFC's flagship brand Jollibee in Europe. The company opened its first in Milan, Italy in March. The Filipino fast-food chain is hoping to open 50 stores in the entire continent by 2020, half of which would be located in the U.K. 
Over the past year, the company has also opened locations in Toronto in Canada and in Macau Special Administrative Region (SAR) in China. This accelerated pace of expansion is part of the company's aim to becoming one of the largest fast-food restaurants in the world by 2020, joining the likes of KFC and McDonald's.
By then, the company expects that as much as 50 percent of its revenues will come from overseas stores.
So far, the company has established presence in 15 foreign locations across three continents with a total of 142 international stores. Most of these branches cater to overseas Filipino workers who are yearning for a taste of home.
ADVERTISEMENT - CONTINUE READING BELOW
At the rate Jollibee Foods is expanding abroad, it may soon be possible to construct an alternative currency indicator similar to The Economist magazine's Big Mac Index, which is based on the prices of McDonald's most famous burger in different countries where the U.S. fast food giant is present.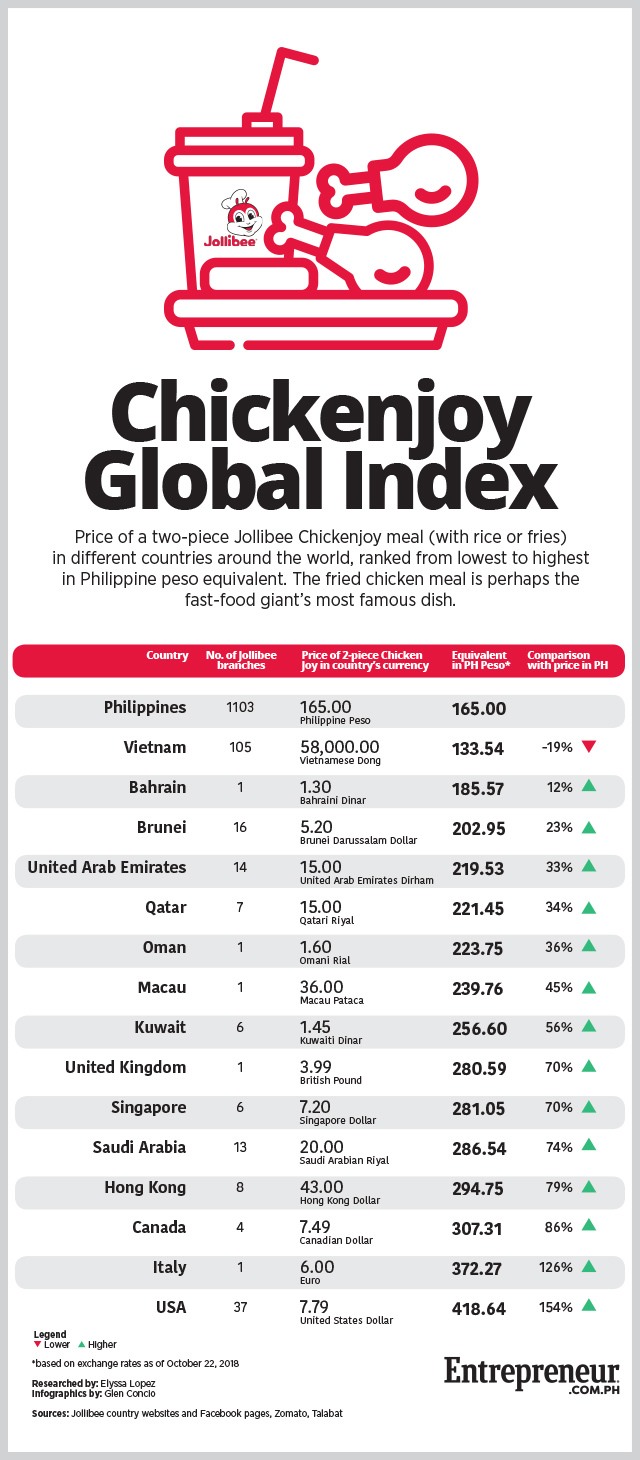 ADVERTISEMENT - CONTINUE READING BELOW
In the meantime, here's an international comparison of the price (in equivalent Philippine peso) of the two-piece Chickenjoy meal (with either rice or fries), a standard fare in Jollibee menus in 15 foreign countries where there's a Jollibee store. While there may not be enough data yet to construct an indicator whether currencies are over or under-valued, the resulting table could at least serve as guide to where to find the cheapest or most expensive Chickenjoy in the world. 
Based on the data, it looks that Jollibee's fans in Vietnam—the fast-food chain's biggest market outside of the Philippines—get the best deal, as the meal is 19 percent cheaper compared its price back in Manila.
On the other hand, the most expensive Jollibee meals are found in Italy and the U.S., which have Jollibee stores that sell the same item for more than double the cost back home. A two-piece Chickenjoy with rice is priced 126 percent more in Italy and 154 percent more in the US.
ADVERTISEMENT - CONTINUE READING BELOW
Londoners are fortunate as they pay just 70 percent more that the Philippine price for the same meal in the U.K.
This story originally appeared on Entrepreneur.com.ph.
* Minor edits have been made by the Townandcountry.ph editors.
Sophia Lee's colorful stories explore what it means to be Filipino.
Help the little guy out while doing your Christmas shopping.
It will star The Miniaturist's Anya Taylor Joy in the titular role.
The royal couple celebrated their 72nd wedding anniversary.
There's a piece for every kind of personality.
Water bottles with healing crystals and Motivation Mists? Why not.
In a new statement about his relationship with convicted sex offender Jeffrey Epstein, the Queen's son also confirmed that he is willing to speak to law enforcement.
Some members of the public are calling for him to retire from public duties.
We revisit the remarkable journey of the country's leading pizza chain.
Grace Kelly's great-grandchildren were quite a presence on the Palace balcony.
The wife of Napoleon III was ultimately exiled to England, but at least she had a pair of 19th-century natural pearl earrings.
Get The Latest Updates From Town&Country!