Food & Drink
Here's How Much More Your Favorite Sugary Drinks Will Cost Due to New Taxes
The TRAIN law adds 6 pesos or 12 pesos per liter on sweetened beverages.
IMAGE Lernestorod/ PIXABAY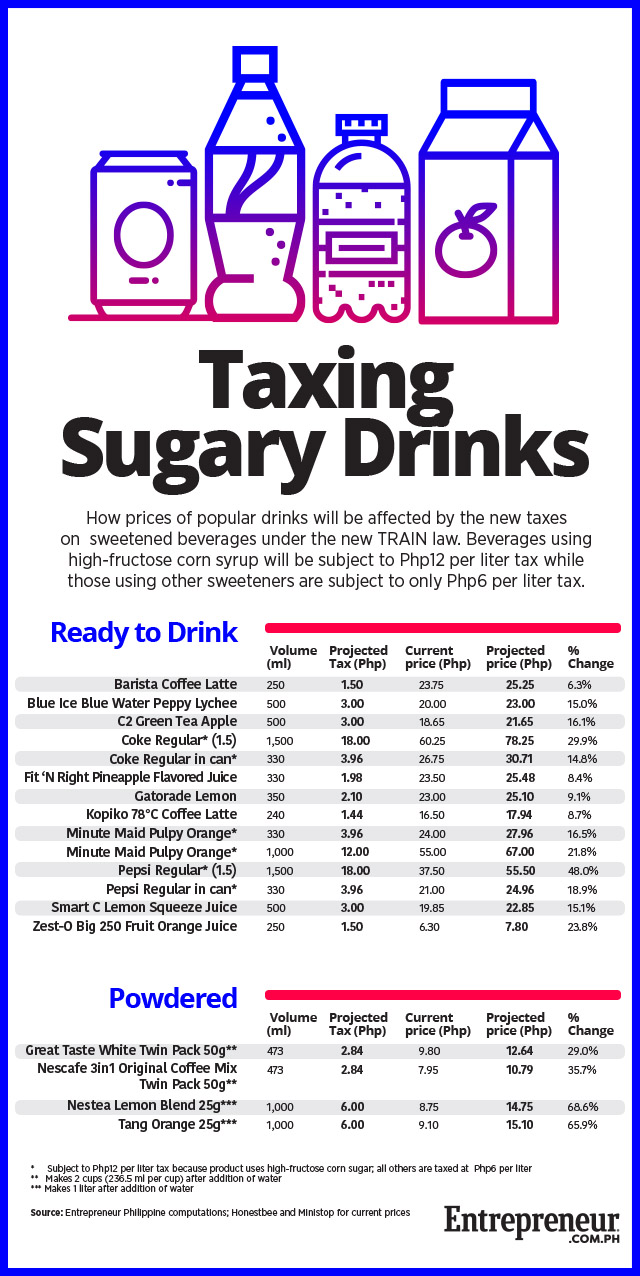 Among the most important provisions of the Tax Reform for Acceleration and Inclusion (TRAIN) law, which took effect January 1, are taxes on sweetened beverages. Section 47 of Republic Act No. 10963 levies a tax of P6 per liter on sweetened beverages using caloric or non-caloric sweeteners and a tax of P12 per liter on those using high fructose corn syrup (HCFS).
ADVERTISEMENT - CONTINUE READING BELOW
Sweetened beverages are defined under the law as non-alcoholic beverages of any constitution (liquid, powder or concentrates) that are pre-packaged and sealed in accordance with the Food and Drug Administration (FDA) standards that contain caloric and/or non-caloric sweeteners added by the manufacturers.
These include sweetened juice drinks, sweetened tea, all carbonated beverages, flavored water, energy and sports drinks, other powdered drinks not classified as milk, juice, tea and coffee, cereal and grain beverages and other non-alcoholic beverages that contain added sugar.
The new tax could potentially affect almost nine out of 10 Filipinos. According to the 2013 National Nutrition Survey, 85 percent of Filipinos consume sugar-sweetened beverages (SSBs). About 45 percent of those are soft drinks, followed by coffee and tea at 29 percent, while nine percent are sweetened fruit juices.
To help readers find out how much more they'll be paying for their favorite sweetened drinks, we compiled a list of popular sugary beverages, checked the sweetener used as well as the volume, and computed the likely amount of the tax to be imposed on the product. The results are shown in the accompanying infographic.
ADVERTISEMENT - CONTINUE READING BELOW
From the looks of it, powdered juice drinks will see the highest price increases ranging from 66 percent to 69 percent from their original prices, which are relatively low. In contrast, ready to drink fruit juices, despite being subject to the higher tax of P12 per liter, will only see a 16.5 to 21.8-percent price hike because current prices are already on the high side.
A favorite of Filipinos—sodas—are projected to increase their prices by 15 to 48 percent. While Coke and Pepsi products in cans, which are already pricey, will see increases of 15 to 19 percent, those packaged in 1.5 liter PET bottles will see price hikes of 29 to 48 percent as each bottle will be subject to a tax of P18.
All these price hikes are expected to hit sari-sari store owners the most. According to the Philippine Association of Stores and Carinderia Owners (PASCO), 40 percent of their daily income comes from sales of sweetened beverages.
ADVERTISEMENT - CONTINUE READING BELOW
If Filipinos cut their consumption of sugary drinks because of higher prices, there's an upside on public health. The Department of Finance says that sweetened beverages are associated with greater incidence of Type 2 diabetes which afflicts around 3.5 million Filipinos, according to the International Diabetes Foundation.
This story originally appeared on Entrepreneur.com.ph.
* Minor edits have been made by the Townandcountry.ph editors.
For starters, good quality and design are aspects they will appreciate.
The first-ever Filipino Netflix movie imparts nuggets of wisdom to the social media-crazed generation.
Simpson attended his funeral England, alongside the royal family.
Welcome to the Princess Anne fan club!
Because the holiday season isn't complete without a movie marathon.
A treat for all ahead of Thanksgiving.
Looking to grow your own vintage watch collection? Start with these classic picks.
Taking a Rolls-Royce Ghost out for a spin is going to cost you.
Her portrayal of a masked mercenary in this month's Rise of Skywalker is one of Hollywood's best-kept secrets. Keri Russell prepares for the big reveal at a brownstone in Brooklyn, a galaxy far, far away.
Take a ride on a train through Asia or take a trip to a champagne chalet, the options are endless.
Alcohol-free traveling is an emerging trend, but there's much more to this phenomenon than meets the eye.
It comes complete with jewels, corgis, banquets, and etiquette lessons.
Get The Latest Updates From Town&Country!