Food & Drink
Here's How Much More Your Favorite Sugary Drinks Will Cost Due to New Taxes
The TRAIN law adds 6 pesos or 12 pesos per liter on sweetened beverages.
IMAGE Lernestorod/ PIXABAY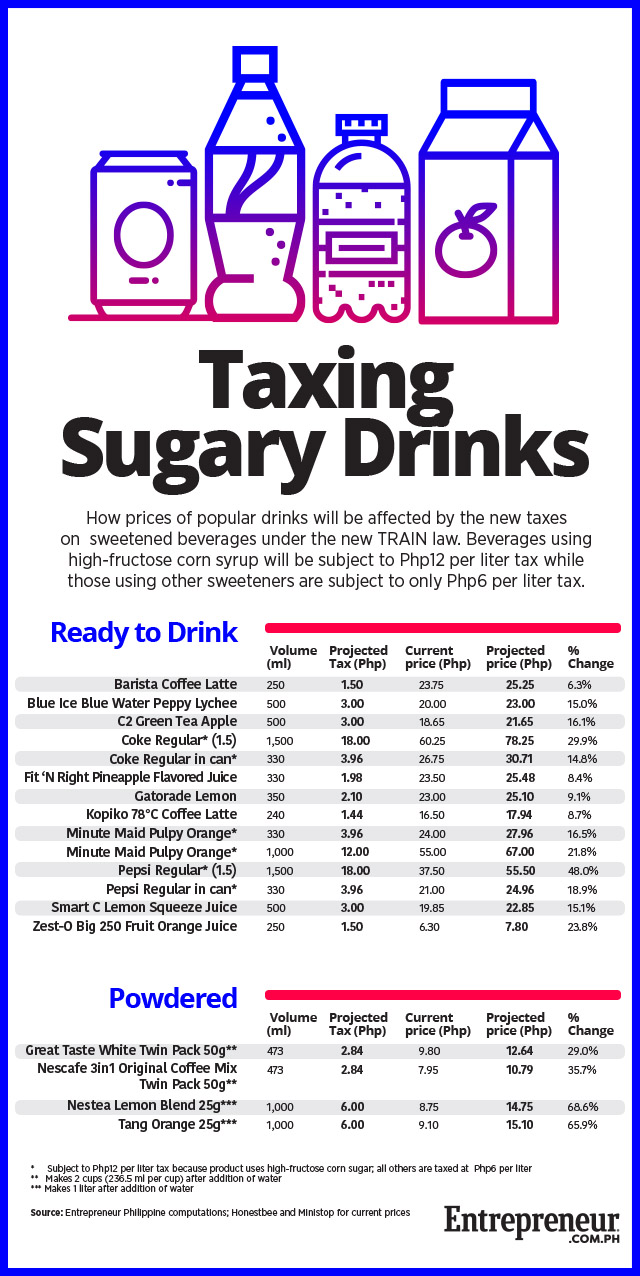 Among the most important provisions of the Tax Reform for Acceleration and Inclusion (TRAIN) law, which took effect January 1, are taxes on sweetened beverages. Section 47 of Republic Act No. 10963 levies a tax of P6 per liter on sweetened beverages using caloric or non-caloric sweeteners and a tax of P12 per liter on those using high fructose corn syrup (HCFS).
ADVERTISEMENT - CONTINUE READING BELOW
Sweetened beverages are defined under the law as non-alcoholic beverages of any constitution (liquid, powder or concentrates) that are pre-packaged and sealed in accordance with the Food and Drug Administration (FDA) standards that contain caloric and/or non-caloric sweeteners added by the manufacturers.
These include sweetened juice drinks, sweetened tea, all carbonated beverages, flavored water, energy and sports drinks, other powdered drinks not classified as milk, juice, tea and coffee, cereal and grain beverages and other non-alcoholic beverages that contain added sugar.
The new tax could potentially affect almost nine out of 10 Filipinos. According to the 2013 National Nutrition Survey, 85 percent of Filipinos consume sugar-sweetened beverages (SSBs). About 45 percent of those are soft drinks, followed by coffee and tea at 29 percent, while nine percent are sweetened fruit juices.
To help readers find out how much more they'll be paying for their favorite sweetened drinks, we compiled a list of popular sugary beverages, checked the sweetener used as well as the volume, and computed the likely amount of the tax to be imposed on the product. The results are shown in the accompanying infographic.
ADVERTISEMENT - CONTINUE READING BELOW
From the looks of it, powdered juice drinks will see the highest price increases ranging from 66 percent to 69 percent from their original prices, which are relatively low. In contrast, ready to drink fruit juices, despite being subject to the higher tax of P12 per liter, will only see a 16.5 to 21.8-percent price hike because current prices are already on the high side.
A favorite of Filipinos—sodas—are projected to increase their prices by 15 to 48 percent. While Coke and Pepsi products in cans, which are already pricey, will see increases of 15 to 19 percent, those packaged in 1.5 liter PET bottles will see price hikes of 29 to 48 percent as each bottle will be subject to a tax of P18.
All these price hikes are expected to hit sari-sari store owners the most. According to the Philippine Association of Stores and Carinderia Owners (PASCO), 40 percent of their daily income comes from sales of sweetened beverages.
ADVERTISEMENT - CONTINUE READING BELOW
If Filipinos cut their consumption of sugary drinks because of higher prices, there's an upside on public health. The Department of Finance says that sweetened beverages are associated with greater incidence of Type 2 diabetes which afflicts around 3.5 million Filipinos, according to the International Diabetes Foundation.
This story originally appeared on Entrepreneur.com.ph.
* Minor edits have been made by the Townandcountry.ph editors.
It's time to update your listening library.
It's set in the tony New York City world of private-school parents.
"I feel a profound sense of obligation to protect Harry and his family from the unnecessary press intrusion that contributed to Diana's untimely death," he said.
With a line-up as star-studded as this, performing songs from Cayabyab's extensive body of work, the concert is guaranteed to be one of the most memorable nights in Filipino music.
From hybrid products to just quirky couture pieces, these are some of fashion's fun and functional pieces of the moment.
Now is the time to stock up on all of your skin-saving faves.
In an interview with Stephen Colbert-who, like Cooper, lost his father at age 10-the news anchor discussed grief and loss.
A new poll reveals how favorably the royals are seen in the U.K.-from Meghan Markle to Prince Charles.
A video of the Queen's son at Epstein's New York City home was published today.
We take a look at the life and legacy the former Environment and Natural Resources Secretary has left behind.
Get The Latest Updates From Town&Country!