Cars & Gadgets
What Cars Do Senators Own, And How Will TRAIN Law Affect Their Vehicles' Retail Prices?
The Senate gets credit (or blame) for easing excise taxes on luxury vehicles. What will it cost them if they buy the same cars this year?
IMAGE M 93/ Land Rover MENA/ WIKIMEDIA COMMONS/ DariuszSankowski/ PIXABAY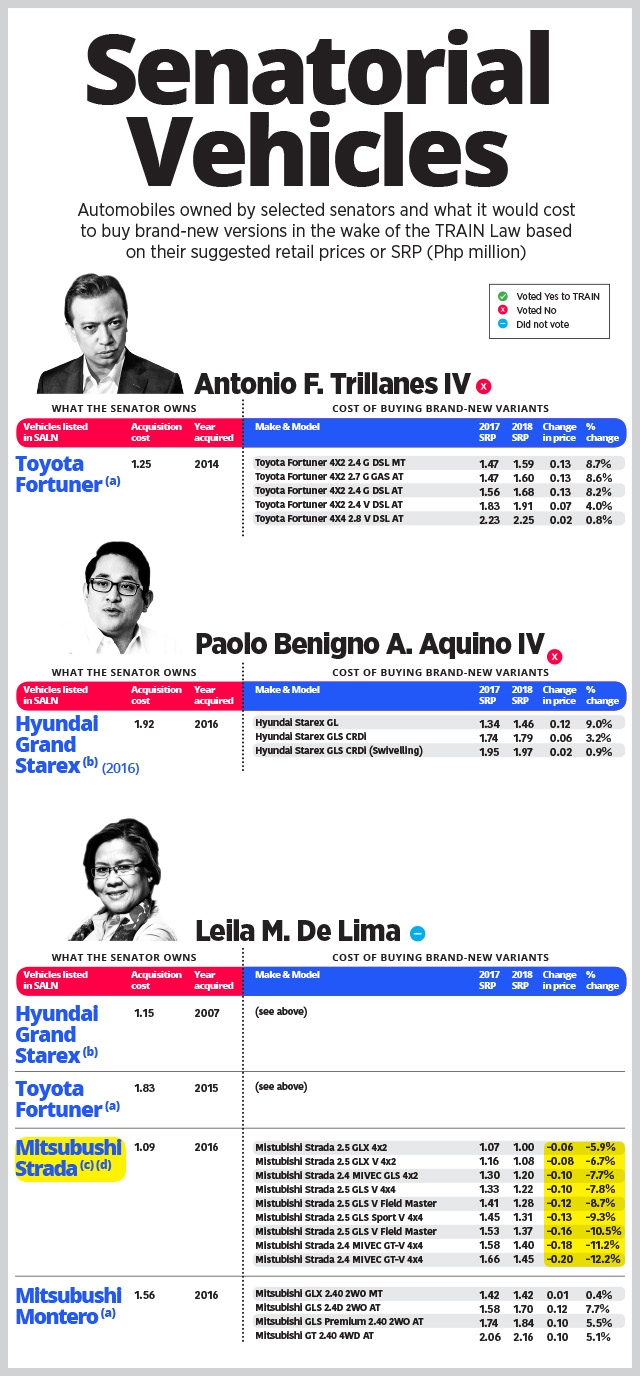 One of the oddest outcomes of the Tax Reform for Acceleration and Inclusion (TRAIN) Law, which came into effect last January 1, 2018, was the lopsided impact of the new tax law on low-priced and high-end vehicles.
While the new law increased the excise tax on low and mid-priced cars, it lowered excise taxes on luxury vehicles, especially those costing more than Php4 million. This went against the intention of the Department of Finance which wanted progressively higher taxes on more expensive vehicles.
Blame for the surprising result has been pinned on the Senate, whose version of the TRAIN bill reduced excise taxes on automobiles to just two tiers: 10 percent for cars costing Php1 million or less and 20 percent for those costing over Php1 million. In contrast, the House of Representatives adopted five tiers ranging from 3 percent to 90 percent. The final version settled on four tiers ranging from 4 percent to 50 percent compared to excise taxes ranging from two percent to 60 percent under the old revenue code.
The Senate move to ease excise taxes on high-end cars prompted many to wonder how the tax rates on automobiles will affect the retail prices of the brands and models of cars owned by the senators. Of course, the impact won't be outright but will only manifest itself if and when the senators buy brand new versions of their existing vehicles.
To see how senators' vehicles will be affected by the TRAIN Law, Entrepreneur Philippines checked out the vehicles declared by the senators in their latest Statements of Assets, Liabilities, and Networth (SALN) as of end-2016.
Unfortunately, only 11 of the 24 senators listed specific brands and models of the vehicles that they owned. Another 11 senators said they owned vehicles but did not provide details while two did not include vehicles among the assets they owned.

The 11 senators who listed specific brands and models owned a total of 28 automobiles. Most of these are mid-priced vehicles that will likely see an increase in retail prices because of higher excise taxes. However, a third, or 10 of the 28 vehicles, will likely be subjected to lower excise taxes that will cut their retail prices. Of these, two were pickups (Mitsubishi Strada and Toyota Hilux) that were exempted from excise taxes under the TRAIN Law.
ADVERTISEMENT - CONTINUE READING BELOW
Grace Poe listed the most number of cars at five, followed by Leila De Lima with four. Francis Escudero, Richard Gordon, and Juan Miguel Zubiri have three each. (Zubiri listed six vehicles in his SALN but three of it are cargo trucks). Ana Theresia Hontiveros, Gregorio Honasan, Franklin Drilon and Aquilino Pimentel III have two each. Only Antonio Trillanes and Paolo Benigno Aquino IV owned one each.
This story originally appeared on Entrepreneur.com.ph.
* Minor edits have been made by the Townandcountry.ph editors.
Ideas that go way beyond the traditional altar.
Congratulations to the Duke and Duchess of Sussex!
Interior designer Jonathan Matti was the sole Filipino at the intimate de Gournay dinner at Lord David Cholmondeley's Norfolk Estate.
Whether you're a single traveler, on vacation with a partner or with your family, try these underrated experiences in Bohol.
A small number have appeared on resale sites already.
Only eight Filipinas made it to Forbes magazine's latest list of 50 richest people in the Philippines.
Social media ban be damned.
Their children prepared a lovely surprise in their family home.
From champagne-flavored gummy bears to a kit for making your own sparkling wine, these will please any champagne fanatic.
In Japanese-occupied Manila, an American woman who was known as "Madame Tsubaki" ran a night club that offered drinks, music, and companionship to homesick soldiers. It was a front for a spy ring that funneled information and supplies to guerilla groups outside the city.
Screenwriter Josh Singer on how he and Damien Chazelle brought the astronaut's story to the big screen.
The 36-year-old bride said her grandmother's death affected her decision.
Get The Latest Updates From Town&Country!