Property
Which Types of Houses Are Still Enjoying Strong Price Growth?
Average housing prices fell in the second quarter from a year ago but some types of residential units continue to rise.
IMAGE UNSPLASH/ WIKIMEDIA COMMONS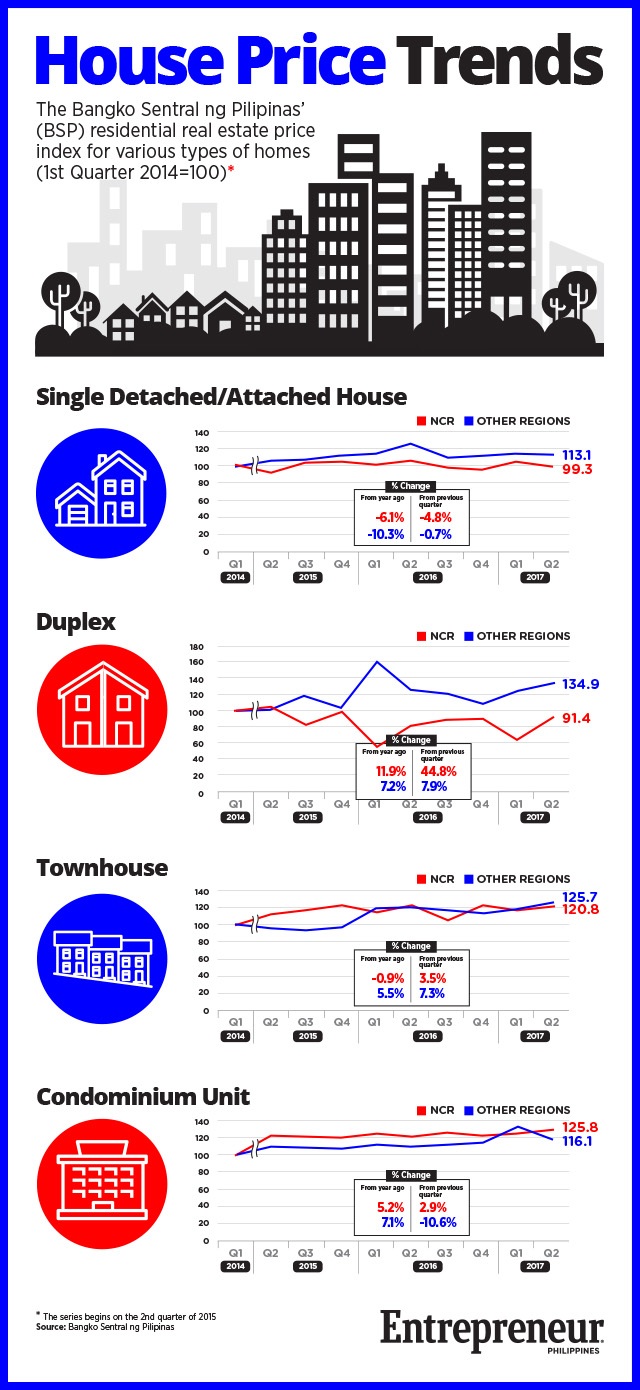 For the first time since the Bangko Sentral ng Pilipinas (BSP) started reporting its Residential Real Estate Price Index (RREPI) in 2014, the widely watched indicator fell 4.6 percent from year-ago levels in the second quarter.
The RREPI, which is considered the most authoritative indicator of average housing prices in the Philippines, has been growing steadily from year-ago levels since at least the second quarter of 2016. From the second quarter of 2016 to the first quarter of 2017, the index went up by an average of 3.8 percent on an annual basis. Compared to the previous quarter, the RREPI also fell by 0.1 percent in the second quarter.
It remains to be seen if the year-on-year decline in RREPI signals a prolonged softening of housing prices in the Philippines. Property brokers and consultants still believe that the country's positive economic outlook and the growth in demand for properties will continue to push residential property prices upwards in the next few years.
However, certain types of housing units continue to enjoy strong price growth.
Duplex houses in NCR still posted an 11.9-percent increase in the second quarter from a year ago. The same type of houses in other regions rose by 7.2 percent from the previous year.
Even residential condominiums, perhaps the most popular of the various types of housing units, continued to go up by 5.2 percent from a year ago in NCR and a stronger 7.1 percent outside Metro Manila.
Single detached houses eased the most, with units in Metro Manila going down by 6.1 percent from a year ago while units outside the region dropped 10.3 percent. Townhouses in Metro Manila also fell a slight 0.9 percent from a year ago but the same housing type went up by 5.5 percent outside the NCR.
The BSP has published the RREPI since the second quarter of 2015. It gathers data from housing loan reports submitted by its member banks. In a media release published September 29, 2017, it added that over 75 percent of real estate loans in Q2 2017 were for purchasing new houses.
ADVERTISEMENT - CONTINUE READING BELOW
This story originally appeared on Entrepreneur.com.ph.
* Minor edits have been made by the Townandcountry.ph editors.
Peek inside some of Cebu City's most affluent gated communities.
What people about Town have been buzzing about this week.
Our favorite Audrey-inspired ensembles worn by the Duchess of Sussex.
Despite her own comments to the contrary.
These exclusive programs offer you the best accommodations in the most sought-after destinations around the world.
This summa cum laude says it was not high grades that inspired her to excel.
No one is immune from bad customer service.
The 2018 World Cup left behind a universal sense of synchronicity, with geopolitical problems disappearing into the cheers and tears of those watching.
The Romanov couple left behind a romantic-and forbidden-love story that's remembered until today.
For an investment fee of P6.4 million, you can now have your own NBS Express branch.
She's taking over for Vanessa Kirby in season three.
Get The Latest Updates From Town&Country!