Property
Which Types of Houses Are Still Enjoying Strong Price Growth?
Average housing prices fell in the second quarter from a year ago but some types of residential units continue to rise.
IMAGE UNSPLASH/ WIKIMEDIA COMMONS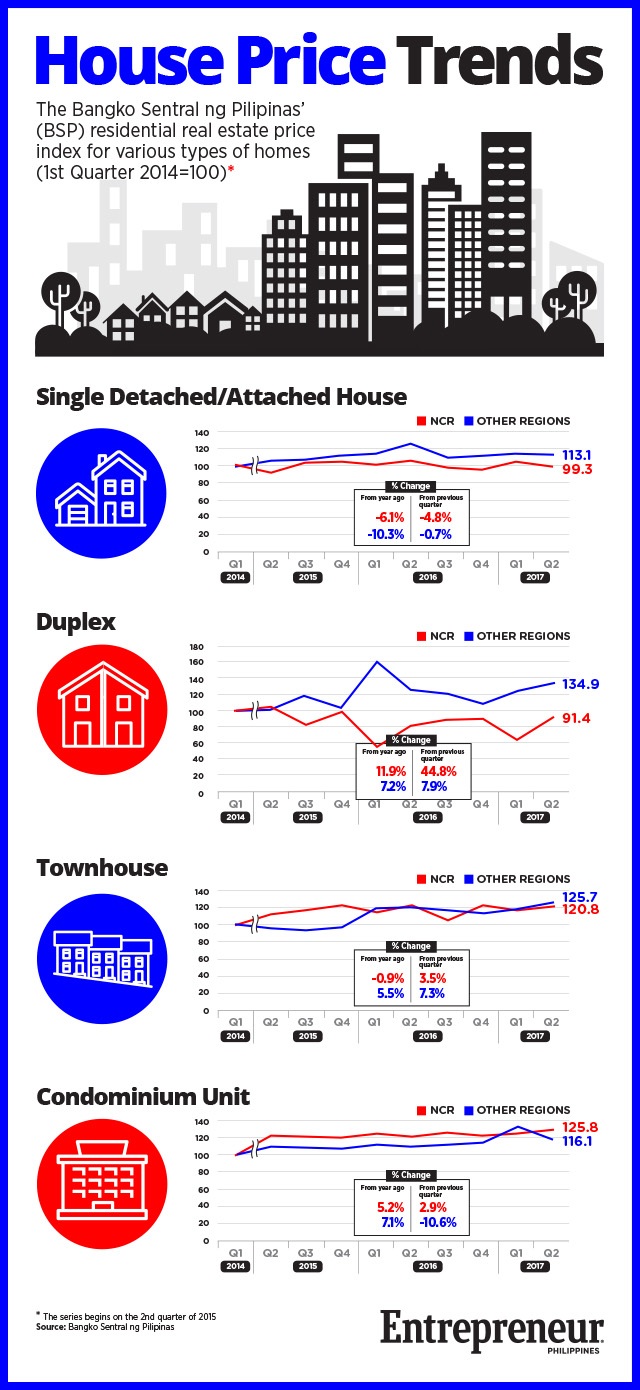 For the first time since the Bangko Sentral ng Pilipinas (BSP) started reporting its Residential Real Estate Price Index (RREPI) in 2014, the widely watched indicator fell 4.6 percent from year-ago levels in the second quarter.
The RREPI, which is considered the most authoritative indicator of average housing prices in the Philippines, has been growing steadily from year-ago levels since at least the second quarter of 2016. From the second quarter of 2016 to the first quarter of 2017, the index went up by an average of 3.8 percent on an annual basis. Compared to the previous quarter, the RREPI also fell by 0.1 percent in the second quarter.
It remains to be seen if the year-on-year decline in RREPI signals a prolonged softening of housing prices in the Philippines. Property brokers and consultants still believe that the country's positive economic outlook and the growth in demand for properties will continue to push residential property prices upwards in the next few years.
However, certain types of housing units continue to enjoy strong price growth.
Duplex houses in NCR still posted an 11.9-percent increase in the second quarter from a year ago. The same type of houses in other regions rose by 7.2 percent from the previous year.
Even residential condominiums, perhaps the most popular of the various types of housing units, continued to go up by 5.2 percent from a year ago in NCR and a stronger 7.1 percent outside Metro Manila.
Single detached houses eased the most, with units in Metro Manila going down by 6.1 percent from a year ago while units outside the region dropped 10.3 percent. Townhouses in Metro Manila also fell a slight 0.9 percent from a year ago but the same housing type went up by 5.5 percent outside the NCR.
ADVERTISEMENT - CONTINUE READING BELOW
The BSP has published the RREPI since the second quarter of 2015. It gathers data from housing loan reports submitted by its member banks. In a media release published September 29, 2017, it added that over 75 percent of real estate loans in Q2 2017 were for purchasing new houses.
This story originally appeared on Entrepreneur.com.ph.
* Minor edits have been made by the Townandcountry.ph editors.
"His legacy will live on for many more generations after us."
He just celebrated his birthday recently.
Ask yourself, "Is that worth your anger?"
A leading Italian mixologist makes the argument for liqueurs in fine dining.
Suddenly everyone you know is heading to New Zealand. Here's why people are planning their move today.
These romantic retreats have everything you need-except children.
These getaways will warm your soul.
Remembering a pioneering entrepreneur and philanthropist in his own words.
Family sources close to the chairman emeritus of SM Investment confirmed his passing the morning of January 19.
These fresh travel options will open up doors to new sights and sounds without the hassle of a layover.
What good is the freedom that money offers if you don't know how to relax?
Is this billion dollar listing a stunt or the future site of a spectacular mansion?
Get The Latest Updates From Town&Country!