Property
Which High-End Villages Tripled Average Land Prices in the Last 6 Years?
Rising demand and scarcity of properties for sale have pushed up land values sky-high.
IMAGE WIKIMEDIA COMMONS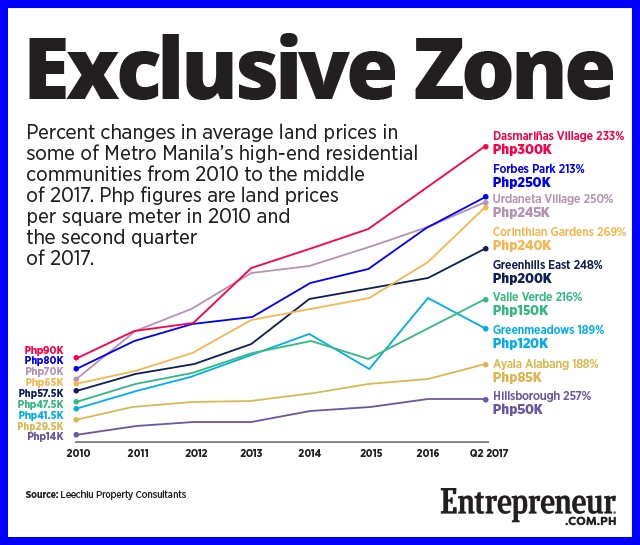 If you had bought a patch of land in one of the country's high-end residential villages in 2010, its value would have likely more than tripled by now.
That's according to data from real estate analyst Leechiu Property Consultants, which released its latest market insights report last September 25. The report listed the land values of nine high-end villages in Metro Manila and showed how much they have increased from 2010 to Q2 2017.
ADVERTISEMENT - CONTINUE READING BELOW
"Increased demand and scarcity of high-end villages has kept residential land values at peak rates," said Leechiu Property Consultants in the report.
Check out the infographic above to see how much land values have grown in these villages in the past six-and-a-half years.
Among the nine villages, Corinthian Gardens in Quezon City saw the highest appreciation in land value, which experienced a 269-percent growth. This was followed by Hillsborough in Muntinlupa at 257 percent and Urdaneta Village in Makati at 250 percent.
Dasmariñas Village in Makati had the most expensive land in the group, with land values averaging at Php300,000 per square meter. Two other high-end Makati villages followed: Forbes Park at Php250,000 per square meter and Urdaneta Village at Php245,000 per square meter. 
This story originally appeared on Entrepreneur.com.ph.
* Minor edits have been made by the Townandcountry.ph editors.
The journey of the Igorots who were put on display for the world to see.
They just arrived at the tennis tournament to watch Meghan's friend Serena Williams play in the women's final.
It is harder now to determine who is Truly Rich, what with hordes of people coming into money or, you know, dressing like they have money.
The Duke and Duchess of Sussex just arrived on the red carpet.
The ill-fated emperor was fond of body art.
The Nike ZoomX Vaporfly Next% may take you beyond your limits.
Here's what you should know about the decade-spanning, nine-book series.
The banker and philanthropist donated millions to create a cutting edge agricultural research center. He was rewarded with a bag of peas.
Before the Cultural Center of the Philippines (CCP) was built, many flocked to the Manila Grand Opera House to seek classical entertainment.
For those who carry their whole lives with them to the office.
It's in the movies inspired by the Beatles' music, however, that we find the most magic.
Get The Latest Updates From Town&Country!