Property
Which High-End Villages Tripled Average Land Prices in the Last 6 Years?
Rising demand and scarcity of properties for sale have pushed up land values sky-high.
IMAGE WIKIMEDIA COMMONS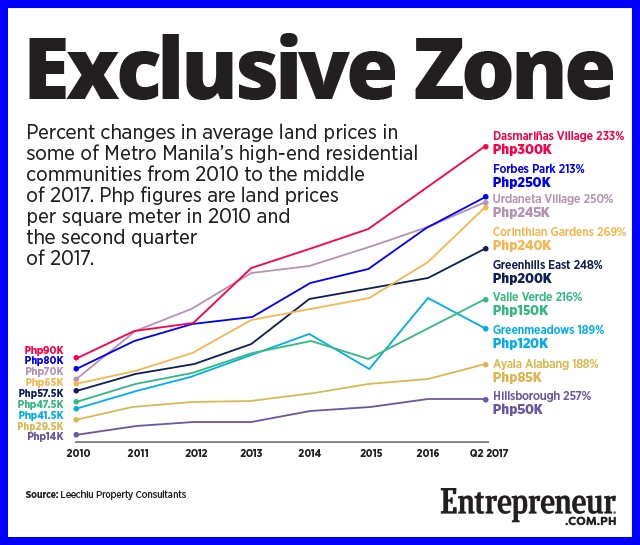 If you had bought a patch of land in one of the country's high-end residential villages in 2010, its value would have likely more than tripled by now.
That's according to data from real estate analyst Leechiu Property Consultants, which released its latest market insights report last September 25. The report listed the land values of nine high-end villages in Metro Manila and showed how much they have increased from 2010 to Q2 2017.
"Increased demand and scarcity of high-end villages has kept residential land values at peak rates," said Leechiu Property Consultants in the report.
Check out the infographic above to see how much land values have grown in these villages in the past six-and-a-half years.
Among the nine villages, Corinthian Gardens in Quezon City saw the highest appreciation in land value, which experienced a 269-percent growth. This was followed by Hillsborough in Muntinlupa at 257 percent and Urdaneta Village in Makati at 250 percent.
Dasmariñas Village in Makati had the most expensive land in the group, with land values averaging at Php300,000 per square meter. Two other high-end Makati villages followed: Forbes Park at Php250,000 per square meter and Urdaneta Village at Php245,000 per square meter. 
This story originally appeared on Entrepreneur.com.ph.
* Minor edits have been made by the Townandcountry.ph editors.
Many of the world's new class of the ultrarich are philanthropically inclined environmental conservations.
Alfonso Ossorio, the son of a Negros sugar baron, went to Harvard University and the Rhode Island School of Design.
The show is co-curated by her nephew, contemporary artist Pio Abad.
The couple honored Harry's late mother in multiple ways on their wedding day.
Inside the house that has pieces by Vicente Manansala, Fernando Zobel, H.R. Ocampo, Geraldine Javier, and Ang Kiukok.
Ada Lovelace was the first to envision that numbers could represent more than numerical values.
He helped make that "Stand By Me" performance happen.
Here's what she had to say about the day.
The Duchess of Sussex's crest pays tribute to her Californian heritage.
The traditional "Top 3" schools assert their dominance in this listing.
Monica Delgado talks about her creative process, guilty pleasures, and waking up to a view of the Empire State building.
Get The Latest Updates From Town&Country!