Property
Which High-End Villages Tripled Average Land Prices in the Last 6 Years?
Rising demand and scarcity of properties for sale have pushed up land values sky-high.
IMAGE WIKIMEDIA COMMONS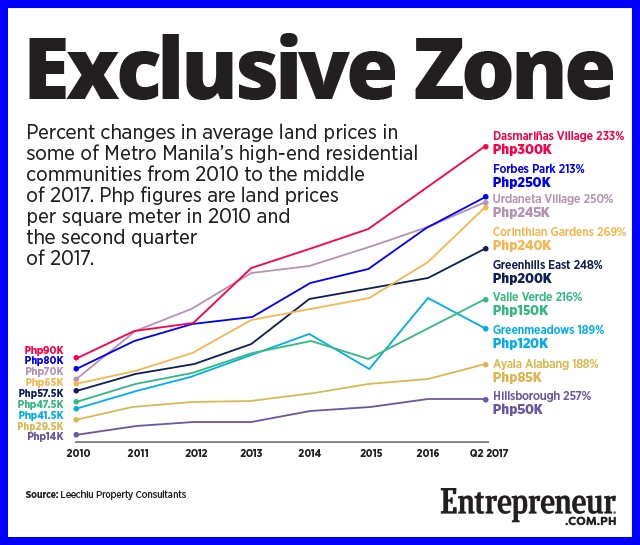 If you had bought a patch of land in one of the country's high-end residential villages in 2010, its value would have likely more than tripled by now.
That's according to data from real estate analyst Leechiu Property Consultants, which released its latest market insights report last September 25. The report listed the land values of nine high-end villages in Metro Manila and showed how much they have increased from 2010 to Q2 2017.
"Increased demand and scarcity of high-end villages has kept residential land values at peak rates," said Leechiu Property Consultants in the report.
Check out the infographic above to see how much land values have grown in these villages in the past six-and-a-half years.
Among the nine villages, Corinthian Gardens in Quezon City saw the highest appreciation in land value, which experienced a 269-percent growth. This was followed by Hillsborough in Muntinlupa at 257 percent and Urdaneta Village in Makati at 250 percent.
Dasmariñas Village in Makati had the most expensive land in the group, with land values averaging at Php300,000 per square meter. Two other high-end Makati villages followed: Forbes Park at Php250,000 per square meter and Urdaneta Village at Php245,000 per square meter. 
This story originally appeared on Entrepreneur.com.ph.
* Minor edits have been made by the Townandcountry.ph editors.
We've never seen any space quite like this before.
Hardly your average dance flick, 'Taking Flight' will adapt DePrince's 2014 memoir, 'Taking Flight: From War Orphan' to 'Star Ballerina.'
At the top of his list? Not dropping the ring.
There's a major difference in the way Meghan Markle stands.
And how he knew his wife was the one almost immediately.
Here's everything you need to know about Prince George and Princess Charlotte's caretaker.
All this tiptoeing around words and what pleases you just sucks the joy out of life.
Fingers crossed we get to see the little princess in a tutu sometime soon.
Your choice of retreat from the city to out of town.
Plus the mistakes guests like Victoria Beckham made in the past.
It took plenty of innovation and renovation.
The new owners say they are committed to preserving the property and "don't even want it to look like a new paint job was done."
Get The Latest Updates From Town&Country!