Homes
Mitsukoshi Mall in Manila Will Have a Distinct Beauty Store, Beauty Services, and More
Isetan Mitsukoshi will bring the same collection of brands featured in its stores worldwide to the Beauty store of Mitsukoshi Mall in Manila.
CREATED WITH FEDERAL LAND
Mitsukoshi, the world's oldest surviving Japanese department store is opening in Bonifacio Global City, Taguig. Soon, we will be able to experience Mitsukoshi's offerings as a retail institution. While this branch will be a first for the Philippines, it will be the 56th outlet for the department store, which is located in Singapore, Italy, the United States, and China, among other countries. A partnership with Nomura Real Estate Development and Isetan Mitsukoshi, the mall will surely be one to look forward to in the city.
ITS BEAUTY SECTION WILL FEATURE INNOVATIVE PRODUCTS AND OFFER HIGH-TOUCH SERVICE.
Expect Mitsukoshi to feature a more holistic approach to beauty, with product offerings that go beyond skincare and cosmetics. To constantly vamp up its beauty section, the Mitsukoshi team will constantly be sourcing innovative products that subscribe to this concept of beauty. These are added to its collection of reliable brands and products, allowing Mitsukoshi to offer a well-curated selection to the market.
Mitsukoshi will bring the same collection of brands featured in its stores worldwide to the Beauty Store of Mitsukoshi Mall in Manila. The Mall is a four-storey collection of Japanese and International brands from beauty and wellness to everyday items that aim to elevate one's lifestyle.
The department store is known across the world for its signature Japanese-style service that takes importance in caring for the customer's every need. At the beauty counters, dedicated personnel will readily be stationed to help customers find the ideal products that suit them.
The Beauty Section will take from Mitsukoshi malls across the globe in terms of look and design. See a preview below.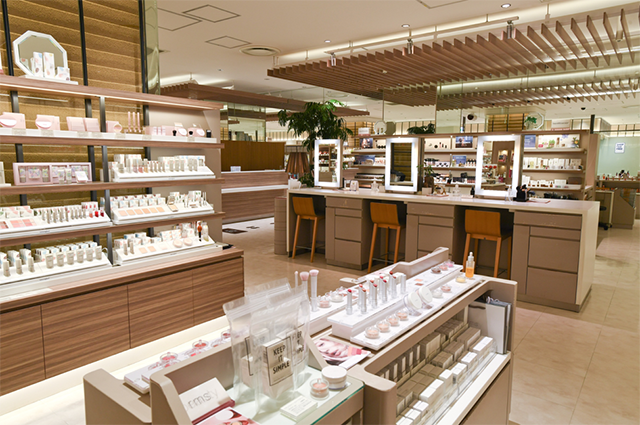 Here's everything else we know so far about the project:
THE MALL'S FOOD HALL WILL BE IMPRESSIVE.
The mall will be filled with an impressive line-up of restaurants including authentic Japanese cuisine. The grocery, as described, will be a Japanese quality market where customers can buy fresh products, imported goods, and famous sweets. There will also be a live kitchen where customers can pick out food freshly cooked by a professional chef in front of them.
IT WILL CARRY JAPANESE HOMEGROWN BRANDS AS WELL AS INTERNATIONAL BRANDS...
During a press conference, Isetan Mitsukoshi president and CEO Toshihiko Sugie said that Mitsukoshi Mall will carry numerous Japanese homegrown brands. "We will be bringing in one-of-a-kind Japanese brands that you won't find elsewhere."
Taking cue from its flagship stores, the Isetan Shinjuku and Mitsukoshi Ginza, the Philippine mall will also carry premium items from international brands.
...INCLUDING APPAREL, BEAUTY, AND A GROCERY STORE.
Mitsukoshi in Manila will, reportedly, foster the authentic Japanese style of service called Omotenashi. It will also include a beauty section featuring Japanese cosmetic and skincare brands, as well as a supermarket stocked with high-quality Japanese food products. You can also expect Japanese apparel.
What's more is that the food hall will be unlike any other, as it will be filled with authentic Japanese restaurants and stalls. It will also have separate sections specifically for gourmet food and sweets.
"We know how much Filipinos love to go to the mall to shop and eat, or simply just to relax, so we hope Filipinos will enjoy their Mitsukoshi mall experience. We are excited to open the first mall of its kind in the Philippines," Sugie added.
The team says that they're still planning which stores to bring in, but will make announcements down the line.
THE DEPARTMENT STORE WILL OPEN IN 2021.
The high-end Japanese department store, which is the oldest surviving mall chain in Japan, will open its inaugural four-storey branch at Bonifacio Global City in 2021.
THE MALL WILL BE ACCOMPANIED BY A HIGH RISE PROPERTY.
The Mitsukoshi Mall will stand right next to The Seasons Residences, an upscale, Japanese-inspired condominium project by Federal Land, Inc. in partnership with Nomura Real Estate Development Co., Ltd. and Isetan Mitsukoshi Holdings Ltd. The overall design of this soon-to-rise property was inspired by the sophistication and simplicity, coupled with the minimalist lifestyle our East Asian neighbors subscribe to. The Seasons Residences will offer one- to three-bedroom units that start at P16 million.
For more information, call at +632 359 6756; e-mail [email protected]; or visit the showroom at 7th Ave cor. 34th St, Grand Central Park, North BGC, Taguig City (across the Lexus Manila Showroom).
This article was created by Summit Storylabs in partnership with FEDERAL LAND.