Property
Look: A BGC in Every Region? Masterplanned Townships Spread Across the Philippines
It's a sign that property buyers are willing to pay for order, community and systems, says property expert.
IMAGE alveo land/ WIKIMEDIA COMMONS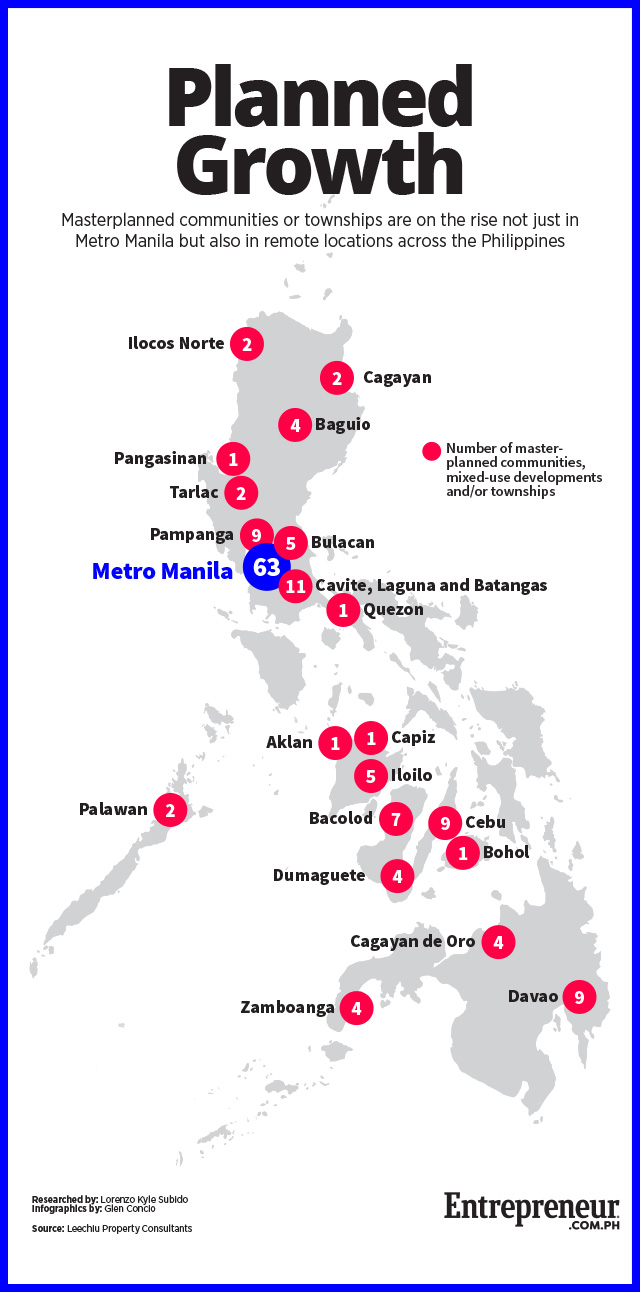 Whenever experts and analysts talk about the massive opportunities in the real estate industry, chances are the discussions are focused on the Metro Manila market. 
Data from real estate analyst Leechiu Property Consultants (LPC) revealed that there are at least 63 masterplanned communities, mixed-use developments, business districts and townships across the National Capital Region (NCR). It identified these projects as hotbeds for property development and investment due to their more organized features.
ADVERTISEMENT - CONTINUE READING BELOW
"What we've seen is that people will pay for planning," said David Leechiu, CEO of LPC, in a media roundtable last September 18. "People will pay for order. People will pay for systems and community. These are the things we have to build."
But LPC also revealed that such developments aren't limited to Metro Manila. In fact, it identified more masterplanned developments outside NCR than within it, as LPC listed 85 townships, business districts and other similar projects located in various provinces around the Philippines.
The infographic above shows how many of these developments can be found in each of these provinces and cities. While areas such as Metro Manila and its surrounding provinces as well as Cebu and Davao have an expectedly large number of projects within them, LPC's data shows that one can already find townships and mixed-use projects in almost every region of the country, which it dubbed as "unprecedented countryside development." 
ADVERTISEMENT - CONTINUE READING BELOW
In fact, Leechiu revealed that the largest masterplanned development in the country is not within Metro Manila but outside it. Hamilo Coast, a residential and hospitality development in Southern Luzon by SM Prime Holdings, spans 5,900 hectares. In comparison, all of the masterplanned communities within Metro Manila have a combined landmass of only 4,000 hectares.
While SM Prime Holdings may have the largest project, it is not the most active developer of masterplanned communities around the country. That title goes to both Megaworld Corp. and Ayala Land, which Leechiu identified as the "most aggressive township developers" among the many names behind these 148 projects.
"Megaworld and Ayala both have the timing right [and] the mix right," he added. 
Leechiu sees these masterplanned developments not only as signals of growth opportunities for any area, but also as a smarter and more sustainable way of rolling out real estate. He pointed to Ayala Land's Lio Tourism Estate in Palawan as an example, where he compared it to the rest of El Nido.
ADVERTISEMENT - CONTINUE READING BELOW
"I'm a big believer of Lio Tourism Estate because that will be the example," said Leechiu. "It's probably the only place in El Nido where there's underground infrastructure, sewer treatment plant, waste management program, agriculture program to feed the community, employment program [and] transport program, all to reduce waste, all to conserve the environment and make it sustainable."
"There's a lot of infrastructure and planning that goes into that, whereas [elsewhere] it's just total chaos," he added.
*****
Lorenzo Kyle Subido is a staff writer of Entrepreneur PH
This story originally appeared on Entrepreneur.com.ph.
* Minor edits have been made by the Townandcountry.ph editors.
In the U.S., ticket pre-sales equaled those of Captain Marvel, Avengers: Infinity War, Aquaman, and The Last Jedi combined.
Because entertaining is an art form.
It's another massive art installation by Biboy Royong.
Your spouse may not know you're cheating, but the florist, hotel concierge, and the Maître D' definitely do. What's giving you away?
The Al Thani family has amassed over 400 pieces, from Mughal emeralds to Golconda diamonds.
DVF has spent more than four decades on the front lines of fashion. Now she's bringing her granddaughter, Talita, into the family business.
Meghan's due date is reportedly days away.
Welcome to Osteria Daniele, a sophisticated new restaurant specializing in high-end Italian fare.
It's everything you can expect and more from the World's Best Airport.
Get ready for beach season with these breezy button downs.
The event took place in St George's Chapel-the venue for Eugenie's royal wedding this past fall.
The 97-year-old royal was involved in a serious car accident earlier this year.
Get The Latest Updates From Town&Country!