Property
Which Business District Saw Average Condo Prices Surge by 92 Percent in the Last 5 Years?
Colliers reveals the average growth rate of residential condos in Bay Area, BGC, Makati, and Ortigas.
IMAGE Ryomaandres/ WIKIMEDIA COMMONS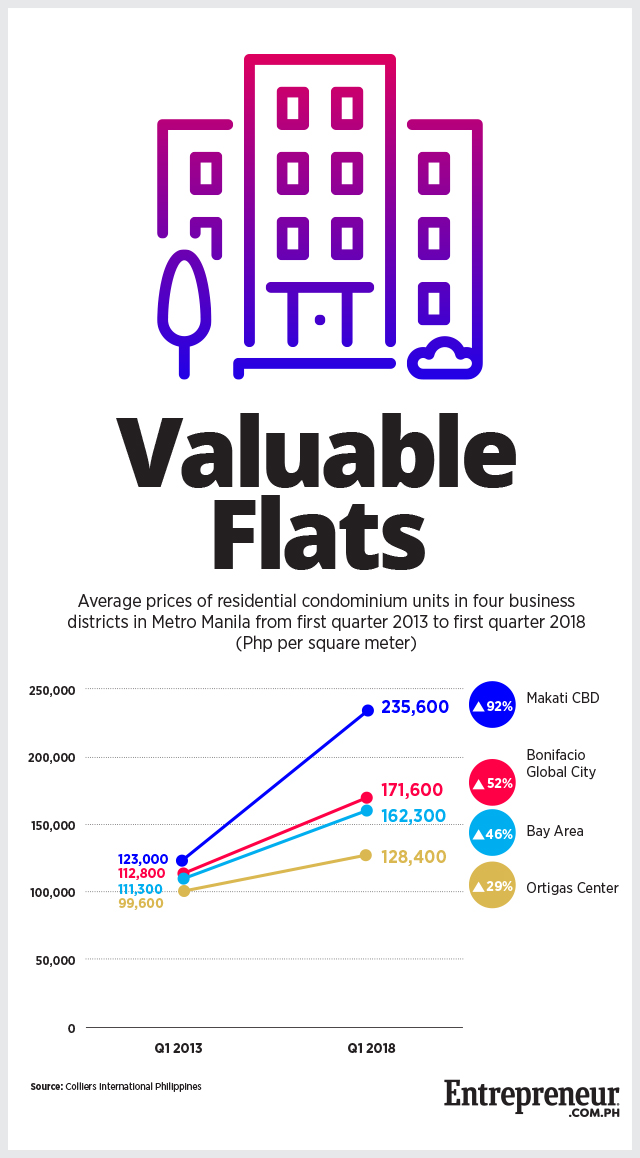 Prices of residential condominium units in Metro Manila's major central business districts (CBDs) rose by an average of 43 percent in the last five years, according to real estate analyst Colliers International Philippines.
In its latest quarterly report on Metro Manila's residential property sector, Colliers revealed that the average price of actively selling projects in four major CBDs grew to P161,700 per square meter in the first quarter of 2018 from P113,100 in the first quarter of 2013. The four CBDs covered by the study included Makati, Bonifacio Global City (BGC), Ortigas and the Bay Area.
ADVERTISEMENT - CONTINUE READING BELOW
The five-year growth translates to a compound average annual growth rate (CAGR) of seven percent between 2013 and 2018. CAGR is a measure of constant return over a period of time.
Of the four CBDs, the Makati business district showed the highest growth rate of 92 percent from P123,000 per square meter in the first quarter of 2013 to P235,600 per square meter in the first quarter of 2018. The equivalent CAGR is 14 percent.
BGC posted the second highest rise in residential condo prices, going up by 52 percent from P112,800 per square meter in the first quarter of 2013 to P171,600 per square meter this year. Condo prices had a CAGR of nine percent.
Not far behind is the Bay Area, where average unit prices stood at P162,300 per square meter, up 46 percent from P111,300 per square meter five years ago. The CAGR is eight percent.
Average condo prices in Ortigas rose 29 percent between 2013 and 2018 or from P99,600 per square meter to P128,400 per square meter. That translates to a CAGR of five percent.
ADVERTISEMENT - CONTINUE READING BELOW
"The noted price increases across the Metro Manila market was not surprising as pre-selling numbers continue to show positive results," wrote Colliers in the report. It added that "the most expensive condominium in Metro Manila is now priced close to P400,000 per square meter," saying that the P400,000 mark will be breached very soon.
While all four CBDs have already experienced massive price growth in the past five years, the forecasts show no signs of it stopping anytime soon. In the report, Colliers forecasted that Makati and the Bay Area will see even higher demand for condominiums due to "companies acquiring residential units for their employees in these submarkets, augmented by the presence of Chinese nationals."
"It must be stressed that it is still a very competitive condominium market," added Colliers.
This story originally appeared on Entrepreneur.com.ph.
* Minor edits have been made by the Townandcountry.ph editors.
Should you let your age determine what you can or cannot wear?
Hermès showed its Enchaînement Libres high jewelry collection stateside for the first time, just a day after New York Fashion Week.
The Italian label can now measure its carbon footprint in pasta and wine.
From traditional Filipino liquor to brand new variations.
Everything from a Harry Potter screening accompanied by live music, to the must-see auctions, to a Thai artist's debut exhibition.
Fancy desserts, alien replicas, and even churches. Did we mention desserts?
"In the same way that Narcissus' portrait was made, this is me remembering who I am."
Consider these important factors in picking out the most flattering frock for you.
Ahead of the new film, take a look at Highclere Castle, where all the off-camera drama unfolds.
We clarified some of the biggest misconceptions about owning a franchise business in the Philippines.
Shakespeare fans will have to wait to enjoy the grand productions of these classic tales.
Get The Latest Updates From Town&Country!