Design
5 Famous Designs of Architect Francisco Mañosa
As the new National Artist for Architecture, we look back on Mañosa's greatest works
IMAGE COURTESY OF THE MAÑOSAS; MAÑOSA & CO.
After receiving a unified nomination for National Artist in 2016, Filipino Architect Francisco "Bobby" Mañosa has recently been conferred the National Artist award for Architecture by President Rodrigo Duterte. 
The long-overdue honor comes a year after Mañosa: Beyond Architecture, a series of exhibits on his works at the National Museum of the Philippines and other venues. As a nationalist, Architect Mañosa always implemented traditional vernacular forms of the bahay kubo and the bahay na bato, and utilized indigenous materials applied with state-of-the-art building technology to all his works, which were all perfect for our country's culture and tropical climate.
With this, let's take a look at Mañosa's most famous designs. Most of these are structures and buildings you'd recognize and see on your daily commute throughout Metro Manila (LRT 1, for example), and these are clear proof that this National Artist does not only build for the elite, but also creates buildings and institutions that help change the lives of all Filipinos.
EDSA Shrine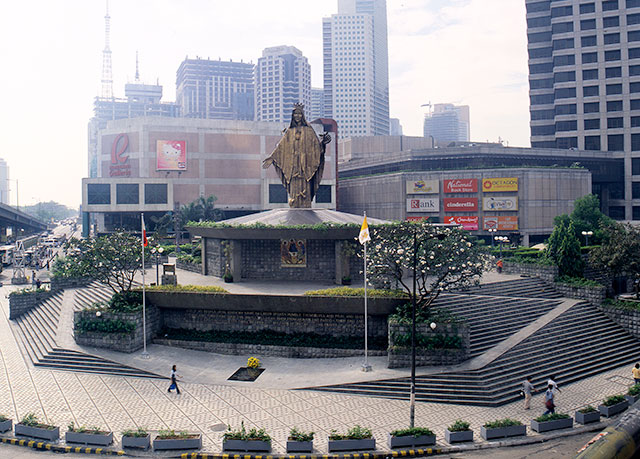 The EDSA Shrine, officially called Shrine of Mary, Queen of Peace, Our Lady of EDSA, is a small Roman Catholic Church erected on the site of two demonstrations that unseated Presidents Ferdinand Marcos and Joseph Estrada. The shrine faces both EDSA and Ortigas Avenue, and holds many important works of art, including 14 Stations of the Cross by National Artist Napoleon Abueva, a sculpture of the Risen Christ by Ramon Orlina, a stained glass ceiling by Eduardo Castrillo, and the iconic Our Lady of Queen of Peace by Virginia Ty-Navarro, perched on top of the shrine.
LRT 1 Stations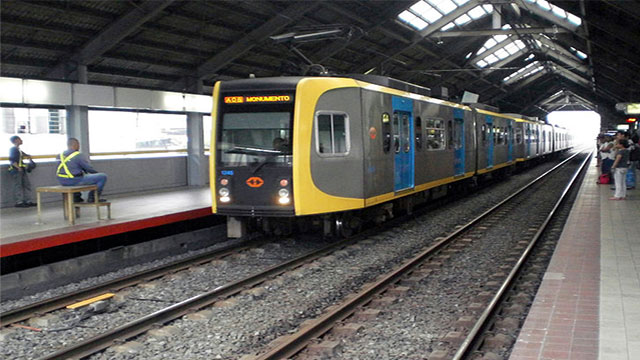 Mañosa's works extended from residential and commercial commissions to ecclesiastical works, mass housing, and even public transportation hubs, and the most visible of which are the LRT-1 stations in downtown Manila. The original design for these mass transit stations had more pronounced bahay kubo-style roof structures, and provisions for landscaping.
ADVERTISEMENT - CONTINUE READING BELOW
San Miguel Corporation Head Office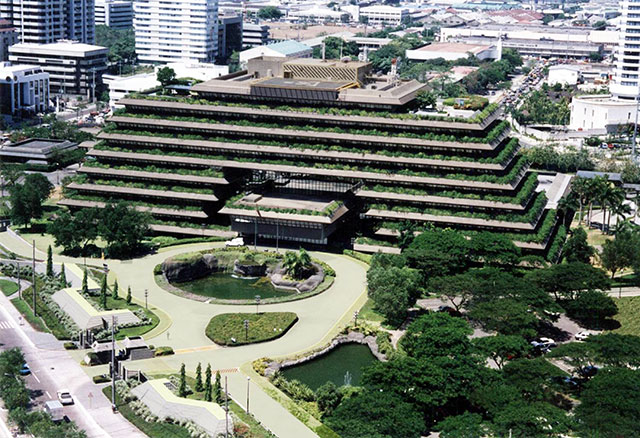 Mañosa designed the complex for San Miguel Corporation in Ortigas Center along with his brothers Manuel and Jose. The building has a unique, stepped/terraced design that was inspired by the Banaue Rice Terraces. The lush greenery spilling from the building's façade was landscaped by another National Artist, architect Ildefonso Santos, Jr.
More: 5 National Artists Who Were Architects
Coconut Palace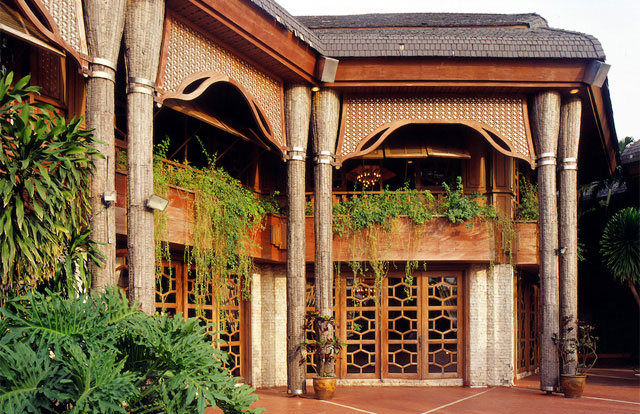 His design firm as a whole championed the use of indigenous materials such as bamboo, coconut, rattan, cogon, shell, adobe, and even ash from the Pinatubo volcano eruption. The Coconut palace—literally, an entire palace made out of coconut wood and the tree's byproducts and the former Office of the Vice President located at the Cultural Center of the Philippines Complex in Manila—is one his most popular examples of his extensive use of local material.
The Mañosa family home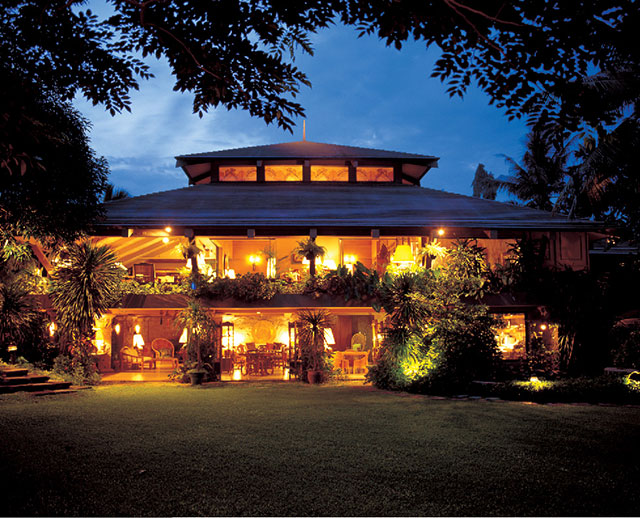 Mañosa's own family house in the South was built as an example of all his design tenets, and he incorporated important bahay kubo details inherent in his designs, such as a high, pitched roof, wide windows and door openings that let in natural light and air, tukod, and indigenous materials. Mañosa's daughter, interior designer Bambi Mañosa-Tanjutco, recalls that they were so used to the endless stream of guests and clients who traipsed into the house at all hours of the day, just to see their father's design.
This story originally appeared on Realliving.com.ph.
* Minor edits have been made by the Townandcountry.ph editors.
Give your wardrobe that one cool accessory update.
This year, give a gift that's (almost) as glamorous as her.
From the spectacular dishes at our 61 partner restaurants to our fabulous guests who partied way past midnight at Sage.
In a quest to become as eco-friendly as possible, the Prince has discovered a new level of luxury transit.
Take a peek inside the most sought-after suite at this fabulous Croatian retreat.
The golden-haired founder of Steps Dance celebrates a milestone.
Prince Charles laid a wreath at the Cenotaph in honor of those who have died in war.
The Palace just released this sweet photo of Louis and his grandpa Prince Charles.
The Queen's Gallery is hosting a new survey of artworks gifted between the two monarchies.
Here's how she ended up wearing the socially responsible pieces-and what it means for the movement.
Sometimes truth really is stranger than fiction.
Because home is where the art is.
Get The Latest Updates From Town&Country!